Freddie Mitchell Was a Much Worse Draft Pick Than People Realize
Freddie Mitchell is famous for one amazing catch, but his NFL career was very underwhelming when put under the microscope. The Philadelphia Eagles had high hopes for him, but Mitchell never consistently lived up to those expectations. His first-round selection looks even worse when you see which star receivers went after him. Bad decisions also stain Mitchell's post-NFL life.
How good was Freddie Mitchell in college?
As a youngster growing up in Lakeland, Florida, Freddie Mitchell looked destined to be a star. The only question was which sport would he choose to ultimately pursue. Mitchell lettered in cross country, baseball, basketball, and football at Kathleen High School. He was drafted by the Tampa Bay Rays in the 1997 MLB Draft, but he chose to go to college instead. Mitchell attended UCLA for three years. He played some baseball at the school, but football quickly became his main passion. 
After taking a redshirt his freshman year, Mitchell gradually improved every season, hitting his peak in his junior year. He finished with 77 catches for 1,494 yards and nine touchdowns, making him a First-Team All-Pac 10 First-Team and a Biletnikoff Award finalist.  After the season ended, Mitchell declared for the NFL draft with dreams of being a star at the next level. That's not quite what happened.  
Mitchell never lived up to the hype in the NFL
The Philadelphia Eagles chose Mitchell with the 25th pick overall in the 2001 NFL Draft. He offered as little as a first-round pick could give during his first two seasons. He only had 33 passes in those seasons and got to the end zone once.
Mitchell was already fighting for his career in year three, but the desperation pushed to improve his game. He finished the year with career highs in receptions, yards, and touchdowns. Those numbers are still awful for a first-rounder three years into his career. But at least he was less awful than before.
 Mitchell's finest moment in the NFL came during the Divisional Playoff Round against the Green Bay Packers. With the Eagles facing a 4th and 26 late in the fourth quarter, Mitchell nabbed (McNabbed? I'm sorry) the pass to keep the drive, and the season, alive. David Akers hit a game-tying field goal to send the game to overtime, and the Eagles eventually won the game.  
Mitchell never played such an important role on the field ever again. He was further marginalized after Terrell Owens forced a trade to Philly, only catching 22 passes from the slot in 2004.
The most impressive thing he did — more impressive than the fourth and 26 catch, honestly — was that he inspired Bill Belichick to talk trash during a press conference. The coach called Mitchell "terrible" and said he was happy whenever he was in the game after Super Bowl 39. That's worth a Hall of Fame spot in our personal record book. 
In reality, it's worth nothing. Mitchell, after inexplicably holding out from minicamp the next year, was released by the Eagles. He never played in the NFL again. His own lack of production makes him one of the bigger busts in Eagles history. But the context of his draft class makes his career even worse.
The receivers taken after Mitchell in the '01 draft include Reggie Wayne, Chad Johnson, and Steve Smith. All three players made at least six Pro Bowls and were named First-Team All-Pros at least once. Considering how good the Eagles were and how much they struggled to find quality receivers, it's fair to wonder if the Mitchell pick was the difference between winning a Super Bowl and coming up just short. 
Mitchell's life got worse after leaving football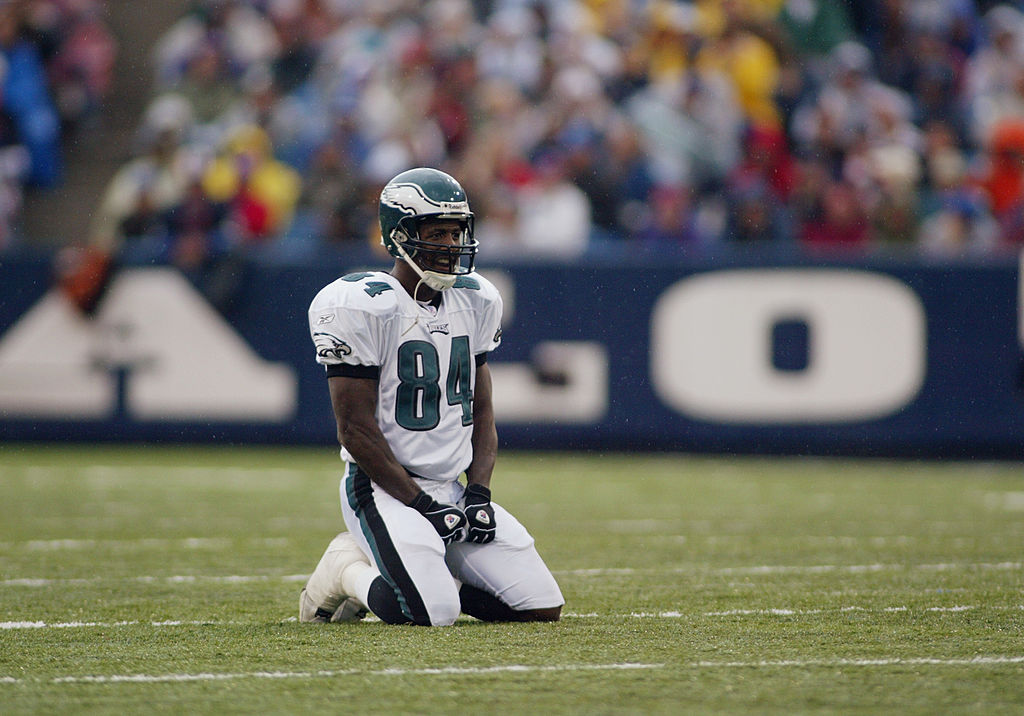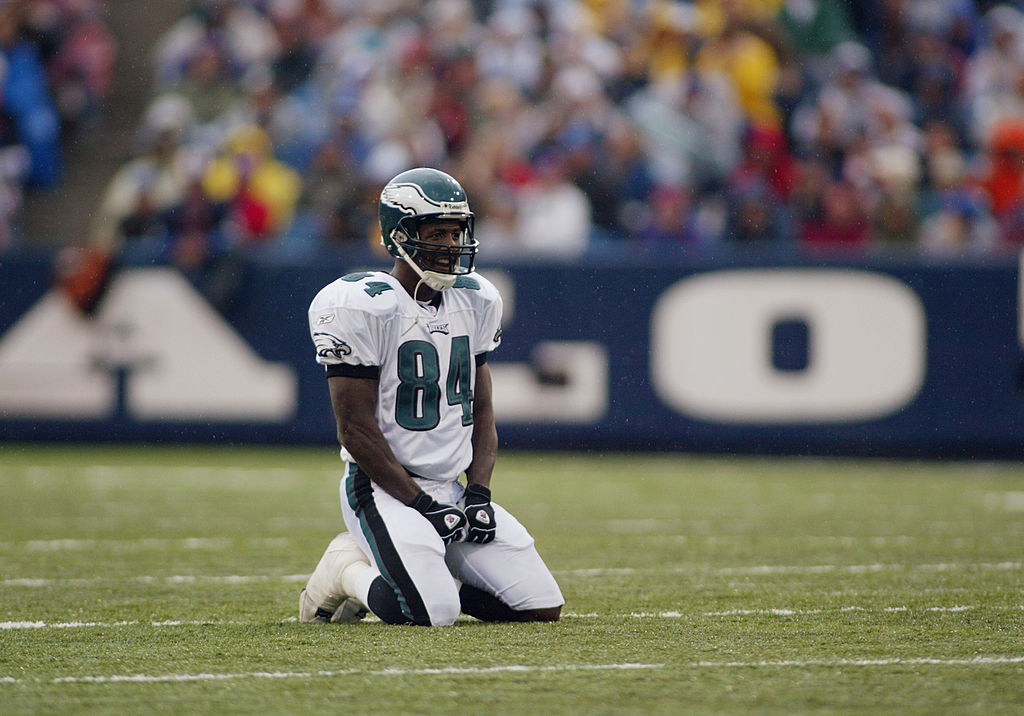 Mitchell struggled to keep his head on straight after the football career ended. In 2009, he was arrested on charges stemming from an outstanding warrant for failing to pay child support. In 2012, he submitted to authorities after getting indicted on federal tax fraud charges. Mitchell eventually received a 37-month prison sentence.
Few things went right for Mitchell after the NFL draft. It goes to show that succeeding in football takes more than pure athletic talent. Mitchell was always fast, but his character issues, flagged during the pre-draft process, were never up to pro standards.
The city of Philadelphia seems to have forgiven him for his underachievement. (Nick Foles delivering a championship years later probably helped.) Mitchell rang the ceremonial Liberty Bell before a Sixers game in 2018. Hopefully, this is a sign that Mitchell's life is back on track after finishing his sentence.