From Swam to Swim Again: 4 Takeaways from Phelps' Unretirement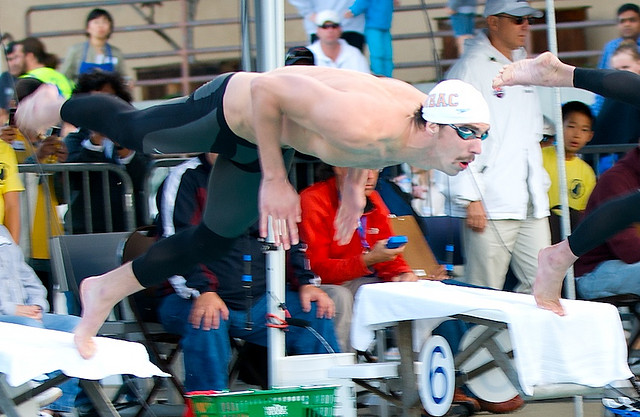 Remember when Michael Phelps quietly retired from swimming? Yeah, he doesn't either. The most decorated Olympian in the history of the Olympics came back from losing children's games to children to race in the 100 meter butterfly — ostensibly to qualify for Nationals, which is the first step towards being able to compete in the 2016 Summer Olympics in Rio. Phelps, 28, told The New York Times that the he thought the last time he'd had to worry about qualifying for nationals was when he was 13. Fun fact: Phelps holds the world record for the 100 meter butterfly with a time of 49.52.
He qualified — he actually posted the fourth fastest time in 2014 and finished second. To Ryan Lochte, who is the kind of prerequisite friendly rival to Phelps that all individual sports seem to spawn. While the pair did not race simultaneously, which would've been difficult considering they both swam in the same lane, they finished the finals with times of 52.13 (Phelps) and 51.93 (Lochte).
But what does this mean for the swimming universe, and for Rio? Phelps's two-year retirement left a void in the pool, a space that no amount of water could fill. Here are four takeaways from the return of Michael Phelps.
1. He's bringing amateurism back to the Olympics
Phelps became nearly inescapable during his back-to-back-to-back runs at the 2004, 2008, and 2012 Olympics, plastered over Wheaties boxes and television advertisements for Speedo and Subway and Louis Vuitton. They range from goofy (his 2011 ad with Jay Glazier is the best example of that) to The Wire-influenced pseudo-doc — check out the Speedo ad below for that one — but the important thing is that they were everywhere.
In 2014, Phelps raced in an Arena suit, and wore a Ping baseball hat and an Under Armor shirt. He told The New York Times, "I am signing no contracts. I guess I'm considered a free agent at this point." Of course, Phelps has made enough to keep him comfortable, unlike many of his contemporaries.
2. Golf can't sate the athlete's soul
That Ping baseball hat? It's apparently a nod to his post-London love for that ubiquitous athlete pastime, golf. "I traveled. I played golf. I gained 30 pounds. I had a lot of fun, but there was something that I missed," Phelps told ESPN. "I just missed being back in the water. It has been fun and we'll see what happens here."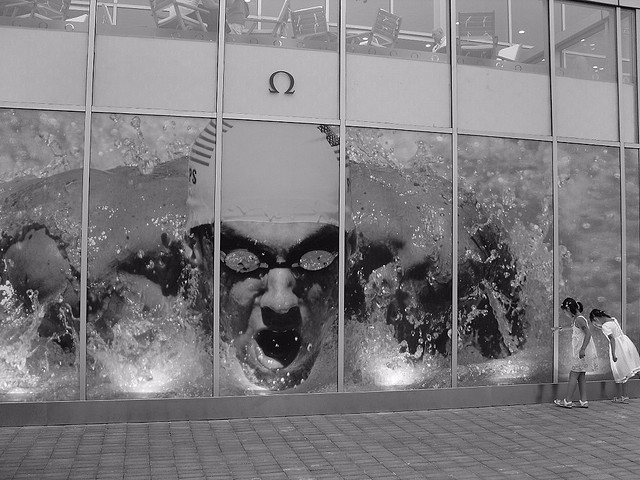 3. The swimming world still loves him
Phelps's return has sparked nothing but excitement from everyone involved, from Lochte to other USA Swimmers to Phelps himself. According to the world record holder, he's in it for fun, and the fun seems to be infectious.
"He's definitely somebody I looked up to when I was younger, so it's great that he's here and other young people can look up to him," Olympic swimmer Katie Ledecky told ESPN. And The New York Times opened one of their Phelps pieces with how Michael Andrews, the youngest swimmer ever to turn pro (last year, at the age of 14), left his first Phelps meeting beaming.
Pumped to be racing again… Happy with the time tonight right where I wanted to be!!

— Michael Phelps (@MichaelPhelps) April 25, 2014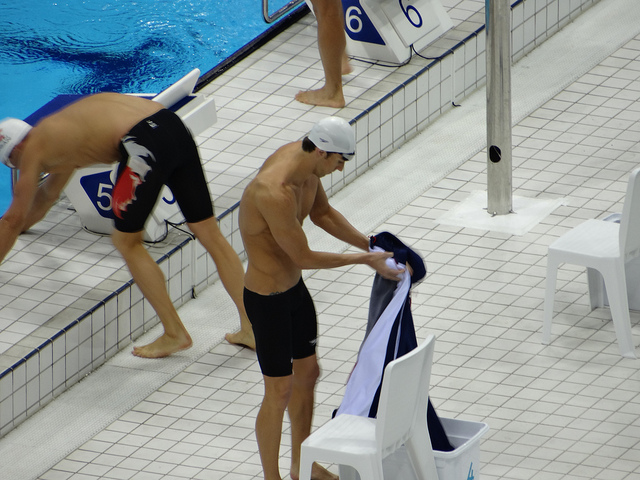 4. He's almost certainly going to Rio
Phelps has a promise to keep to his mother, who asked him to take her to the 2016 Olympic Games. In order to make it as a competitor, he will have to swim well this summer, at the Pan Pacific Championships and the World Championships, which are slated for next year. But Phelps doesn't seem too concerned by it, telling ESPN, "whether it's in the pool or in the stands, time will tell. I really can't say it enough. I really am enjoying being back in the pool."
At least one person is hoping that Phelps comes back in a swimsuit. "Him leaving, it kind of broke my heart a little," Lochte said to The New York Times. "Having Phelps back in the water helps because it'll go back to me and him pushing each other. Just our history between me and Phelps, any race we go up against each other it's going to be a battle because we don't know how to give up."