From Worst to First: Which NFL Team Could Surprise in 2014?
For each of the last eleven NFL seasons, at least one team has won its division that finished in last place the year before. From the 2003 Kansas City Chiefs and Carolina Panthers all the way up to Chip Kelly's 2013 Philadelphia Eagles, the National Football League is becoming known for unmatched parity, a league where "wait 'til next year" actually has some history of realistic hope behind it. (As opposed to, say the MLB's Chicago Cubs.)
The 'worst-to-first' streak even includes a Super Bowl champion, with the 2009 New Orleans Saints finishing at 13-3 and beating the Colts in Super Bowl XLIV after occupying the NFC South cellar a season earlier.
This string of more than a decade begs the question — what last-place team from 2013 can make the jump in 2014? The nine possible candidates (there was a tie for last in the NFC South a year ago), in alphabetical order, are:
Atlanta Falcons (4-12 in 2013)
Buffalo Bills (6-10)
Cleveland Browns (4-12)
Houston Texans (2-14)
Minnesota Vikings (5-10-1)
Oakland Raiders (4-12)
St. Louis Rams (7-9)
Tampa Bay Buccaneers (4-12)
Washington Redskins (3-13)
St. Louis looked like a promising prospect as a near-.500 team from a year ago, but Sam Bradford's unfortunate ACL tear in the preseason makes the Rams less likely to pass up Seattle and San Francisco in the NFC West. In fact, quarterback uncertainty plagues many of the teams on this list, which makes it hard to believe in a significant year-over-year improvement. (Does anyone really know if Robert Griffin III will be Washington's starter by the end of the year? What about Minnesota's Matt Cassel? Oakland's Derek Carr has as many regular-season starts as an NFL quarterback as I do. And so forth and so on…)
With that said, it seems that the two most likely teams to go from worst-to-first in 2014 reside in the same division. Which would you pick?
Atlanta Falcons
Honestly, the Falcons jump off the page from a list of last-place teams, simply because their talent level (especially on offense) has the look of a contender. Atlanta was in the NFC Championship game as recently as January 2013 (finishing the 2012 season with a 13-3 record), so it doesn't take a big leap of imagination to picture Matt Ryan and company back on top of a division they won in 2010 and 2012 (by multiple games both times, no less).
If Atlanta can stay healthy, expect the 2014 version of the Falcons to look a lot more like the 2012 team than the 2013 club. Injuries were a major factor in the team's 2013 slump: as Grantland documented, only six of Mike Smith's players started all 16 games a season ago.
A one-two combination of Julio Jones and Roddy White on the outside for the entire season should be enough to propel the Falcons back into playoff contention, making them a prime candidate to be 2014′s turnaround team. (And a bounce-back from RB Steven Jackson, who averaged a career-low 3.5 yards per carry in 2013, couldn't hurt either.)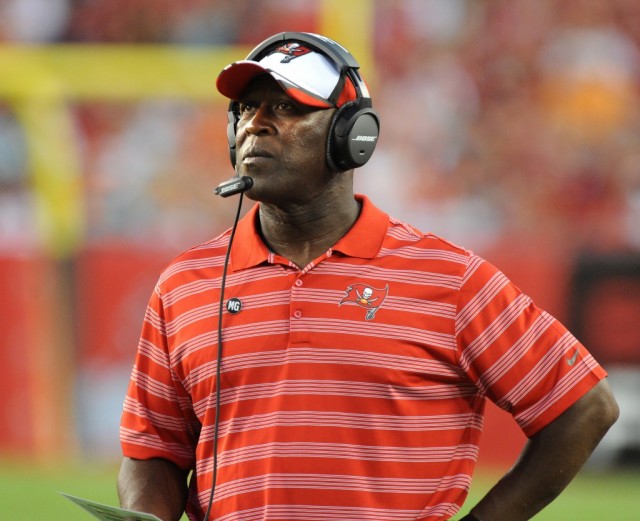 Tampa Bay Buccaneers
The other intriguing option as a possible 'surprise' team in 2014 has to be the Tampa Bay Buccaneers. One main reason? The team is completely different from last year's ballclub, from the head coach to the scheme to the personnel. It starts with Lovie Smith, who appears rejuvenated after a year away from football and boasts a career record of 18 games over .500 (81-63) with the Bears. Translation: When your record in the season that got you fired is 10-6, you can probably coach a little bit.
Smith brings his version of the Tampa-2 defense back to its namesake city, and should have the playmakers in young Tampa Bay stars Gerald McCoy and Lavonte David for it to succeed. Much of the lineup on both sides of the ball will be new after a massive free agency splurge, so the Bucs will need acquisitions like Michael Johnson, Alterraun Verner, Evan Dietrich-Smith, Mike Jenkins, and Anthony Collins to perform.
Oh, and then there's the quarterback. Ex-Bear Josh McCown threw for 13 touchdowns and only one pick a year ago, a ratio he would love to duplicate by the Bay. Small sample size to be sure, but big receivers like McCown enjoyed in Chicago (including a trio of 6-foot-5 targets in Vincent Jackson, first-round pick Mike Evans, and rookie Austin Seferian-Jenkins) will help the offense click. Expect McCown to lean on RB Doug Martin, who was fifth in the NFL in rushing yards as a rookie (2012) before missing 10 games last year due to injury.