MLB: The Early Front Runners for AL MVP and Cy Young Award
As we get deeper into May, we're also getting deeper into the MLB regular season. That means we're getting a better idea of which players and teams are performing at, above, or below preseason expectations. We're also finding out whose hot starts may be for real. Using early season statistics as a guide, here's a look at three of the top candidates for MVP and Cy Young honors in the American League. Neither of last year's winners (MVP Mookie Betts and Cy Young pitcher Blake Snell) appears to be on pace to repeat in 2019.

AL MVP frontrunners
Mike Trout, OF, Angels
You may have read this sentence in past seasons, but it applies in 2019 as well. Angels star Mike Trout is near the top of the list of American League MVP candidates. That isn't surprising considering Trout has finished in the top two of voting in all but one of his first seven seasons in the league. But he continues to put up MVP-worthy numbers. Through his first 31 games of the 2019 season, Trout is hitting .290 with seven home runs and an MLB-best 31 walks.

Matt Chapman, 3B, Athletics
Matt Chapman is a surprising entrant on this list based on name recognition — or lack thereof — but he's a deserving candidate. In his first 36 games of the season, he's hitting .295 with nine home runs, putting him on pace to surpass the 24 homers he hit last season. And his 22 RBIs indicate he could drive in 100 runners before the season is up.

Alex Bregman, 3B, Astros
Alex Bregman had a breakout season in 2018 when he hit 31 home runs with 103 RBIs, and he's on pace to surpass those numbers this year, with nine homers and 23 RBIs through his first 23 games of 2019. Bregman finished fifth in MVP voting last season, and he could finish even higher than that this season if he stays healthy and continues to produce offensively at the pace that he has done in the early going.

AL Cy Young Award shortlist
Tyler Glasnow, SP, Rays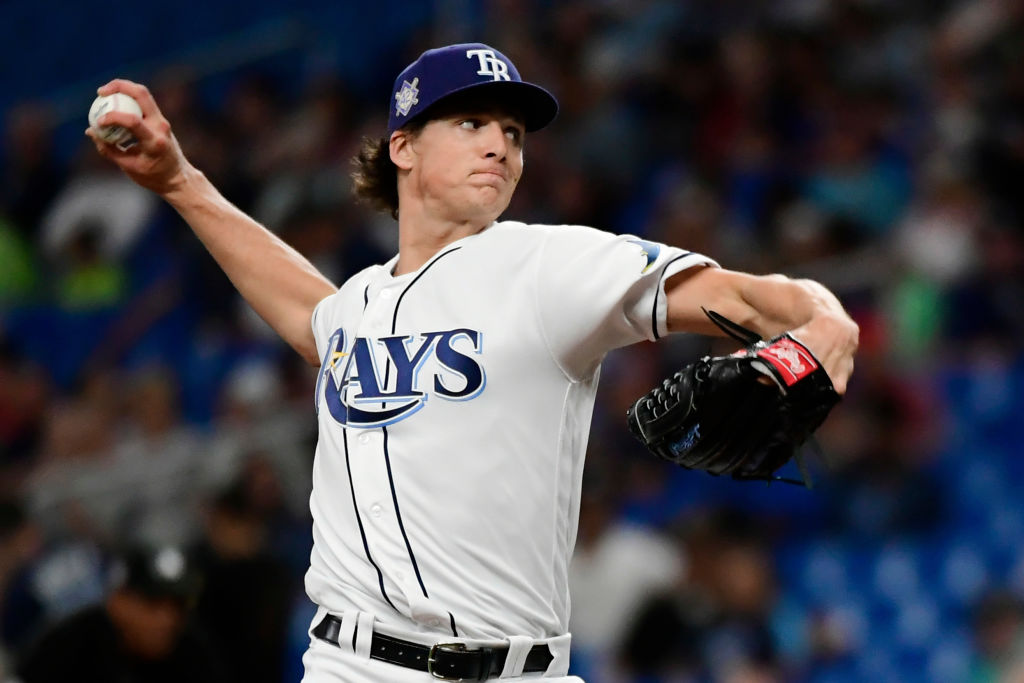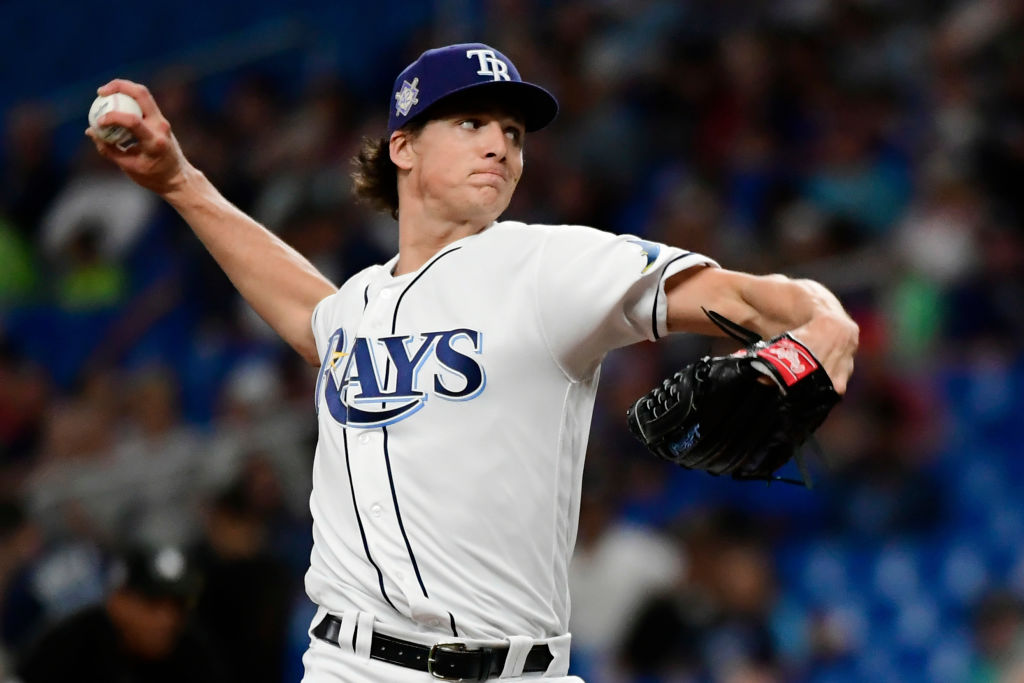 Last year, Blake Snell became the second Rays pitcher to earn the Cy Young award, and he might be succeeded by a teammate this season. Snell isn't pitching like one of the best starters in baseball, but Tyler Glasnow is. Glasnow leads the majors with a 1.47 ERA, and he's tied for the lead in wins with a perfect 6-0 record. In 43 innings over his first seven starts, Glasnow recorded 46 strikeouts and has an AL-best 0.86 WHIP.

Domingo German, SP, Yankees
The Yankees expected Luis Severino, James Paxton, and CC Sabathia to be their Yankees' best starters this season, but they have all spent time on the injured list so far this season. Domingo German stepped up his game in their absence.

German has appeared in seven games so far this season, including six starts, and has a 2.35 ERA and 0.89 WHIP, with 39 strikeouts in 38.1 innings. And he has a 6-1 record to go along with those individual stats. German has been keeping the Yankees in the AL East race while the veteran starters sit out, and he has likely solidified his spot in the rotation with the way he has pitched in the first month-plus of the season.

Justin Verlander, SP, Astros
Justin Verlander already has a Cy Young award on his mantle, and he finished second to Snell last season, but he's making a run to earn the honor again — at the age of 36. He has thrown an American League-high 50.1 innings in his first eight starts. Not only is he an innings-eater, but he is putting up fantastic numbers while he's on the mound. He has a 2.86 ERA and a 0.87 WHIP, but his strikeout total is even more impressive. He racked up 60 strikeouts over his first eight starts, which was second in the American League, behind only his Astros teammate Gerrit Cole.