Frustrated Lando Norris Says McLaren's Qatar Result 'Just Really Sucks'
McLaren Racing's star for the future Lando Norris has had a breakout year in 2021. Four podium finishes and his first pole position, at the Sochi Grand Prix, have made Formula 1 sit up and take notice of the British driver. 
Norris' teammate, Daniel Ricciardo, picked up McLaren's first win after a nine-year drought, but Norris has been the more consistent qualifier and points scorer over the course of the season. 
McLaren and Ferrari are in a battle for third in the constructors' championship. McLaren has looked like the team to beat in the first half of the season, but Ferrari has come on strong lately and opened a 39.5 point gap over their rival. A run of back luck has put McLaren on the backfoot and frustration is starting to show. Can Norris and McLaren catch Ferrari with only two races left in the season?
Bad luck intervenes again for Mclaren during a strong race in Qatar 
Lando Norris qualified sixth in Qatar with a stellar performance. That put him ahead of both Ferrari drivers and gave McLaren a chance to claw back some much-needed points against their rivals from Maranello. 
Norris raced his way into fourth and looked as though he was in with a shot of holding that position to the checkered flag. A charging Sergio Perez would have caught Norris before the end of the race, but catching a rival driver and passing one are two very different things.
With just 10 laps left in the race, back luck struck again for Norris and McLaren. A tire puncture forced a late-race pit stop and dropped the Briton out of the points. He emerged back on track behind the two Ferraris and in the 11th spot, with only a handful of laps left in the race. 
A few clever overtakes saw Norris climb back into the points and finish in the ninth spot, but the loss of a fourth-place finish, and the points that go with that, hurt both him and McLaren. 
Speaking to The-Race.com, Norris had this to say about the race, "The car was pretty strong, I've got to give it to the team, we had a good car today on race stints, even better than I probably expected, so I was very happy about that and I could push a lot with the car. We should've been like P4. I think, if we'd got everything right, maybe we could've challenged for P3 but that's a challenge as Fernando [Alonso] is a racer, you don't expect an easy overtake if I tried.
Norris, speaking about the results and the championship picture said, "We should've unlocked more points than Ferrari and at least got something back. I know they're a long way ahead and even further away now.
"They did that because they deserved it, and they were there on performance, but when you have days like today, there's just nothing you can do and it just really sucks."
What this result means for the battle with Ferrari and the final two races of the season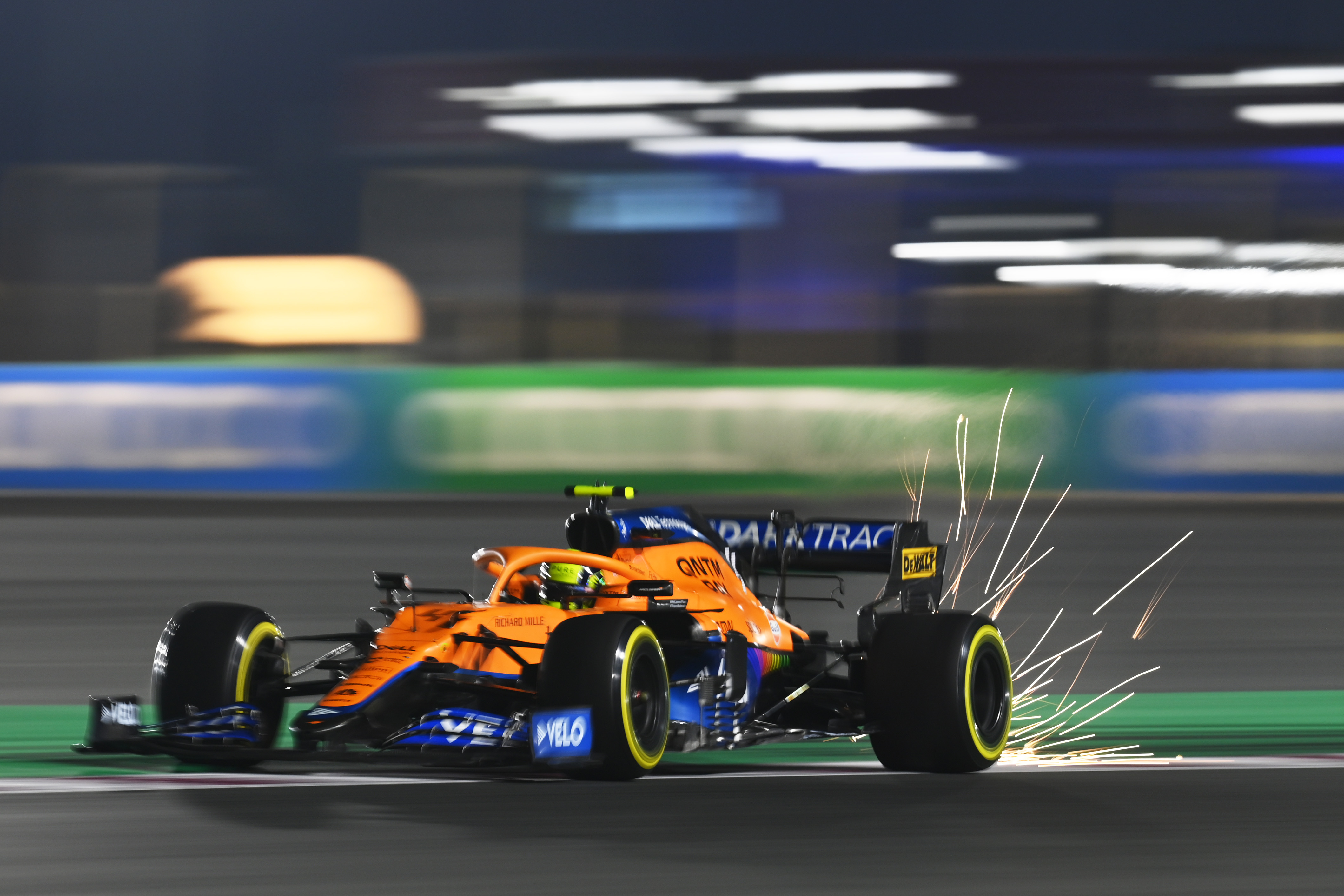 The Ferraris of Charles LeClerc and Carlos Sainz Jr. finished the Qatar Grand Prix in seventh and eighth spot. McLaren's Daniel Ricciardo finished the race in 12th, outside of the points. With Norris only scoring two points in Qatar, the gap to Ferrari increased to 39.5 points.
McLaren seems to have all the bad luck at the moment and Ferrari has been on a run of consistent points finishes. Ricciardo's poor performances this year are due to difficulties in adapting his driving style to the McLaren race car. That has put the burden of points scoring on Norris' shoulders, which he has taken on remarkably well. 
However, with two races to go in the season, it appears that McLaren is losing touch with third in the constructors' championship. It is still mathematically possible for them to beat Ferrari, but it is a tall task.
McLaren's team principal, Andreas Seidl, had this to say, "All that is left for us to make sure in the last two races we keep fighting because as long as it's theoretically possible, we'll give it all for the constructors' championship. And we simply want to finish on a high and score some good results again."
If Ferrari were to finish outside of the points in either of the two final races, McLaren would have a reasonable shot at beating them to third in the championship. If Ferrari continues to finish well in races then McLaren's task is much harder and almost impossible.
The odds favor Ferrari, but McLaren won't give up the fight until the very end. Lando Norris is capable of outracing the two Ferrari drivers and if Ricciardo has competitive performances McLaren will be extremely tough to beat, as they have had the edge on speed and lap time over Ferrari all season. Expect great racing between these two iconic Formula 1 teams all the way up until the season ends.
Related: Jimmy Butler Did 1 Hilarious Lap With Formula 1 Driver Lando Norris and It Wasn't Pretty: 'I Need to Throw Up'