Frustrated Magic Johnson Calls out Lakers' Team Chemistry Issues After Embarrassing Incident Against Suns: 'I've Never Seen Something Like That'
They are only two games into the season, but the Los Angeles Lakers have some problems they need to fix right away. Their on-court issues are solvable, as they have essentially only played two games together, so it will take time for them to understand where everyone needs to be on the court during a given night. But the more pressing concern is their off-court chemistry, as an altercation between Anthony Davis and Dwight Howard drew out a frustrated reaction from Lakers legend Magic Johnson.
Anthony Davis and Dwight Howard got into an altercation during the Lakers' loss to the Suns
For a team that needs to figure out how to play together, the Lakers have had a tough schedule to open their season. They started with a loss to Stephen Curry and the Golden State Warriors on Opening Night before facing the reigning Western Conference champion Phoenix Suns in their second game.
And just like their first contest against the Warriors, the Lakers lost to the Suns 115-105. Sure, their 39.5% team shooting percentage wasn't great; the fact they let the Suns go on a 27-11 run before halftime was concerning as well. But LA's biggest issue came in the second quarter when Davis and Howard got into an altercation on the bench during a timeout.
As the big men exchanged words, Howard stood to his feet to talk to an already standing Davis. AD then grabbed his arm, which led to a seemingly defensive Howard falling back onto the bench while teammates intervened. The two then continued talking while getting broken up.
Despite the drama, Howard and Davis downplayed the situation after the game.
"We squashed it right then and there," Howard said, per ESPN. "We just had a disagreement about something that was on the floor. We're both very passionate about winning. We didn't want to lose this game, so we're just passionate. We got it out the way. We're grown men, things happen. But we are going to squash this little issue between me and him, and that's my brother, that's my teammate."
Davis simply said, "it's over with," and revealed that the argument was in regards to their coverage on a pick-and-roll.
"After the situation happened, me and DH, we talked about it, and we left it at that," he said, per ESPN.
Magic Johnson called out the Lakers' issues on Twitter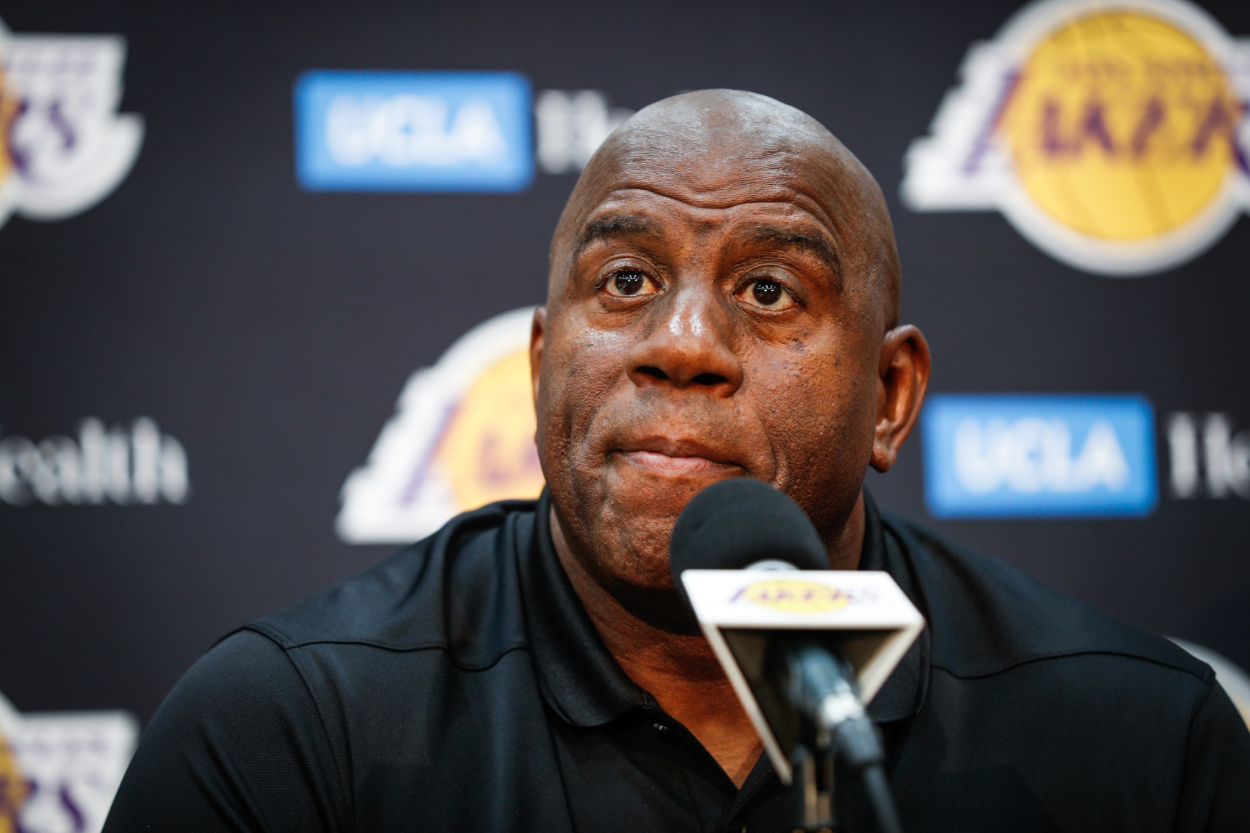 It has been decades since Magic Johnson last played in the NBA, but he's still someone who comes to mind when discussing the Lakers. He is almost always associated with the team and is a big reason why LeBron James is in LA, as Magic was the president of basketball operations when the organization signed the former Cleveland Cavaliers star in 2018.
Following the Lakers' embarrassing incident against the Suns, Johnson took to Twitter and expressed his frustrations.
"The Lakers have a team issue and basketball issue," he tweeted.
In case the meaning behind Johnson's comment wasn't clear, he then specifically brought up the Howard-Davis altercation in a separate post.
"Dwight Howard and AD got into a physical altercation on the bench," he tweeted. "In my 42 years of being associated with the Lakers organization, I've never seen something like that smh."
Magic clearly wasn't happy about the incident, and his frustrations are justified. LA fans shouldn't have to worry about an altercation like the one Davis and Howard had, especially this early in the season.
The Lakers' incident was embarrassing, but they should be OK
As many verbal altercations as there are on teams throughout a season, not too many blow up quite like Davis and Howard's did. They should not be getting that frustrated in only the second game of the year.
The last incident similar to it was probably the one between Draymond Green and Kevin Durant on the Golden State Warriors during 2018-19. It never got physical, but tempers were at an all-time high that night. Golden State reached the NBA Finals that season, but a team-chemistry-cloud hung over the organization the rest of the year.
The Lakers' and Warriors' incidents aren't 100% alike. Davis is with LA for the long haul, so there isn't the added free agency tension looming over the team like there was with KD and Golden State. But it's still something a championship team shouldn't have to worry about at any point during the year.
If the two big men can truly put it behind them, the Lakers should be OK, as it takes time for teams to find chemistry when they haven't played together. For example, LeBron James' Miami Heat Big Three started 9-8 in 2010-11 before reaching the NBA Finals, and his 2014-15 Big Three on the Cavaliers got off to a 19-20 start before making the Finals as well.
Los Angeles has no reason to panic quite yet.
Chemistry issues, though, are more concerning than basketball issues. So, if the Lakers can't fix things in that department, fans could be in for a long season.
Stats courtesy of ESPN and Basketball Reference
RELATED: Magic Johnson Uses 1 Tweet to Stick up for LeBron James but Also Put Kevin Durant, Giannis Antetokounmpo, and Other NBA Stars in Their Place