Frustrated Tom Brady Has No Time for Reporters After Washington Football Team Executes Revenge on Buccaneers: 'Make it Quick'
This time around, Taylor Heinicke and the Washington Football Team got revenge against Tom Brady and the Tampa Bay Buccaneers. Heinicke showed out in the playoffs the last time these teams met, but Brady's group got the victory and waltzed to a Super Bowl victory.
However, Sunday's game was much different as Brady threw a pair of interceptions and Antonio Gibson scored a touchdown after a 10-minute drive to finish the game.
Afterward, Brady was clearly frustrated — and rightfully so — and didn't even want to speak with reports after a frustrating loss.
Things weren't pretty for Tom Brady and the Buccaneers as they dropped another game
Two losses in a row are uncharacteristic for Brady. The Buccaneers lost to the New Orleans Saints a week before the bye and then fell to Washington in an absolute stunner on Sunday at FedEx Field.
Brady struggled, surprisingly, and tossed two interceptions — both of them in the first quarter.
Nonetheless, he finished with a respectable line of 23-of-34 clip for 220 yards with two scores and those two interceptions. But, it was Heinicke who led a masterful drive to seal the deal. Washington started its final drive with 10:50 left and capped it off with a Gibson touchdown with 31 seconds left.
It was unorthodox to see anybody do that against this vaulted Buccaneers defense, but Washington found a way and escaped with the 29-19 victory.
Brady did not have many words for reporters after the frustrating loss
Yes, Brady was visibly frustrated after the game. After a 6-1 start, the Bucs are now 6-3 and have significant issues to fix if they want to return to the Super Bowl again.
The 44-year-old's first words in the presser set the tone (h/t Jenna Laine of ESPN).
"Make it quick."

Tom Brady during postgame press conference after loss to Washington
Well, Brady sure did make it quick. He got out of there after just a couple of minutes and gave concise answers time and time again.
When asked about his interceptions, he didn't mince any words at all.
"We started with it, they came away with it."

Tom Brady on the two interceptions
Yes, that is what an interception is. Brady just wasn't having it, and you can't blame him.
Washington came in with just two victories on the year and just punched the defending Super Bowl champions in the mouth, even after losing star defender Chase Young to an injury that turned out to be a torn ACL.
The presser didn't even last two minutes and Brady was itching to get out of there as soon as possible. All in all, a forgettable day for the Bucs and head coach Bruce Arians acknowledged that the "stupidity has to go away."
The NFC foes can't afford to get complacent even with the Buccaneers recent skid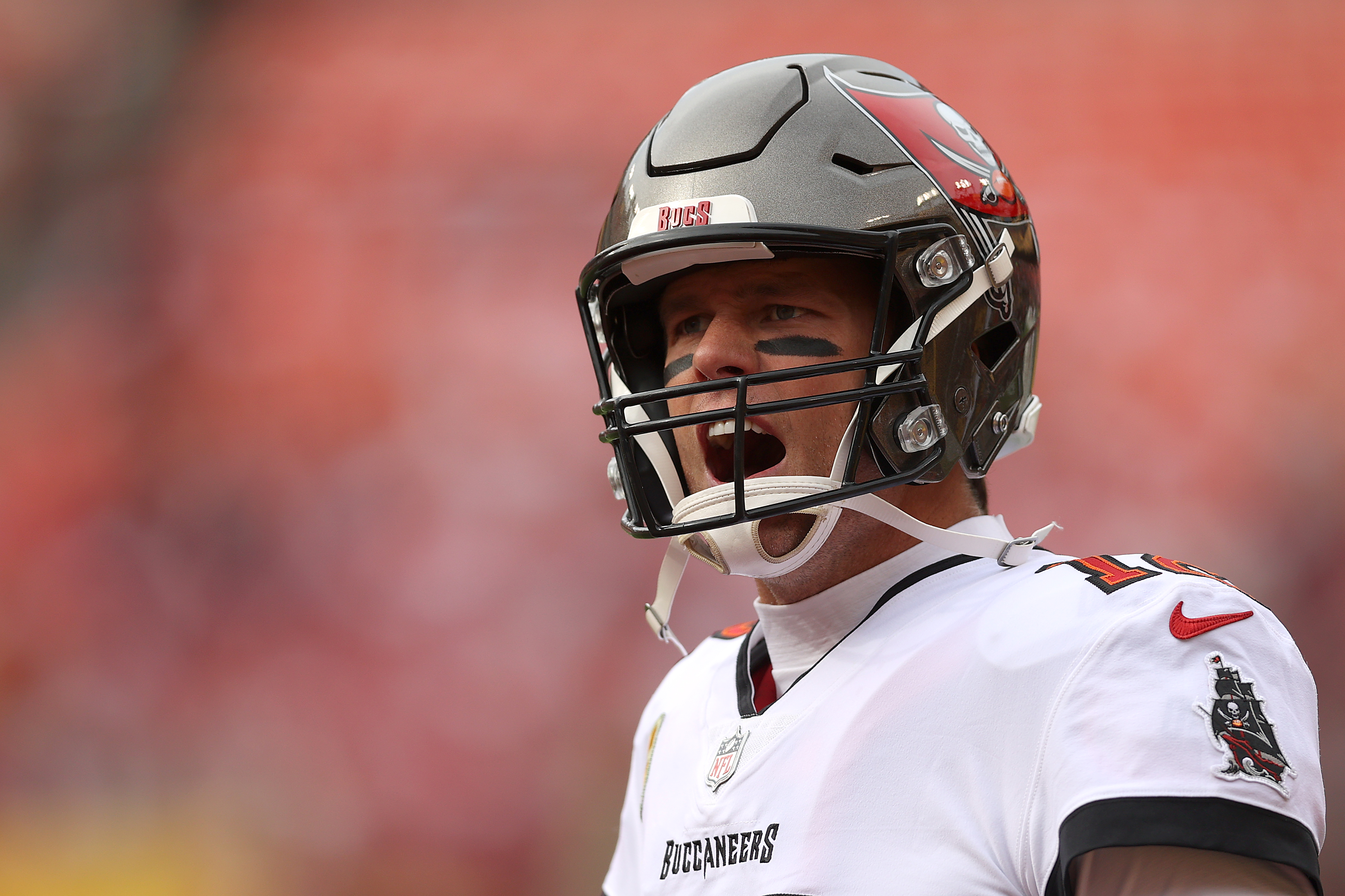 Sure, the Bucs have dropped two straight games. Brady hasn't looked like himself lately and the defense has its issues to figure out.
But are we really writing off this team already?
That would be foolish.
The Green Bay Packers, Dallas Cowboys, and Los Angeles Rams all look explosive, as do the Arizona Cardinals when they get healthy. But, never, ever count out Brady — especially with this insane group of weapons.
Antonio Brown and Rob Gronkowski should be back at some point, although who knows when that will be. Nonetheless, we have seen angry Tom Brady before and it isn't a pretty sight.
The next opponent for Tampa Bay is the New York Giants on Monday Night Football, and that could be the start of a massive winning streak for the defending champions.
Stats Courtesy of Pro Football Reference