Game Recognize Game: NBA Players to Vote On Own Seasonal Awards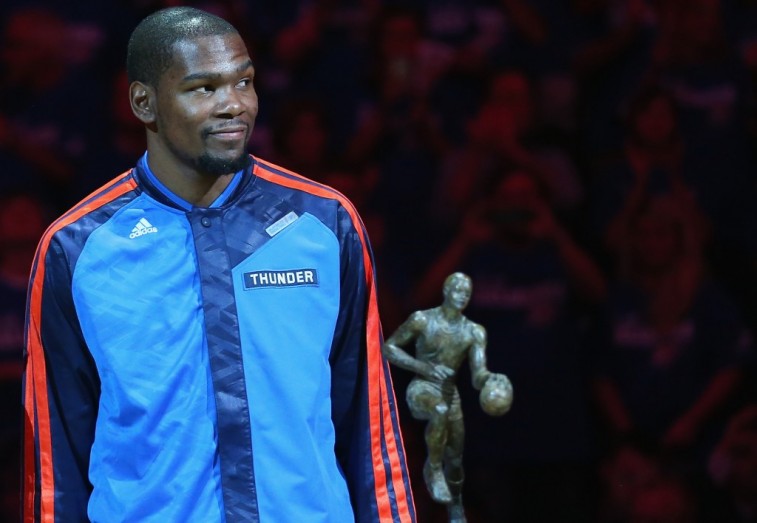 At the conclusion of every NBA season, it's the media whose vote determines which players receive the end-of-year awards. It has been that way since the beginning of the 1980-1981 season, and that doesn't sit well with a lot of the game's biggest stars. Reigning MVP Kevin Durant made his feelings known during his All-Star media session in February:
I think (the) media gets too much power to vote on stuff like that. Quite frankly I don't think you really know a lot about as much we know about it. So we play against these guys every single night, we battle against these guys, we know what they say on the court, we know how they handle their teammates, we know how they approach the game, and our votes should count. Our opinions should count. I don't think you guys know as much we do, and I don't see why you have more power than we do.
We can see where Durant is coming from. It makes complete sense that the players would want to be involved in this sort of decision-making process. You know what they say — "If you can't join 'em, launch your own seasonal awards."
OK, maybe no one has ever said that, but it's exactly what the National Basketball Players Association (NBPA) is doing with the creation of the Players Choice Awards.
As @sam_amick first reported, NBPA to hold Players Choice Awards. Here's how it will work, per internal memo: pic.twitter.com/p3wAdtzznn

— Nicki Jhabvala (@NickiJhabvala) April 8, 2015
In an internal memo, which was first obtained by USA Today Sports' Sam Amick, new NBPA Executive Director Michele Roberts discussed how the new program was for the players. "This program was created at your request to recognize outstanding performance of your peers, on and off the court," she said. "No one knows better than you what it takes to shine."
On Wednesday, newly elected union Vice President LeBron James talked about new awards program. Said James, "Guys are going to be able to recognize the guys they play against every night and what they do for their franchises." These awards will only be voted on by the players. They results will be announced in July in front of the union members at their annual meeting in Las Vegas.
This has been on the minds of many NBA players for quite some time, a point that Cleveland Cavaliers union representative James Jones brought up while discussing the matter with Northeast Ohio Media Group's Chris Fedor:
Something players have been interested in doing for a long time. I think it probably would have been done a lot earlier but we've been in transition as far as a union staff and our front office. It's something that's pretty exciting for the players because it just gives the players a voice and an opportunity to interact and make their opinions known to the fans. It's really about the fans.
Sports may very well be enjoyed by media members and fans alike, but only the players have the unique perspective that comes with firsthand competition. There are so many intricacies that go into professional basketball, and only members of this specific fraternity fully understand these minute details. That's why there is so much respect between NBA players.
They are part of a world that very few people will ever get to experience. And now they'll get the opportunity to pay each other the ultimate respect, by acknowledging the success of their peers. With the creation of the Players Choice Awards, finally game will officially recognize game.