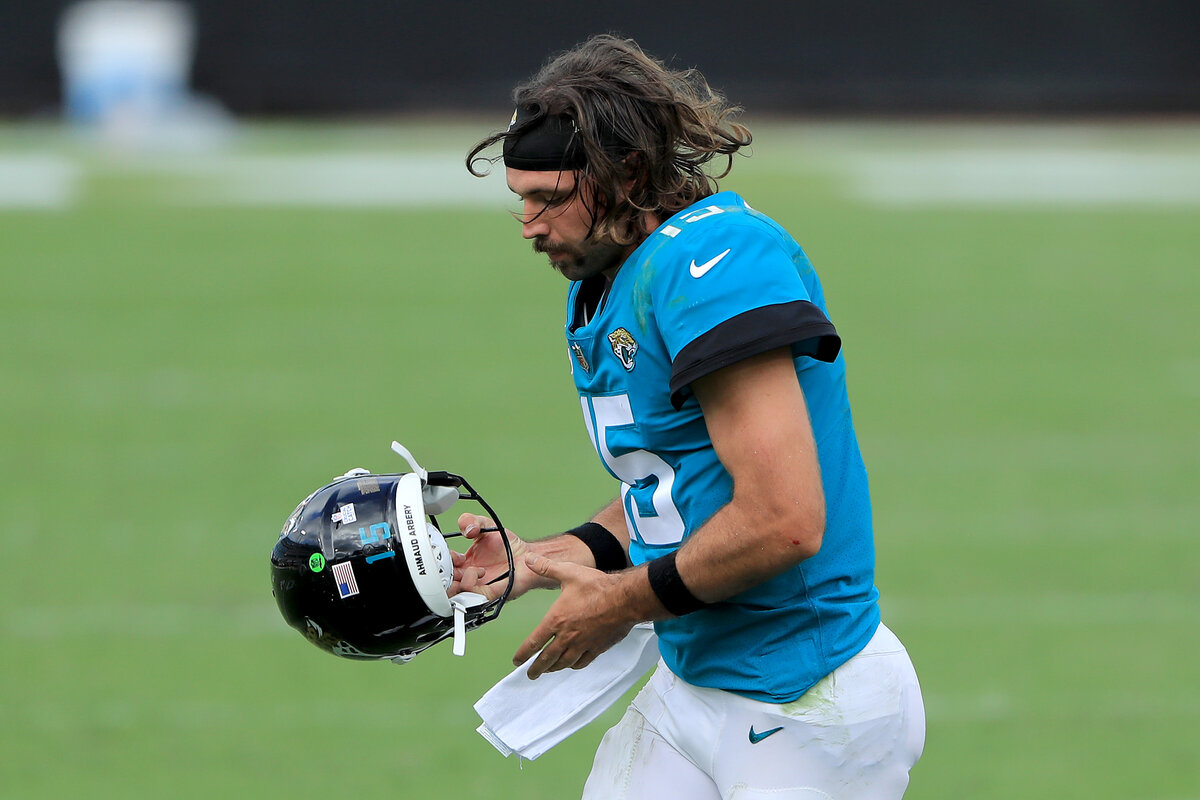 Gardner Minshew Received a Public Warning That He Could Be Benched 'in the Future'
The honeymoon between Jacksonville Jaguars QB Gardner Minshew and head coach Doug Marrone could be over. Marrone just put Minshw on notice.
The honeymoon between Jacksonville Jaguars quarterback Gardner Minshew and head coach Doug Marrone could be over. 
What was expected to be a tough season for the Jaguars began in surprising fashion with a Week 1 victory. Now, the Jaguars enter Week 7 having lost five straight games and with any playoff hopes dying by the day.
How bad are things getting for the Jacksonville Jaguars? Marrone just put Minshew on public notice in a big way.
Gardner Minshew has played well in 2020
Everything considered, Gardner Minshew has had a solid 2020 season so far.
Minshew completed 67.5% of his passes for 1,682 yards, 11 touchdowns, and five interceptions in the Jaguars' first six games. Over a full 16-game season, those numbers amount to 4,485 yards, 29 touchdowns, and 13 interceptions.
Minshew's 162 completions led the league when Week 6 concluded.
The second-year quarterback also picked up 101 rushing yards and a touchdown on 4.8 yards per carry. Minshew even had a reception that went for no gain.
If the season ended after Week 6, Jacksonville would have a top-5 pick and be in the mix for a quarterback like Ohio State's Justin Fields or North Dakota State's Trey Lance.
However, with Minshew playing how he is, Jacksonville shouldn't rule out the idea of bringing him back in 2021 and, possibly, keeping him as the starter.
Minshew and the Jaguars have lost five straight games
Led by Gardner Minshew completing 95% of his passes and throwing three touchdowns, Jacksonville pulled off a 27-20 upset of Philip Rivers and the Indianapolis Colts in Week 1.
Jacksonville kept tight with Tennessee in a 33-30 loss in Week 2, but things have been rough since then. The Jaguars enter a Week 7 matchup with the Chargers at 1-5 and firmly out of the playoff picture.
Tennessee is 6-0 and the Colts are 4-2. Even in a year with seven playoff teams, Jacksonville would need a miracle to make the playoffs, much less finish with a .500 record.
Doug Marrone hinted he could bench Gardner Minshew soon
Jaguars coach Doug Marrone is coaching for his job at this point, and both he and Gardner Minshew know that fact.
Marrone stewed on the sidelines when Minshew completed a season-low 57% of his passes for 243 yards, one touchdown, and an interception in the Week 6 home loss to Detroit.
Although Marrone kept Minshew in for the entire game, that may not be the move from now on. According to ESPN, Marrone said he'd be open to benching Minshew if the situation required that decision.
"Maybe in the future, I think. I mean, I'd be naïve not to say [that's a possibility]. That's up for any position, any play that we can do for ourselves to get better. But no, I didn't feel that way during the course of the game."
Jacksonville officially lists Mike Glennon as Minshew's backup. 
A former third-round pick of the Tampa Bay Buccaneers, Glennon, who turns 31 on December 12, has completed 60.9% of his passes in seven seasons for 5,163 yards, 36 touchdowns, and 20 interceptions. 
At this point, the Jaguars know they're playing for 2021. Whether or not the team will still employ Marrone and Minshew next year is to be determined.