Gary Payton Has a Large Net Worth After Dominating on the Seattle SuperSonics
Gary Payton was one of the greatest guards, especially defensively, in NBA history. He has a Hall of Fame induction to prove it too. Payton was extremely successful for the Seattle SuperSonics, as well as a few other teams in his career. His success ultimately helped him rack up a massive net worth.
Gary Payton was dominant for the Seattle SuperSonics
The Seattle SuperSonics selected Gary Payton with the second overall pick in the 1990 NBA draft. Then, within a few years, Payton was one of the best guards in the entire NBA. In his third season in 1992-93, Payton averaged 13.5 points per game, 4.9 assists, and 2.2 steals. He helped lead the SuperSonics to the Western Conference Finals that season too.
Then, from the 1993-94 season through the 2002-03 season, Payton earned nine out of 10 possible All-Star selections. He averaged as much as 24.2 points per game in 1999-2000 and nine assists in 2001-02. Payton was also a great defender. He led the league in steals in 1995-96 with 2.9 per game. That led to him winning the Defensive Player of the Year award that season.
Payton also helped lead the SuperSonics to the NBA Finals in 1995-96. However, they could just not win a championship while he was there. This was probably mostly because Michael Jordan and the Chicago Bulls were dominating the competition in that era.
The SuperSonics then traded Payton to the Milwaukee Bucks at the 2002-03 trade deadline, according to Yahoo Sports.
Winning a championship with the Miami Heat
After Gary Payton played in 28 regular-season games with the Milwaukee Bucks in 2002-03, and in one playoff series, Payton played in one season each with the Los Angeles Lakers and Boston Celtics in 2003-04 and 2004-05. He played well for them too. Payton made another NBA Finals appearance with the Lakers during 2003-04. He also helped the Celtics reach the playoffs in 2004-05. However, Payton then finally got to the mountaintop with the Miami Heat.
Payton played for the Heat, who were led by Dwyane Wade and Shaquille O'Neal, during his final two seasons. He was a role player in those seasons as he averaged 7.7 points per game in 2005-06 and 5.3 in 2006-07. He finally ended up winning a championship, though, as the Heat won the NBA Finals during the 2005-06 season. Payton's final NBA season was in 2006-07. Here is a look at all of his career accomplishments.
Hall of Fame inductee
Nine-time NBA All-Star
Nine-time All-NBA honoree
Nine-time All-Defensive team honoree
1995-96 Defensive Player of the Year
8,966 career assists (10th all-time)
2,445 career steals (fourth all-time)
Gary Payton was undoubtedly one of the NBA's greatest. This allowed him to become a pretty wealthy man.
Payton is worth a lot of money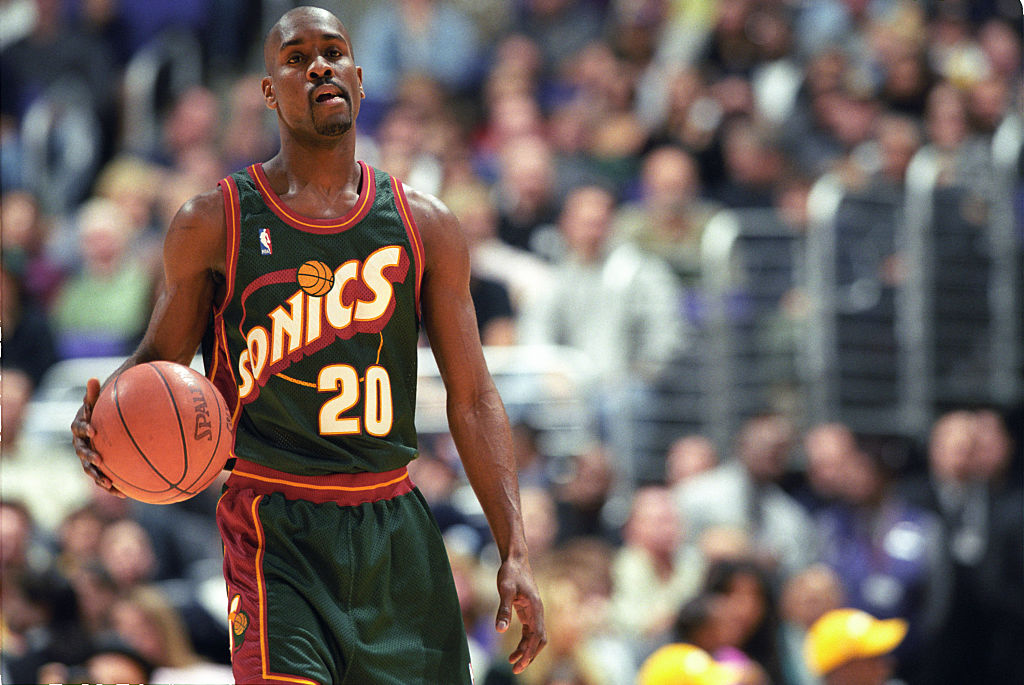 Not only did Gary Payton have a lot of success in the NBA, but he has also appeared in some movies and television shows. Some of his appearances include: White Men Can't Jump, Like Mike, After the Sunset, and The Lego Movie 2: The Second Part, according to IMDb.
Because of his play, in addition to the work he has done off of the basketball court, Celebrity Net Worth reports that Payton is worth an estimated $50 million. That is a pretty good amount of money. Especially for someone who has not played in the NBA in over a decade. 
Gary Payton was one of the best basketball players to ever play in the NBA. He could not only score the basketball, but he could facilitate and defend better than almost anyone who has ever played. All of his success led to him becoming a Hall of Famer and helped him become a pretty wealthy man.