Gary Payton Likened a Young Jason Kidd's Popularity to LeBron James Coming out of High School: 'In the Bay Area, that's what all the talk was about — J-Kidd'
A young LeBron James brought unprecedented hype and expectation when he came to the NBA in 2003. The St. Vincent-St. Mary High School product had been tabbed as the heir to Michael Jordan essentially from the time he was a sophomore and was seen as the most can't-miss prospect ever. But while James captured the national spotlight, Gary Payton believes Jason Kidd had every ounce of LBJ's acclaim as a standout from the Bay Area.
The Glove said back in 2018 that Kidd was nearly on par with San Francisco 49ers quarterback Joe Montana in terms of name recognition in the Bay in the late 1980s. That's bold, considering Montana was at the peak of his powers and one of the most prominent figures in all of sports.
Gary Payton and Jason Kidd both hail from the Bay Area
Modern NBA players like Damian Lillard have spoken about how vital the Oakland Bay Area region is to their makeup and journey to the Association. Such was also the case for both Gary Payton and Jason Kidd.
Payton went to Skyline High School in Oakland before going on to Oregon State. He starred for the Beavers, ultimately getting drafted second overall in the 1990 NBA Draft to the Seattle SuperSonics.
Kidd came after Payton and almost immediately became the talk of the region. The San Francisco native became a national sensation at Saint Joseph of Notre Dame in Alameda, California, before staying in-state as a star for the California Golden Bears. Like Payton before him, Kidd was also the No. 2 overall pick, going second to the Dallas Mavericks in the 1994 NBA Draft.
Both charted separate paths to Springfield as members of the Hall of Fame. But, according to Payton, almost everyone expected Kidd to be a superstar before his career really started.
The Glove claims Kidd was the "first LeBron" in one particular aspect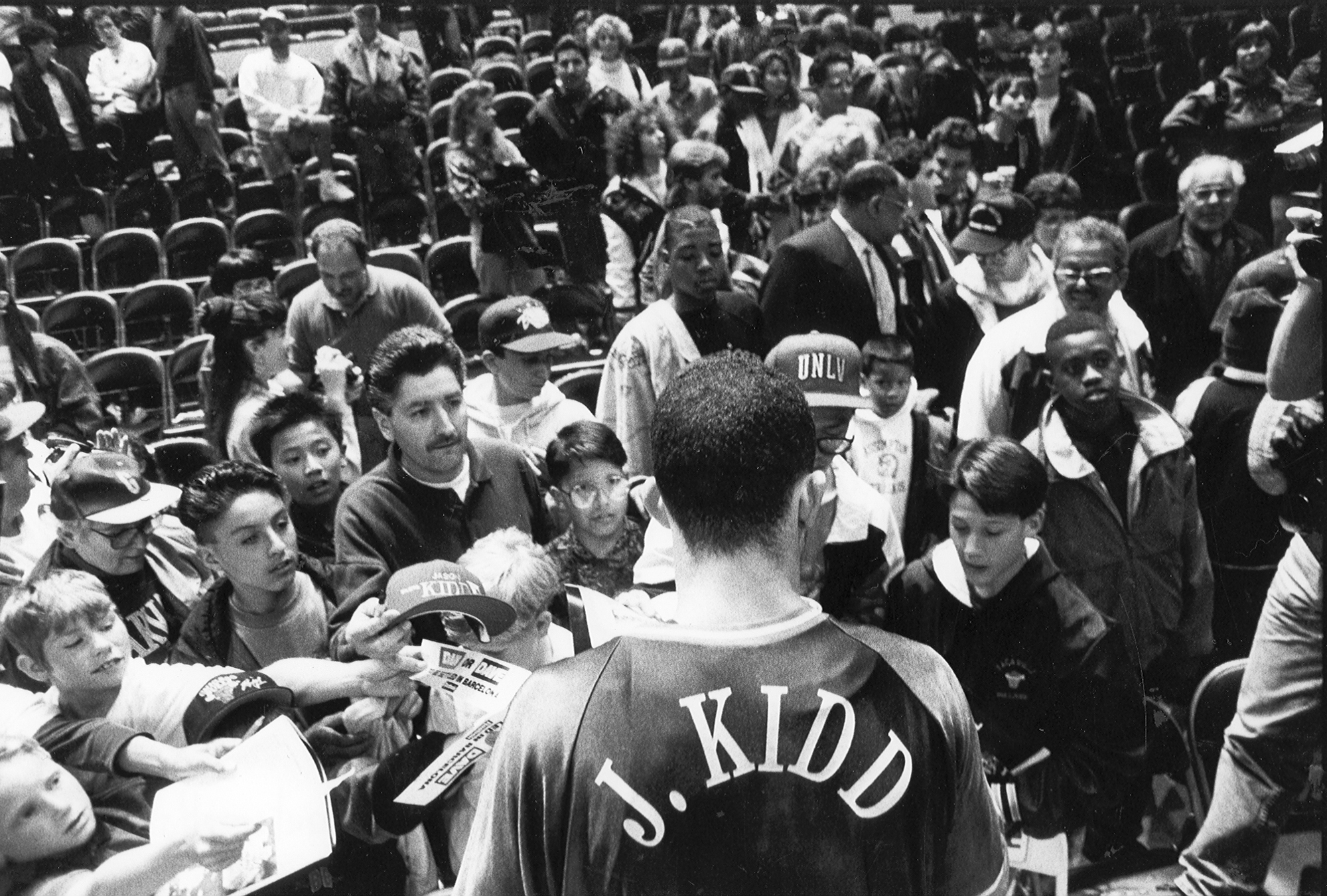 The parallels that exist between Jason Kidd and LeBron James are quite interesting.
Kidd starred for a private high school with a Catholic background. James played at the first Catholic high school founded in Summit County in Ohio. Likewise, J-Kidd became renowned for his court vision, remarkable intellect, and ability to stuff every category in the stat sheet. LeBron boasts those same attributes, with his unique blend of size and athleticism contributing to his dominance.
There's another similarity, or so Gary Payton believes. The Glove said (h/t ESPN) before Kidd's Hall of Fame induction in 2018 that the 10-time All-Star was the first LeBron James in terms of high school players attracting the attention of the masses.
Payton's account speaks volumes.
Remember, GP came before Kidd. So for Payton to have a distinct memory of Kidd's gravitas and standing in the Bay Area speaks volumes about the current Mavericks head coach's regional and national fame back in the day.
Indeed, Kidd's individual brilliance forced St. Joseph to move games to the old Oakland Coliseum Arena, which later became the famed Oracle Arena. Like LeBron, Kidd also had Sports Illustrated asking to shoot photos of him and national television crews flocking to cover his games.
Part of James' hype stemmed from his going directly to the NBA from high school. Kidd, on the other hand, went to Cal before going to the league. Still, his preps pedigree was on par with LeBron's.
But Kidd might not have reached such levels of esteem were it not for Payton.
GP helped mentor J-Kidd in Oakland
Gary Payton might have been Jason Kidd's elder, but he was the one who hardened him up and made him the prep sensation he eventually became. What else is to be expected from one of the most notorious trash talkers in NBA history?
Kidd said Payton would harass him during his high school years and even claimed he could not score a single bucket on GP in games or drills for two years.
"Oh, there were tears," Kidd told ESPN in 2018. "My parents would ask me, 'What's wrong?' I would be like, I think I should pick a different sport because I am not very good at it. He wouldn't let me score. [And] he would tell me you are not going to score … that I was soft and that I wasn't good enough."
Of course, Kidd would respond to Payton's incessant verbal harassment. He used it as fuel to improve, only further elevating his status as a local legend and giving him the belief to become one of the best players in the world.
RELATED: LeBron James Given More Motivation to Have a Monster Season After Rival General Managers Shockingly Poke the Bear