Gary Sánchez Could Be Entering His Final Chapter With the Yankees
Gary Sánchez appeared to be the next face of the New York Yankees in August 2016.
Four years later, Sánchez's time in the Bronx could be nearing its end. The All-Star catcher, who has been criticized in the past for his attitude. and inconsistency, began the 2020 season on a brutal note.
Aaron Judge could be the next New York Yankees star headed for a long contract. Sánchez, on the other hand, might not be in pinstripes much longer.
Gary Sánchez has had an inconsistent career
RELATED: Aaron Judge's Strange Baseball Superstition Involves 'a Nasty, Old, Unflavored Piece of Gum'
After he debuted to close the 2015 regular season, Gary Sánchez reached the big leagues for good in August 2016.
He enjoyed one of the greatest summers in team history, mashing 20 home runs across 47 games from August 10 to October 2. A year later, Sánchez reached his first All-Star Game when he hit .278 with 33 home runs, 90 RBIs, and scored 79 runs in 122 games.
Former Yankees manager Joe Girardi, a productive catcher in another life, openly criticized Sánchez's defense behind the plate. Baseball-Reference credited Sanchez with 16 passed balls in 2017, a number which climbed to 18 under new manager Aaron Boone in 2018.
Although Sánchez hit 18 home runs across 89 games in 2018, he hit just .186 and earned criticism for his effort. Sánchez bounced back last year with 34 home runs in 106 games, but his .232 average and 125 strikeouts in 106 games each remained concerning.
Sánchez has hit six career postseason home runs but holds a .176 average in 27 games. He struck out 12 times in 23 at-bats during the Yankees' ALCS loss to Jose Altuve and the Houston Astros last October.
Sánchez is off to an awful start this season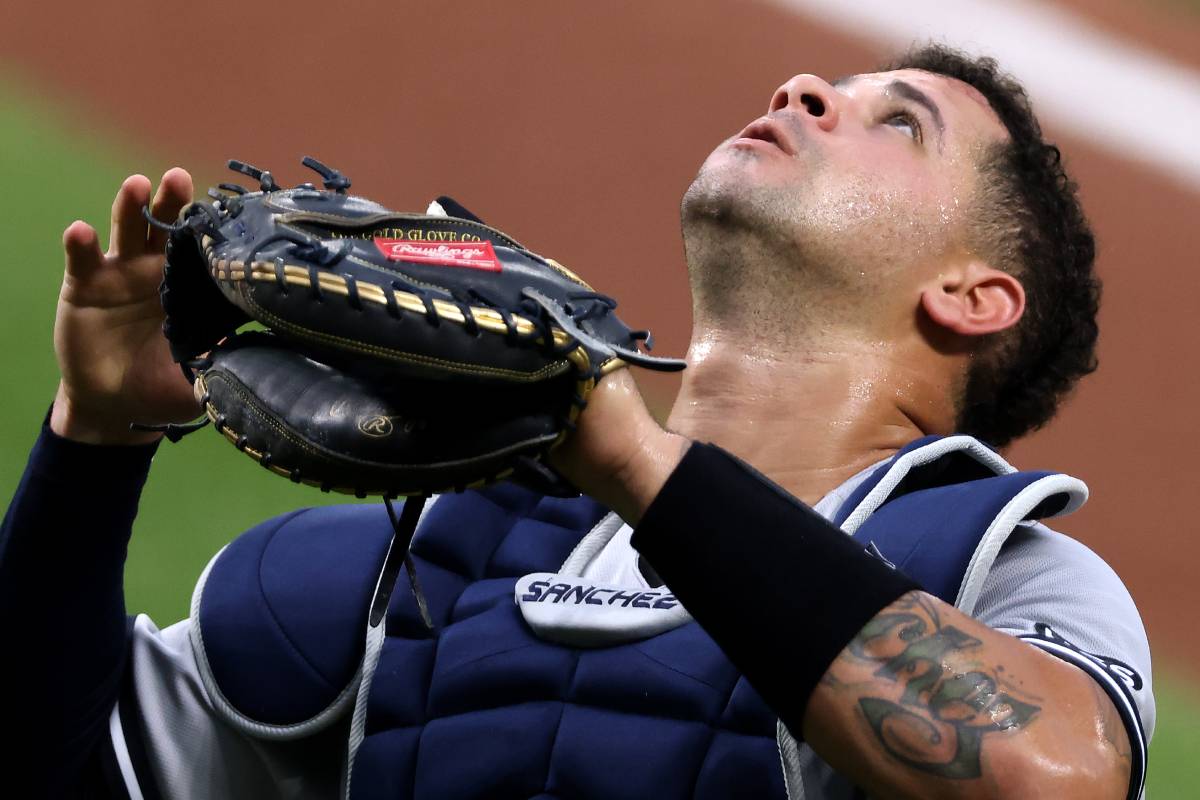 RELATED: Why Does Giancarlo Stanton No Longer Go by Mike?
The extended time off didn't help Gary Sánchez start the 2020 season off the way he wanted.
Sánchez notched only two hits and one RBI in his first 25 at-bats. He struck out 14 times and walked just once, creating an ugly .080 average and .148 on-base percentage through eight games.
A hot offense and Gerrit Cole's 3-0 record through three starts nonetheless had the Yankees off to an 8-1 record at publication.
Gary Sánchez could be entering his final chapter with the Yankees
RELATED: Who Is Nick Nelson and What Did the Yankees Give Him After His Performance Saturday?
Gary Sánchez won't hit free agency until 2023 and if one asked the Yankees what their plans were, they'd say they want him in pinstripes until he retires.
But at some point, the Yankees will need to realistically address contract talks with Sánchez, who turns 28 in December. The older he gets, the fewer hopes there should be about him suddenly becoming a complete player for the long haul.
The Yankees lived with Sánchez's poor defense because he was arguably the league's best-hitting catcher. Sánchez's lack of plate disicpline and lack of success in the postseason can only save him for so long.
The Yankees don't have his replacement in the wings. The thought of adding a veteran catcher like J.T. Realmuto or Yadier Molina and moving Sánchez to another position should be out the door after his defensive improvements.
Mets catcher Wilson Ramos could become a free agent after the season. White Sox catcher James McCann won't turn 31 until next June and revived his career in Chicago.
The question shouldn't be if those catchers are better than Sánchez. It should be if they give the Yankees a chance to win the way Sánchez has since August 2016.
For now, Gary Sánchez is the Yankees' catcher of the now and the near-future. But if he doesn't turn things around soon and the Yankees win in spite of him, they may need to have an uncomfortable conversation.
All stats courtesy of Baseball-Reference