George Karl Has a History of Taking Shots at People
No one can deny that George Karl can coach. The man has too many wins on his resume to rob him of that fact. But winning NBA games doesn't make one likable, and this former coach has plenty of enemies. Karl may have made a new one with a pointed tweet aimed at ESPN broadcaster and former Golden State head coach Mark Jackson. 
So what's Karl's problem? Why did he take issue with Jackson, and why have so many others taken issue with Karl? 
George Karl's NBA coaching career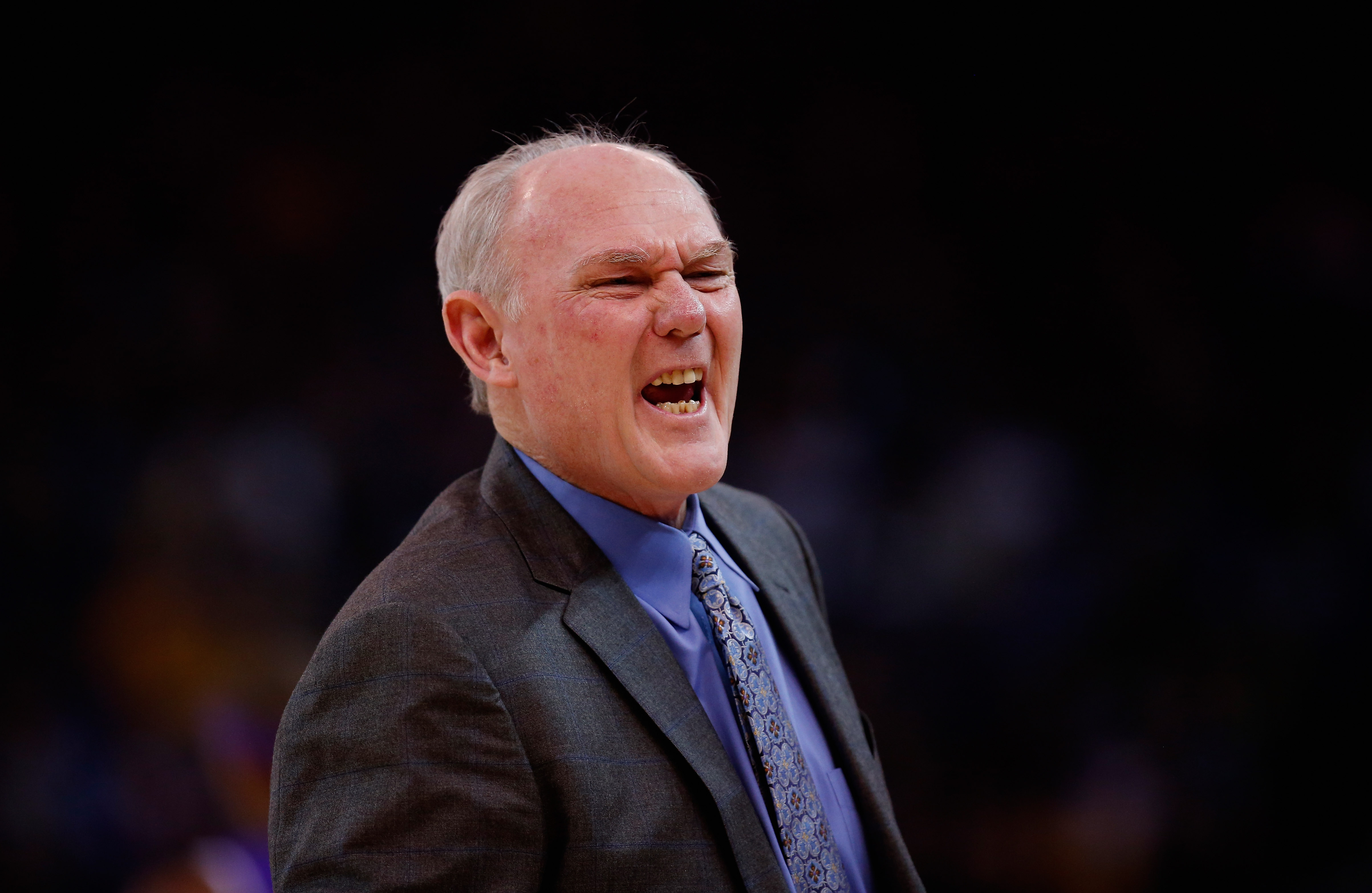 Karl has coached many teams during his illustrious career. Three stand out. First, he led the Supersonics in the '90s. While Seattle never won a title, they went deep into the playoffs many times. Shawn Kemp's acrobatics and Gary Payton's defense were the team's cornerstones. Karl led the Sonics to an NBA finals appearance. There, they pushed a historically great Chicago Bulls team to a six-game series before losing in 1996. 
Karl later coached the Milwaukee Bucks where he had similar success to his run in Seattle. There, he led the triumvirate of Ray Allen, Glenn "Big Dog" Robinson, and Sam Cassell. Although they were perennial contenders, the Bucks couldn't get over the championship hump.
Karl also coached the Denver Nuggets, where along with Carmelo Anthony, he helped return a hapless franchise to the brink of relevance. Sadly for Karl, he came up short in Denver's championship department as well. Other stops for Karl include stints in Golden State, Cleveland, and Sacramento. Anyone who knows basketball understands Karl could coach. So what led to the dust-up between him and Jackson? 
George Karl's shots at Mark Jackson
Jackson and Karl's feud began during game two of the Lakers/Trail Blazers playoff series. As CBS Sports reports, Jackson lauded Anthony's defense, saying anyone who questioned him in the past was wrong. When his broadcast partner Jeff Van Gundy challenged this, Jackson said the blame lied with whoever allowed Anthony to play poorly on defense in the past.
This led to the implication that one of Anthony's coaches, Karl, was to blame. Karl has been notorious for his criticism of Anthony's defensive play, and he took Jackson's comments personally. He responded by tweeting the following: 
"I heard @MarkJackson13 is taking shots at my defensive coaching during tonight's broadcast. Remind me, how many all-star teams did you coach, Mark? How many DPOYs? How many Finals appearances? How many of my teams became dynasties right after I left?"
This is clearly a reference to the fact that the Warriors became one of the great teams of the NBA's modern era the year after Jackson was let go. 
Why plenty of people have issues with Karl
If Jackson ever wants to take issue with Karl, he may have to get in line. Many of Karl's NBA brethren likely have a problem with the outspoken coach. He once angered the best player of all time.
Additionally, USA Today reported that Karl's 2017 autobiography, Furious George, took shots at multiple players. In the book, he referred to Anthony as a "user of people." He also claimed that Anthony and former Nuggets' forward Kenyon Martin had big burdens to shoulder because they didn't have fathers growing up. 
Karl's fatherhood comments weren't just cheap shots; they were nonsensical. Anthony and Martin made millions of dollars as NBA players, so they turned out OK all things considered. Jackson may not have liked Karl's comments, but based on Karl's history of putting his foot in his mouth, he probably shouldn't take them too seriously.