George Kittle or Travis Kelce: Rob Gronkowski Revealed Who He Thinks is Better
Fans are looking forward to many intriguing matchups in Super Bowl LIV. Both teams are the best in their respective conferences, with rosters stacked with talent. One of the most stacked positions for both teams is tight end. The 49ers have George Kittle. The Chiefs have Travis Kelce.
Both tight ends were outstanding in 2019. But another tight end (turned NFL analyst), Rob Gronkowski, compared the two earlier this season. Let's look at how both players fared in 2019 and which one Gronk thinks is better.
George Kittle's 2019 NFL season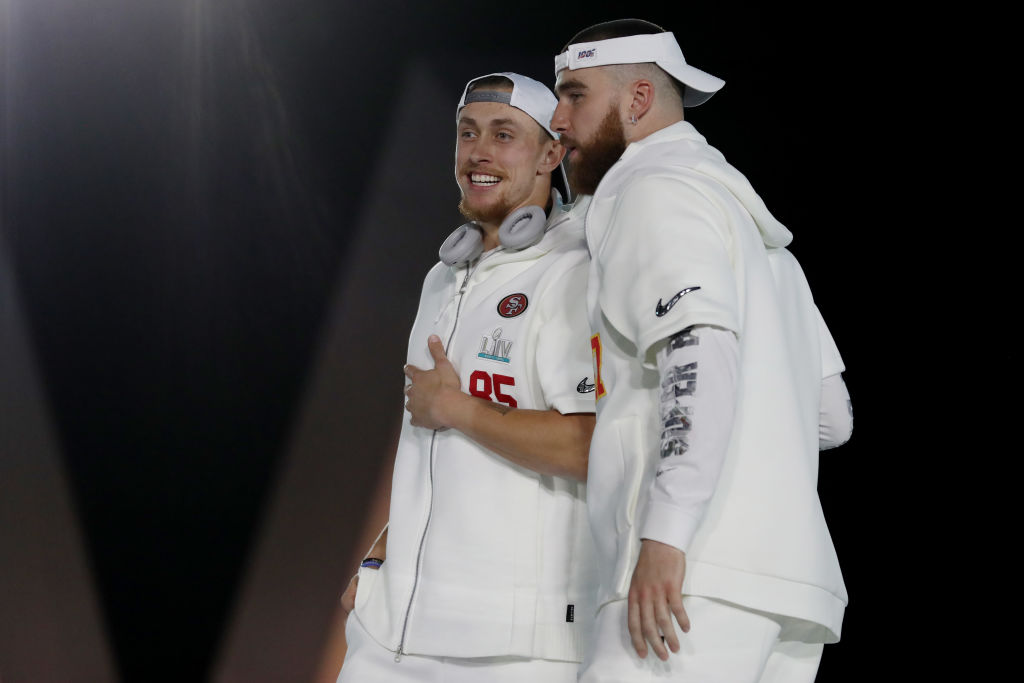 The 49ers drafted Kittle with the 146th overall pick in the fifth round of the 2017 NFL Draft. After a promising 43-reception season for his rookie year in 2017, Kittle exploded last season for 88 catches. He's gotten even better this year as one of QB Jimmy Garoppolo's top receiving threats. 
Here's what Kittle has done statistically this season: 
85 catches
1,053 receiving yards
Five touchdowns
Pro Bowl selection
An All-Pro selection
12.4 yards per reception
With a second straight season of over 80 catches, it's clear Kittle is no fluke. He's here to stay among the NFL's best tight ends. But how does he compare to Kelce, who has a few more years of experience playing at an extremely high level? 
Travis Kelce's 2019 NFL season
Since the Chiefs chose him in the third round of the 2013 draft, Kelce has been one of the best tight ends and one of Andy Reid's most effective passing weapons. It's especially important for a passer like Patrick Mahomes to have talented athletes at tight end.
Mahomes plays a very loose, improvisational style of football. He needs receivers and running backs who can adapt on the fly while matching his athleticism. None of his weapons have done so for him as consistently as Kelce. In 2019, Kelce put up the following numbers:
97 catches
1,229 receiving yards
Five touchdowns
Pro Bowl selection
12.7 yards per reception
What Rob Gronkowski thinks: George Kittle or Travis Kelce? 
Gronkowski may be retired, but he still knows a thing or two about tight ends. That's why his opinion on the Kittle-versus-Kelce question is so valid. He doesn't just understand how to evaluate talent; he knows how to play the position.
While Gronkowski could display incredible grace and finesse, he was a bulldozer when going through defenders. He was incredibly hard to take down. So Gronkowski weighed in on the question, reports Bleacher Reports, and he went with Kittle. Why? Because Kittle reminds him of himself: 
"I like to go with George Kittle… I just like his game. I said it before: He just kind of reminds me of myself. When he gets the ball, man, he just wants to keep going. Just doesn't care who's coming at him … just wants to break through all the tackles."
Both Kittle and Kelce are hard to tackle and display great athleticism. But Kittle has been particularly hard to take down this season. Gronkowski has a point. Kittle made one play against the New Orleans Saints that CBS Sports' Jim Rome called "the play of the year." 
The bottom line is that both players are great. They will both likely have fantastic stat lines on Super Bowl Sunday. And their head coaches will use Kittle and Kelce in a major way to help them win the game.
Follow more updates from Sportscasting on our Facebook page.