George Kittle Sends Stern Message About Jimmy Garoppolo
Even when Jimmy Garoppolo was leading the San Francisco 49ers to the Super Bowl during the 2019 season, many people wondered if he truly was San Francisco's quarterback of the future. Now, with Garoppolo not playing much this season and with injuries derailing the 49ers' 2020 campaign, Jimmy G's critics continue to get louder. At least he has his tight end's support, though. In fact, George Kittle recently sent out a stern message about Garoppolo.
Jimmy Garoppolo led the San Francisco 49ers to the Super Bowl
During the 2019 season, the San Francisco 49ers were one of the best teams in the entire NFL. They ultimately went 13-3 and claimed the No. 1 seed in the NFC.
Garoppolo then had a mediocre playoff run with the 49ers, but he did what he needed to lead them to the Super Bowl. In a 27-10 Divisional Round win over the Minnesota Vikings, Garoppolo completed 11-of-19 passes for 131 yards, one touchdown, and one interception. 
He then wasn't much better in the NFC Championship Game against the Green Bay Packers. The 49ers won 37-20, but it was mainly because of defense and their running game. Raheem Mostert ran for 220 yards and four touchdowns in the game. Garoppolo, on the other hand, only completed 6-of-8 passes for 77 yards.
Then, in the Super Bowl, the 49ers were in a great spot to win against the Kansas City Chiefs. They led 20-10 in the fourth quarter. The Chiefs, however, ended up scoring 21 points in the final six minutes and 13 seconds to win 31-20. Garoppolo threw for 219 yards, one touchdown, and two interceptions in the game. His second interception iced the game, too, as it came with 1:08 left.
While Garoppolo did what he needed to get the 49ers to the Super Bowl, they could have potentially won the championship had he played much better than he did.
He has missed a bunch of games while with the 49ers
After getting traded to the 49ers in 2017 and playing in six games for them in that season, Garoppolo only played in three games for the 49ers in 2018 due to a season-ending injury.
He then played in all 16 regular-season games in 2019, but through 16 weeks in the 2020 NFL season, Garoppolo has only played in six games. NFL.com reports that, assuming he misses the 49ers' Week 17 game in 2020, he will have missed 23 games throughout the last three seasons due to injury.
When on the field, though, he has also been inconsistent. He, of course, had the mediocre numbers during the 2019 playoffs. His numbers during the regular season that year, though, were much better. He threw for 3,978 yards, 27 touchdowns, and 13 interceptions. However, in the six games he played in during the 2020 season, Garoppolo only threw for 1,096 yards, seven touchdowns, and five interceptions.
His inconsistency on the field has made people wonder whether the 49ers will turn to a different quarterback in 2021. Garoppolo's tight end George Kittle, though, doesn't like that idea.
George Kittle sent a stern message about Jimmy Garoppolo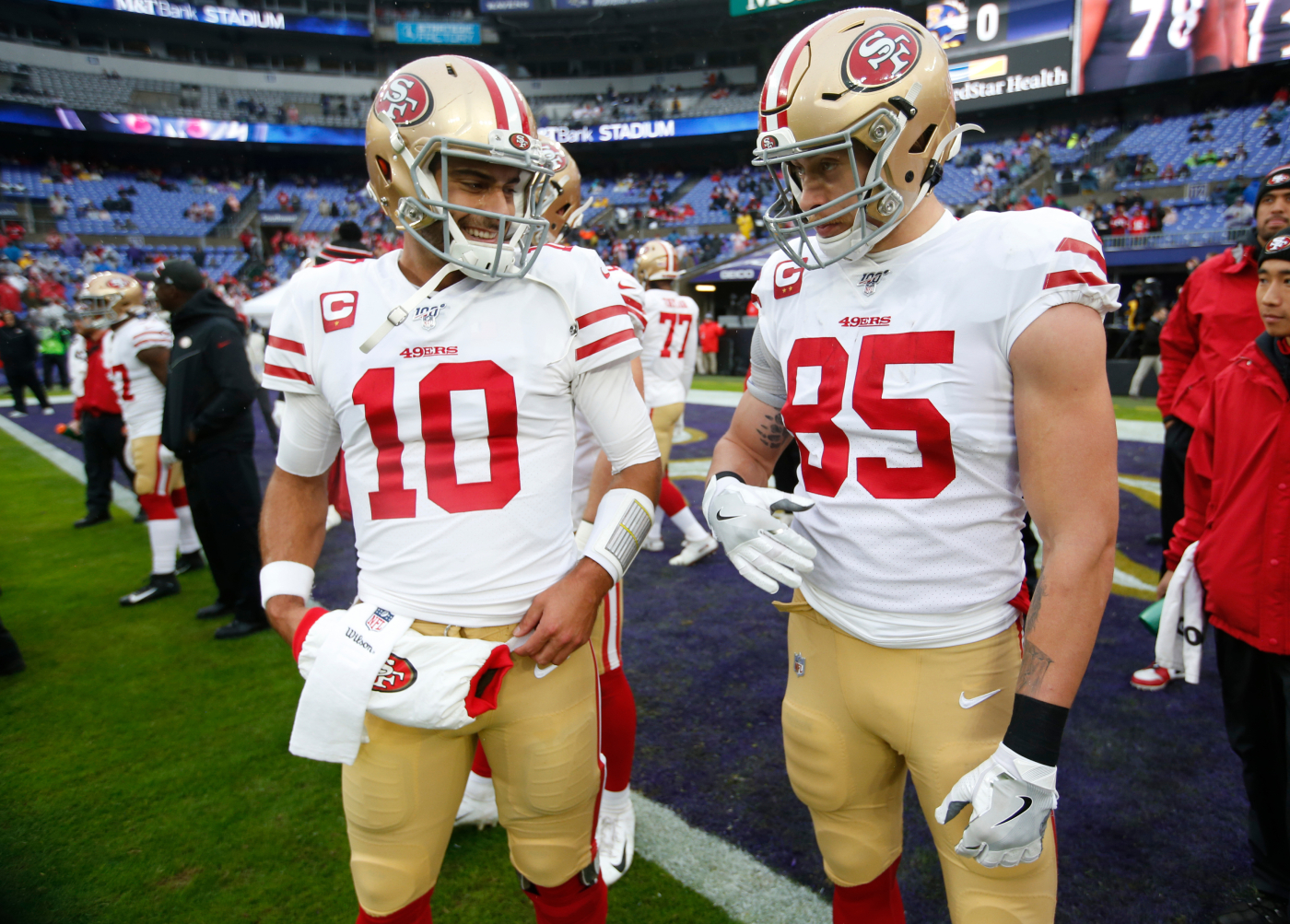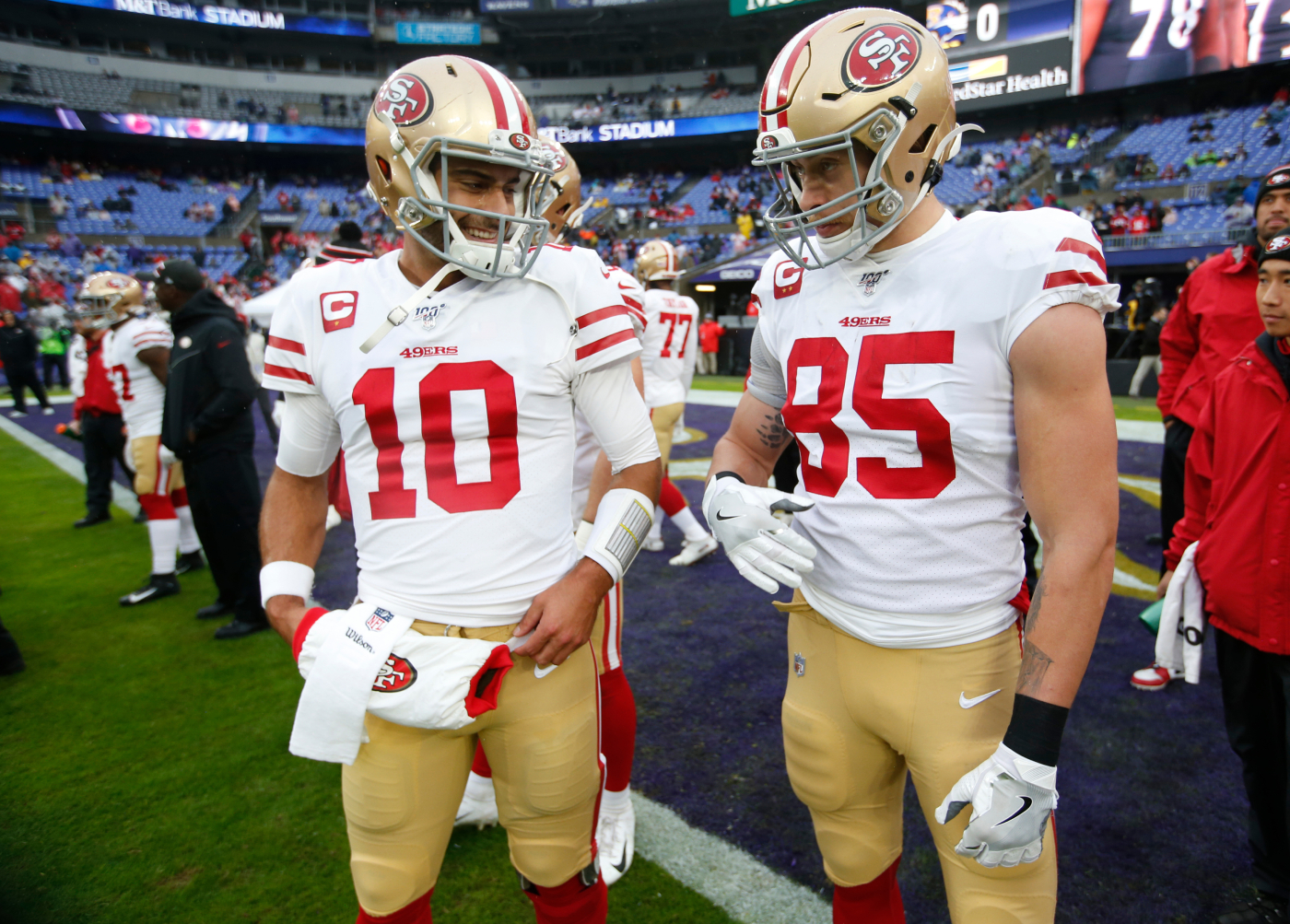 According to NBC Sports, 49ers head coach Kyle Shanahan recently said he expects Jimmy Garoppolo to be back as the team's starter in 2021. Additionally, with questions surrounding Garoppolo and the 49ers, George Kittle made sure to stand up for his quarterback.
"At the end of the day I play tight end here and I just work here, but I think that I do have a little bit of a voice and I've said multiple times that I just love playing football with Jimmy G," Kittle said to KNBR's Mark Willard, according to NBC Sports. "Our team is different when he's out there, and that's why it's fun to play football with him because I think we both have big-time changes to our huddles when we're both on the football field."
He then praised Garoppolo's leadership.
"I can't say enough about the leader Jimmy G is, and how his presence changes how the team is feeling, how the team is going about its business and how the team practices every day," Kittle said, according to NBC Sports. "Jimmy G is our quarterback, and moving forward he's our quarterback, and that's all I really have to say about it."
He continued: "I'm going to go with the guy that took us to a Super Bowl and played at a high level the entire year. That's my case for Jimmy G and I think it's a decent one."
Kittle makes a good point, but you have to wonder if the 49ers could have actually won the Super Bowl had they had a better quarterback during the 2019 season. It will be interesting to see what the 49ers do at the quarterback position in the coming years.
Stats courtesy of Pro Football Reference