George Kittle Won't Rule out Tom Brady Joining the 49ers
Tom Brady is retired. He formally announced this several weeks ago. However, this hasn't stopped NFL reporters and writers from speculating on what Brady's future could look like should he get the urge to return to the gridiron. The Tampa Bay Buccaneers reportedly have a plan in place should Brady make a comeback. Clearly, there's a little belief around the NFL that the GOAT isn't finished quite yet.
With all of that in mind, the San Francisco 49ers have frequently been brought up as a possible landing destination for Brady should he choose to return. It would be a complicated move to pull off, but not impossible.
There's real smoke around the 49ers and Tom Brady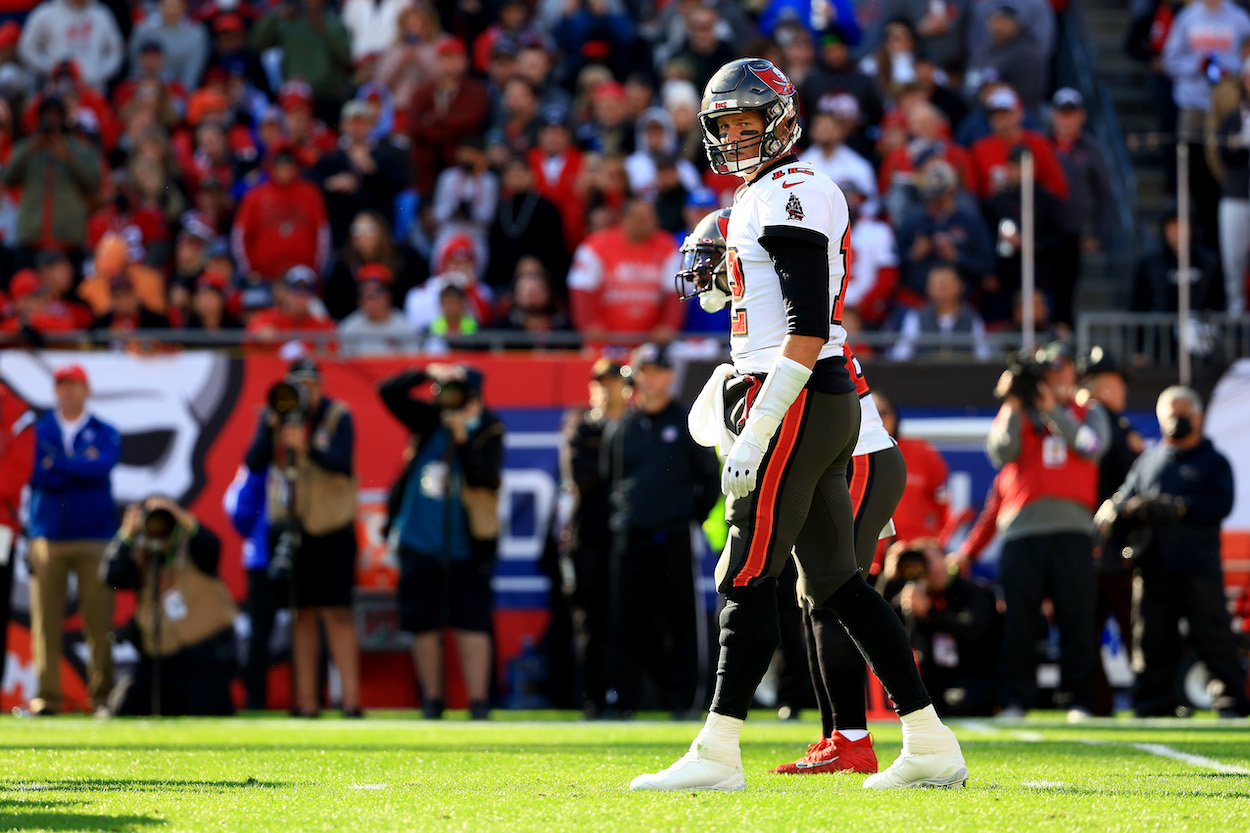 Brady is a California native who grew up rooting for the 49ers. Naturally, people will connect the two sides now that Brady has seemingly finished his chapter with the Buccaneers. Many reporters felt San Francisco was Brady's first choice back in 2020 when he hit the open market as a free agent.
However, what makes things really interesting is that San Francisco is arguably in the perfect position to pursue a win-now option like Brady. They have an elite roster with an excellent offensive-minded head coach in Kyle Shanahan. Sure, the 49ers' current plan is to enter 2022 with Trey Lance under center. However, they would jump at the opportunity to replace him with Brady.
The 49ers got to see first-hand last year the impact a star quarterback can have. The Los Angeles Rams' acquisition of Matthew Stafford is why they beat San Francisco in the NFC Championship Game.
Obviously, the 49ers can't just sign Brady. He's retired. However, where there's smoke, there's fire. It's not impossible to imagine Brady returning to the NFL and forcing his way to his hometown team.
George Kittle wouldn't deny the Tom Brady rumors
Rumors connecting Brady to the 49ers are running rampant. One of the 49ers' top players refusing to deny it as a possibility only adds more fuel to the fire.
While being interviewed during an NHL game, 49ers star tight end George Kittle was asked about Brady joining him in San Francisco. Kittle navigated his way out of the question by joking about connection issues. However, he didn't outright deny the possibility of it happening.
Kittle's exact response was, "I know just as much as all you guys."
Not exactly a denial from Kittle.
What next for the 49ers?
Some intense recruiting will be necessary if the 49ers are serious about making one final run at Brady. Brady has only been retired for a few weeks and is already turning his attention to new projects. The 49ers would also need to trade for Brady, as the Bucs technically hold his player rights.
Suppose the 49ers are willing to put the Brady idea to bed; moving forward with Lance as their starter makes the most amount of sense. Several reports state the Niners are planning on trading long-time QB1 Jimmy Garoppolo, paving the way for Lance to take the reigns.
Is Lance a true franchise-caliber starter? Only time will tell. In the meantime, the Brady-49ers rumors will likely continue to run rampant.
Like Sportscasting on Facebook. Follow us on Twitter @sportscasting19.
RELATED: Joe Montana Isn't Closing the Door on Tom Brady Returning to the NFL