George Russell Needs to Follow 1 Rule at Mercedes: Stay Out of Lewis Hamilton's Way
George Russell's predecessor, Valtteri Bottas, played the Formula 1 role the way Mercedes' brass scripted it.  
For five years, Bottas soldiered on, qualifying for Q3 in all 101 grand prix starts he made for Mercedes, including 10 wins. But Bottas decided to move out of Hamilton's looming shadow following the drama-filled 2021 F1 season. 
In steps Russell, who needs to understand one rule from the start: The team garage belongs to seven-time champion Lewis Hamilton.
George Russell: 'I think I'm pretty grateful for the difficulties that I've faced'
A top prospect in Mercedes' junior program since 2017, Russell is well acquainted with "The Lewis Rules." While there have been reports Hamilton may retire this offseason, there has been little news on Mercedes desperately searching for a replacement. 
It could be safe to assume that Hamilton will return for another run to earn an F1-record eighth drivers' championship. He missed out last season when Max Verstappen executed a controversial last-lap pass at the Abu Dhabi GP on Dec. 12. 
Hamilton and Bottas worked well together. However, Bottas bolted to Alfa Romeo for a multiyear deal as the organization's No. 1 ride. 
Russell is coming off three nearly point-less seasons with Williams. While Mercedes machines mostly raced with the leaders, Williams generally trailed the field. 
Mercedes captured its eighth consecutive constructors' title in 2021 with 613.5 points; Williams placed eighth with 23. 
"I think I'm pretty grateful for the difficulties that I've faced on the track throughout these years because quite often when you get in a faster car and a car that is more complete, things just naturally feel easier," Russell said during an offseason press conference, per planetf1.com. 
After two-plus seasons, Russell finally scores first points for Williams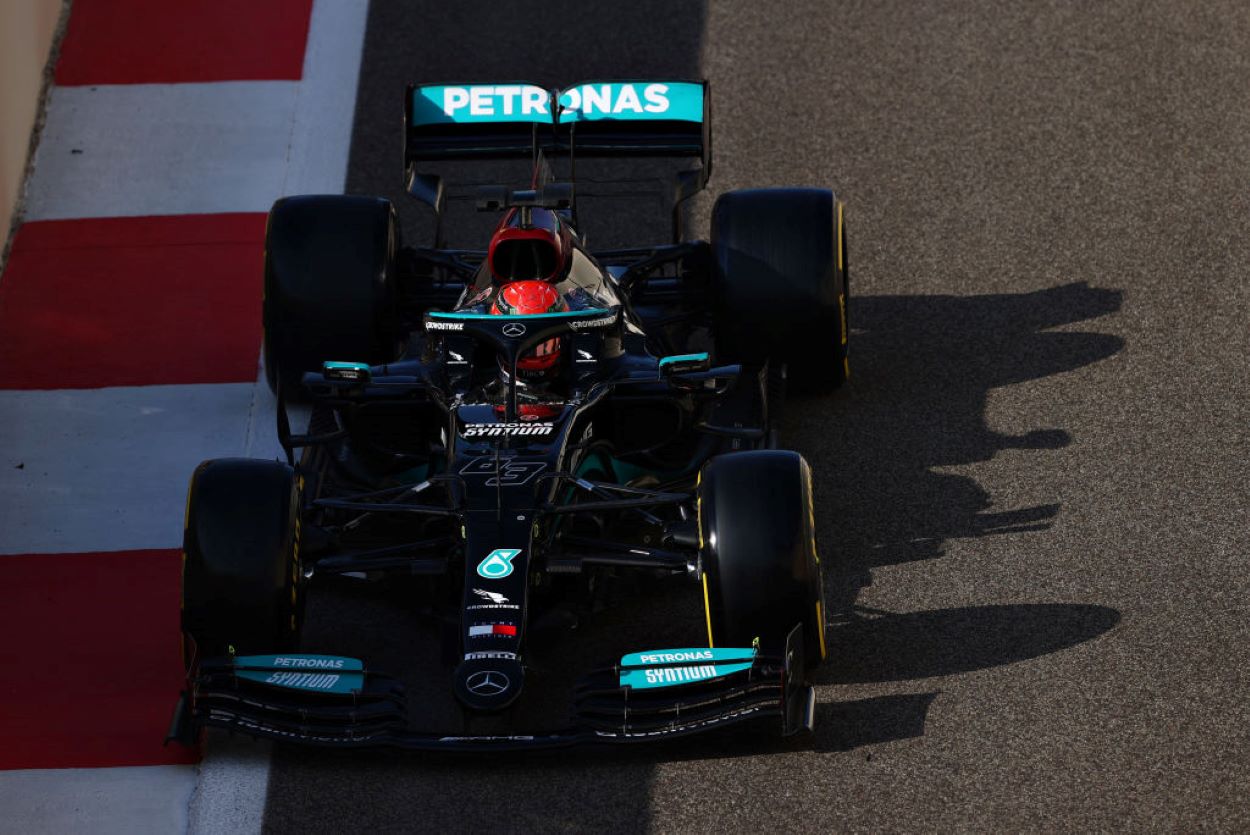 Russell failed to turn in a top-10 run for the first two-plus seasons with Williams. Despite his reputation as a hard driver who executed tricky maneuvers, Russell often battled through slower traffic well off the pace Hamilton or Verstappen generally established. 
Williams finished 10th in the constructors' standings during 2019 and 20, Russell's first two seasons with the team. The point-less skid finally ended during the 2021 Hungarian GP and continued with top-10s during three of four events. As Russell told the media, per formula1.com: "Points again! … Pretty crazy." 
F1 life for Russell promises to remain "pretty crazy." 
With Williams, his performances often went overlooked. With Mercedes, he will be in the spotlight during the 23 F1 events in 2022. 
Russell said his early-career struggles would help down the road. 
"The strategy is always good if the car is fast," Russell said. "You start becoming luckier. These things start falling your way, and I think, I feel, more of a rounded driver because of this."
Russell: 'When a car is faster, often everything seems good'
Russell displayed his potential at the 2020 Sakhir GP when he replaced Hamilton, who had contracted the coronavirus (COVID-19). He barely missed out on the pole by 0.026 seconds and was challenged for P1, but a poorly executed pit spot and blown tire prevented a potential storybook maiden ride.
"When a car is faster, often everything seems good," Russell said.
With Mercedes, he will pilot a more powerful machine, despite the industry's new regulations. Will everything stay good? Potentially, but Russell needs to remember the garage is Hamilton's. If team principal Toto Wolff asks him to trade a more favorable track position to Hamilton, it will be done.
Bottas did it for five years.
Now, it's Russell's turn.
Like Sportscasting on Facebook. Follow us on Twitter @sportscasting19.