Georges St-Pierre Paid Off His Parents' Debt With His First $1 Million: It Was 'One of the Best Days of My Life'
When a star athlete gets drafted into the NBA or NHL and gets his first million-dollar payday, it's a big moment. When a reporter asks what they plan to do with the money, a typical response is they plan to buy their parents an expensive car or a house. Who knows how often they live up to those promises, but it does happen sometimes. When MMA legend Georges St-Pierre earned his first million-dollar purse, he was thrilled to help out his parents. Here's his story.
How Georges St-Pierre's earnings have increased over time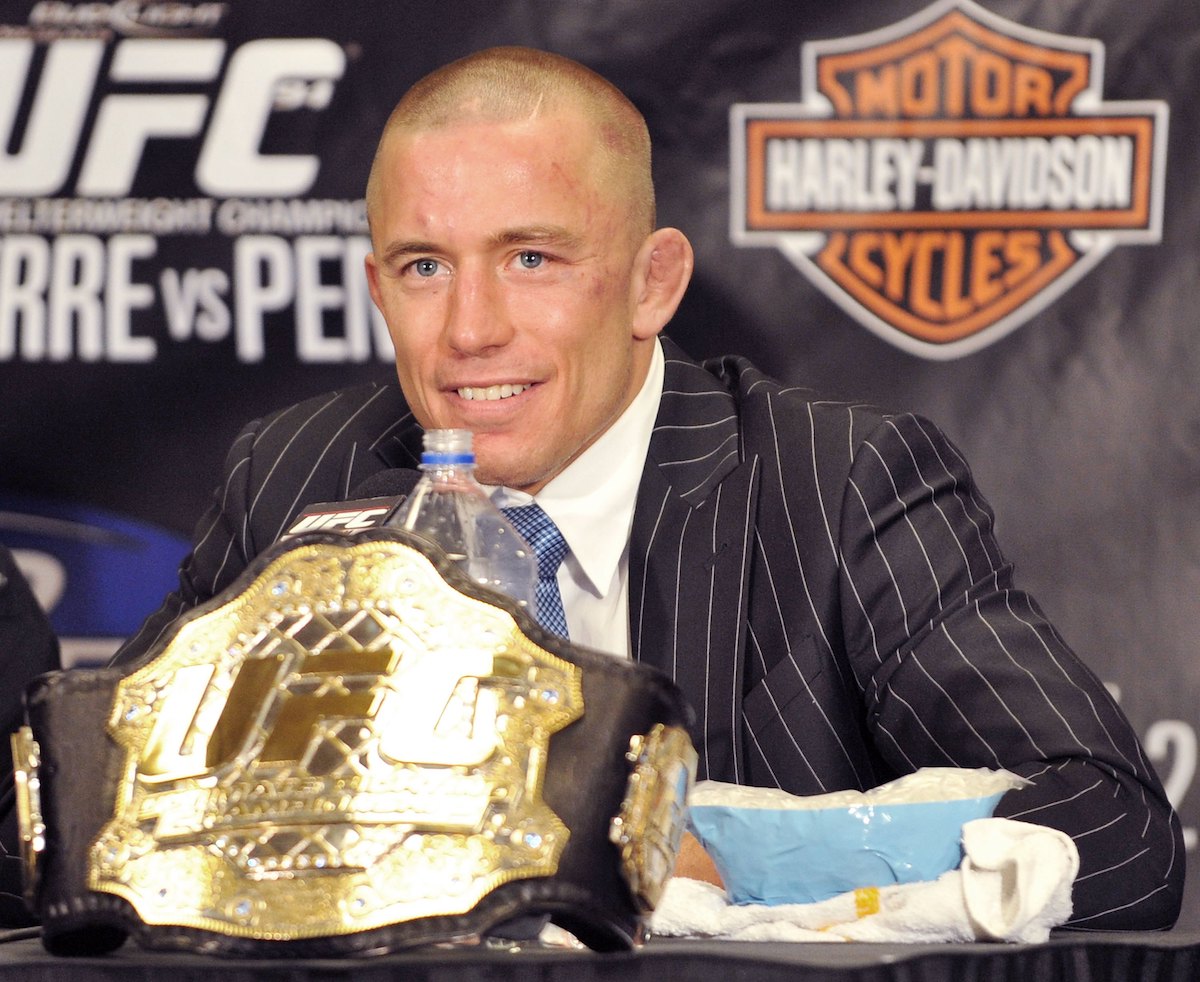 St-Pierre spoke with GQ about what he made early in his career and how he earned his first million. He recalls getting $1,100 for his first professional fight. It could have been even less. But he got that much because his opponent didn't make weight, so St-Pierre received 30% of his purse. In his first UFC fight, St-Pierre says he got $3,000 for showing and another $3,000 for the win. For his second UFC fight, there was an additional $1,000 added to those totals.
Then came the big bucks. St-Pierre held a title belt when his contract was up, and he had big offers waiting for him. But UFC didn't want him to leave the company. So, as St-Pierre tells the story, "The UFC decided to renew my contract, and that's when I made my first million." That was also when he started working with a financial advisor to work his way through the complicated tax system.
What St-Pierre did with his first million
Because St-Pierre's parents supported him from the beginning when he was a baby, the first thing he did after getting his first million was to "clear all [his] parents'] debt." His parents called him, his mom crying, trying to tell him it was his money and to not use it on them because they don't need the help. But St-Pierre didn't listen to them and went through with paying off the debt. And he's glad he did, saying "it was like one of the most beautiful, one of the best day[s] of my life."
That wasn't all that he did for his family. After paying off the $50,000 debt, St-Pierre bought two cars for his parents. His sister wanted to earn a master's degree. So he's paying for it to help her avoid massive amounts of student debt. He spent another $50,000 on gifts for his family. St-Pierre even gave $30,000 to friends who said they would pay him back, though they have not done so yet.
St-Pierre's net worth
From the time St-Pierre earned his first million and hired an adviser, he has focused on financial success. He created a "solid" and "good" structure for ensuring he pays all of his taxes to avoid trouble with the government. He also tries to save a lot of his earnings and not spend money extravagantly as many top athletes do. St-Pierre competed in UFC for 15 years until his 2019 retirement and built up a large following and level of fame, which earned him gigs outside MMA.
He's appeared in several films over the last decade, and is even part of the Marvel Cinematic Universe, having appeared in Captain America: The Winter Soldier and three episodes of the first season of The Falcon and the Winter Soldier. When you factor in all of St-Pierre's earnings from his MMA career, his acting work, and endorsements, it comes out to an estimated net worth of $30 million.
RELATED: Here's How Much the UFC Is Worth Today, According To President Dana White