Georgia Bulldogs: Jordan Davis and the 5 Best NFL Draft Prospects
The College Football Playoff will conclude with an SEC showdown: Georgia against Alabama. Nick Saban and Kirby Smart face off again, this time for all the marbles and glory, and perhaps another championship for Georgia.
The Crimson Tide dominated Cincinnati in the semifinals, and the Bulldogs destroyed Michigan. Neither game was all that close, either.
These teams face off for the second time in the past couple of months. We all know how talented Alabama is every year, but this time we will look at the five best 2022 NFL Draft prospects for Georgia.
Disclaimer: Many of them are on defense (surprise, surprise).
5. Derion Kendrick, DB
Looks like a wide receiver, right?
Well, Kendrick used to play wide receiver. Oddly enough, Kendrick even caught passes from Trevor Lawrence back in 2018.
Kendrick began his career with Clemson, converted to a cornerback, and has been a revelation in his lone season in Athens.
The Bulldogs stud corner has six interceptions on the season, including two in the semifinal game against Michigan. He has excellent ball skills and uses his wide receiver abilities to read what his opponent will do.
Kendrick is a ballhawk, and there is a high possibility of him landing in the second round in the 2022 NFL Draft.
4. George Pickens, WR
George Pickens went viral for this play against Michigan in the Semifinal. However, please make no mistake — he's a star.
His 2021 numbers don't do it justice (four catches for 55 yards in three games). Pickens was recovering from a torn ACL and put up 378 yards and five scores in just seven games in 2020.
At 6-foot-3, 200 lbs., Pickens can hang around with the best of them. Here's one example from the 2019 season.
ACL injuries are always tough to recover from, but Pickens looked fine against Michigan in the CFP. The wide receiver class in the 2022 NFL Draft is loaded with talent, but Pickens can easily make his way into the second round, depending on how things go in the combine.
Let's see what he can do against Alabama.
3. Travon Walker, DL/EDGE
This is tough. Travon Walker can easily be number two on this list, but this shows how much talent Georgia has on the roster this season.
Walker is dominant — watch his tape against Michigan. He has a quick, physical, and a monster to deal with for opposing offensive linemen.
Walker registered a career-high four sacks this season at Georgia while only boosting his draft stock. Walker is officially listed as a DL, but he looks like the perfect EDGE rusher that NFL teams want and need.
There is a path for Walker to go at the end of the first round. If not, he won't make it out of the second round.
2. Nakobe Dean, LB
Another Bulldogs defender? Yes.
Nakobe Dean, get used to hearing this name.
The Georgia defense is the reason they are in the National Championship Game. Dean has answered the call every step of the way for Kirby Smart.
On the year, Dean has 61 tackles, five sacks, and two interceptions, including the pick-six against Florida.
He is everything you want in a starting linebacker — size, speed, coverage ability, and a strong blitzer. Dean should have no problem going in the first round, and there is a chance that three Georgia players all go before the end of Round 1.
1. Jordan Davis, DL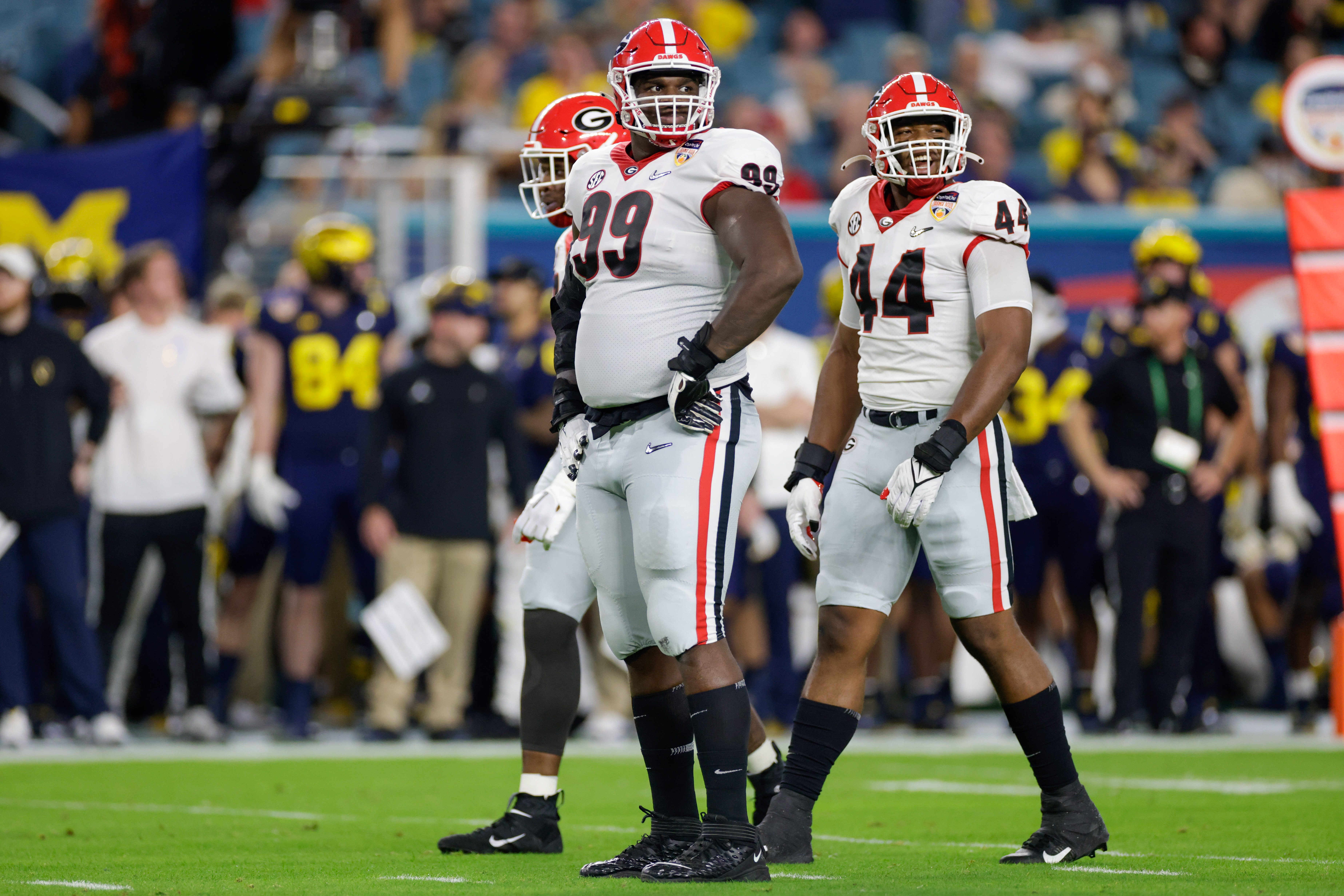 Is this a surprise?
No, not at all. Jordan Davis has been the driving force behind the stout Georgia defense all season long.
Davis is a wrecking ball, a run-stopper, a force on the defensive line, and one that doesn't come around very often.
That is unstoppable, and with the right coaching, he could very well be a Pro Bowler right out of the gate. Oh, and Davis even got into the endzone this season with a rushing touchdown. Really.
Players such as Davis are a rare breed, and he should be a top-15 pick in the 2022 NFL Draft.
Stats Courtesy of Sports Reference