Gerald McCoy's 1st Knee Injury 'Came With a Lot of Dark Days'; Now the Raiders Defensive Tackle Is Out for the Season Again
It's not easy being an NFL player. Sure, many football stars enjoy fame and fortune, but it's among the most dangerous pro sports. Given its physical nature, football causes more major injuries than other sports, and it's not uncommon for NFL players to face season-ending injuries. That's what happened to Gerald McCoy in Week 1. And it's a devastating blow to the Las Vegas Raiders defensive tackle, who worked hard to get back on the gridiron after his last major injury.
Gerald McCoy faced 'dark days' after his first knee injury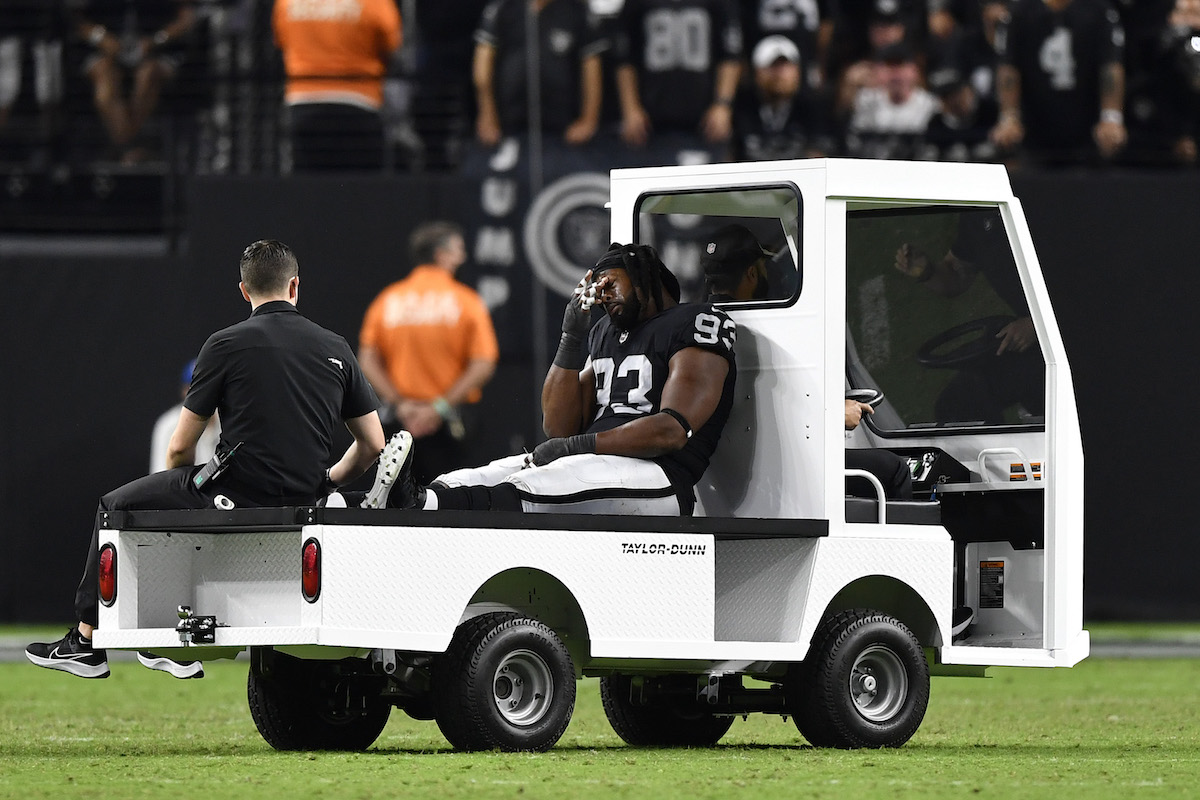 On September 13, the day of McCoy's Week 1 game, The Players' Tribune published an article he wrote about the injury that caused him to miss the Dalls Cowboys' entire 2020 season.
During a normal drill during the first day of practice in pads, "boom. The tendon in my quad just pops," McCoy recalls. It felt like he had knocked knees with his teammate, he says, but they didn't touch. He writes he was in "extreme pain" and "realized something wasn't right" when he tried to stand.
It was the first time he had missed a full season of football, and the injury "came with a lot of dark days." There were times McCoy wondered if it was worth it to rehab and try to return to the sport. But the 33-year-old persevered and was determined to rehab and do what it took to play in another NFL game.
"The fight just to get back was the fight that mattered the most to me," he writes. And it paid off.
The Cowboys cut McCoy hours after his surgery, but he signed with the Raiders. McCoy believes he was meant to join the team.
"I have a new purpose. I really can see why God put me here with this team." Being able to have an impact on the younger players in the locker room "has been so rewarding."
Little did McCoy know he would sustain another season-ending injury the day his article was published.
McCoy's season-ending injury against the Ravens
After playing nine defensive snaps in the Raiders' Week 1 game against the Baltimore Ravens this past September 13, McCoy went down on a 49-yard pass from Lamar Jackson to Sammy Watkins. McCoy had to be carted off the field. Less than seven minutes remained in the fourth quarter of the game, which the Raiders won in overtime, ESPN reports.
The next day, head coach Jon Gruden told reporters he feared it would be a "long-term" injury. That was confirmed a day later with the news that McCoy had sustained a season-ending torn ACL in his left knee and placed on injured reserve.
What are the Raiders' prospects for the rest of the season?
Losing a veteran presence like Gerald McCoy on defense is a blow to the Raiders' hopes of making the playoffs this season. But they're off to a 2-0 start after beating the Ravens and Steelers. Their next game is this Sunday at home against the Dolphins, who will be without starting quarterback Tua Tagovailoa. That gives the Raiders the advantage.
According to Pro Football Reference, Raiders QB Derek Carr leads the league with 817 passing yards after two games, sparking an offense that must rely on its passing game because the team hasn't gotten much production out of the running game yet.
TE Darren Waller leads the Raiders in receptions with 15, but he has 26 targets and needs a better rapport with Carr so they connect on a bigger percentage of passes.
If they can get out to a 3-0 start, it'll give them a bit of a cushion as they look to make the playoffs for the first time since the 2016 season.
RELATED: Derek Carr Throws Down the Gauntlet for His Young Las Vegas Raiders Wide Receivers: 'It's up to You if You Want to Make SportsCenter or Not'