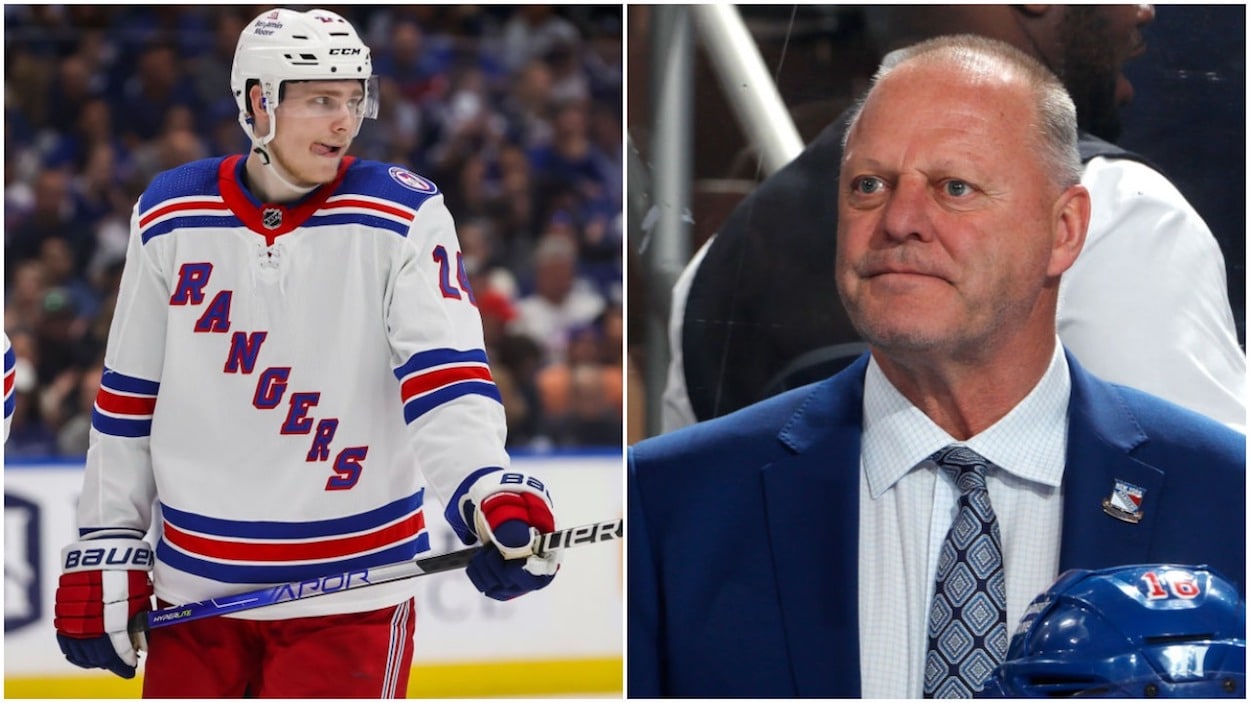 Gerard Gallant Could Have Risked the New York Rangers' Future by Benching Kaapo Kakko
Healthy scratches are part of hockey, but Gerard Gallant's decision to bench Kaapo Kakko might create a future problem for the New York Rangers.
In the world of hockey, Gerard Gallant is generally considered a pretty good coach. Beyond the Jack Adams nomination — that award isn't always the best indication of skill — the bench boss reportedly strikes a balance between hard work and running his squad into the ground. He's old-school but still a players' coach.
While his first season with the New York Rangers did exceed expectations, the coach may have made a crucial mistake in Game 6 of the Eastern Conference Finals by mysteriously scratching Kaapo Kakko. Not only did that potentially cost Gallant the game, but it could cause issues for the entire franchise down the road.
Gerard Gallant benched Kaapo Kakko, and no one knows why
When an NHL team finds itself on a losing streak, the head coach is always going to make a few changes to shake things up. Gerard Gallant, however, caught everyone by surprise ahead of Game 6 of the Eastern Conference Finals.
Facing the end of his season, Gallant scratched Kaapo Kakko and replaced him with Dryden Hunt. Not only did that move break up the successful "Kid Line," but Hunt is hardly an explosive scorer. He hadn't played since the first round of the postseason and has only tallied 40 points in 165 career NHL games.
Those factors combined to raise some collective eyebrows, but Gallant didn't explain his decision. During an in-game interview, he declined to answer a question about Kakko. After the contest ended, he said that it wasn't the right time to talk about the Finn's scratch.
In fairness to the coach, he (or Kakko) could explain things when the Rangers gather to clear out their lockers. Gallant's responses on Saturday, however, shouldn't leave anyone feeling too optimistic.
Benching Kaapo Kakko could have consequences beyond losing a single game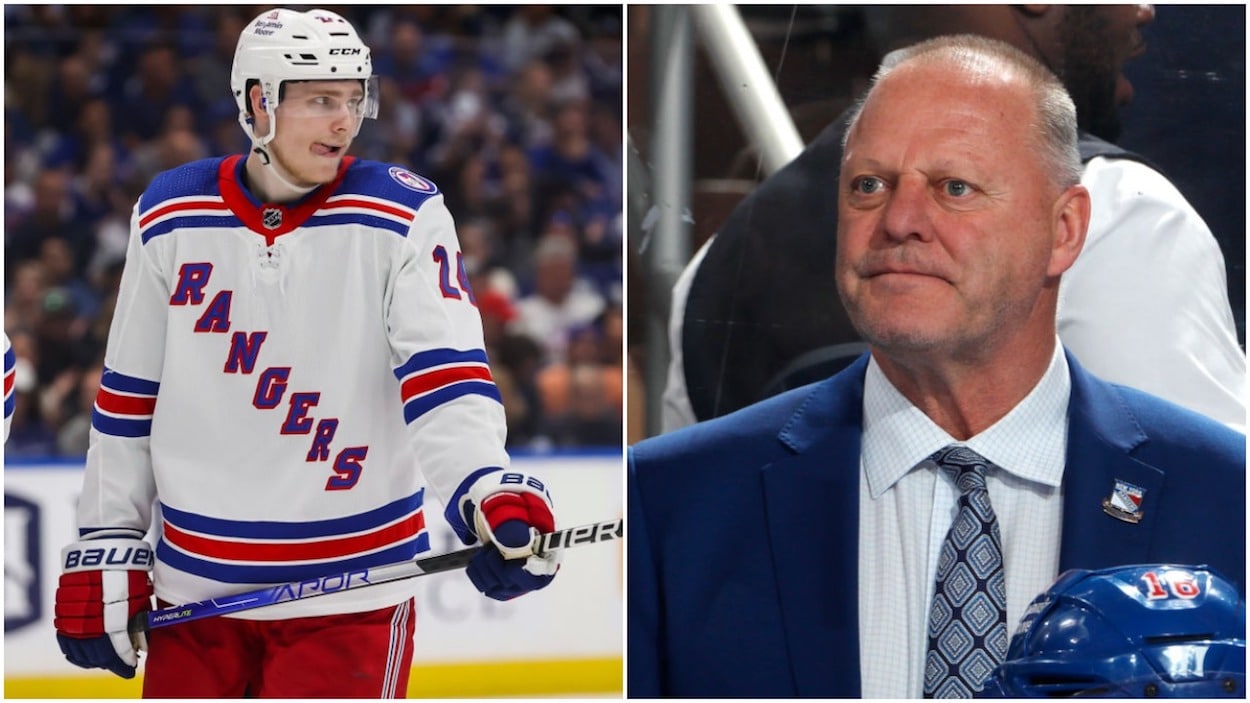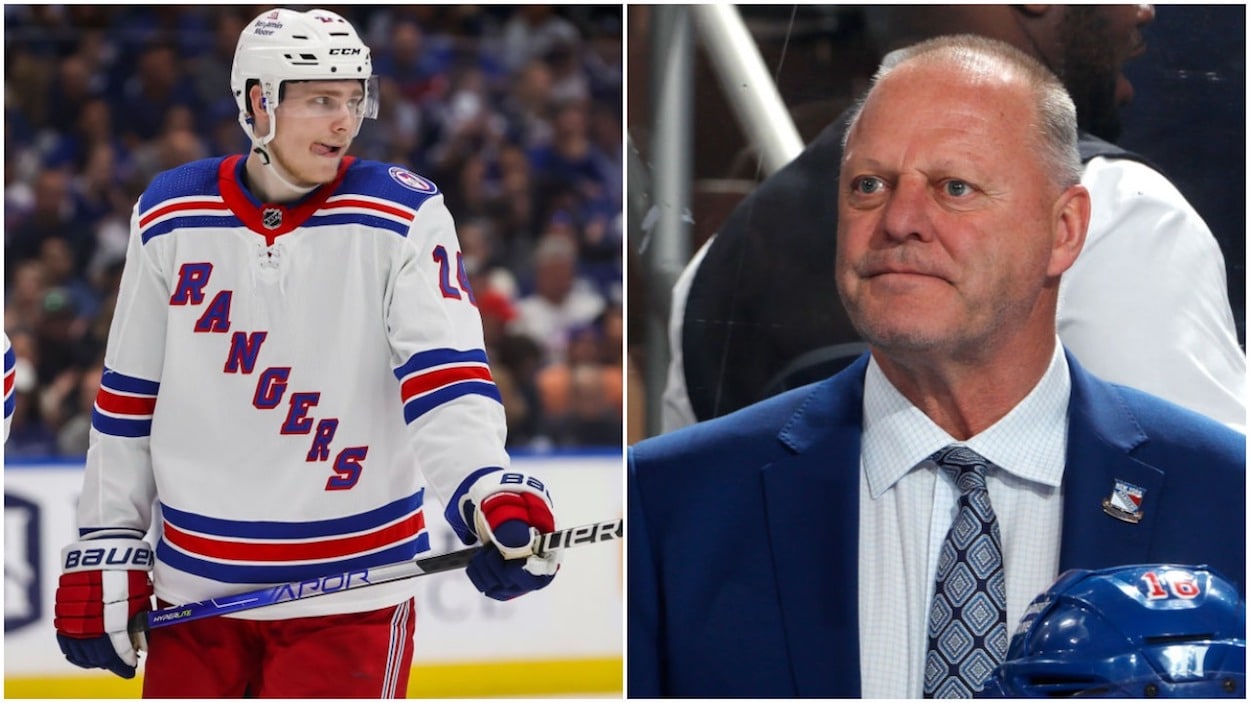 While it's impossible to know if the young forward's presence would have changed the course of Game 6, Gallant could have created an even larger problem on Saturday night.
In a New York Post column, Larry Brooks laid out the parallels between Kakko's absence and former Montreal forward Jesperi Kotkaniemi. Last season, Kotkaniemi was unexpectedly scratched for two games during the Stanley Cup Finals. When he hit restricted free agency after the series ended, he opted to sign an offer sheet with the Carolina Hurricanes. The Canadiens chose to take the compensatory picks rather than matching the offer.
Kakko will also hit restricted free agency this summer.
While there's no indication that the Rangers' winger will follow a similar path, Brooks is right to note the precedent. Players, as much as we might like to pretend they aren't, are human beings. Getting benched ahead of a season-ending playoff game will hurt, even if you agree with the decision; it will only be worse if you feel like you were wronged.
Should the Finish forward end up leaving New York, it could be an era-defining mistake. While drafting Alexis Lafreniere does give the Blueshirts a bit more wiggle room, losing a former second overall pick to an offer sheet would be a bad look.
Kakko hasn't exactly lit the league on fire since landing in New York, but he has improved and shown signs of his potential. The "Kid Line," after all, was collectively the Rangers' second postseason star after Igor Shesterkin. Is he a game-breaking talent as of now? No, but losing him for no good reason is still less-than-ideal asset management. If he's going to leave New York at this point of his career, it should be on the Rangers' terms.
Beyond the immediate damage of losing a potentially game-changing talent for compensatory draft picks, a potential Kakko departure would also create somewhat of a trend. As Brooks also explained in a 2021 story, Vitali Kravtsov refused to report to the Rangers (or, in practice, their AHL affiliate) because he believed he'd never get a legitimate shot at a top-six role. He's since remained in Russia, presumably waiting for a chance to hit the waiver wire and find a new NHL job.
Although those situations aren't exactly the same, alienating Kaapo Kakko would be a second instance of the Rangers failing to maximize European talent. While there's nothing that surprising about NHL coaches loving their grinders, it doesn't send the most encouraging message about New York's future if the organization collectively burns another bridge with a skill player. If the goal is to win the Stanley Cup, there needs to be a continuous pipeline of players who can put the puck into the net. Chris Kreider, for all of his success and longevity, isn't going to be there forever.
As I mentioned above, this situation could be completely defused by a simple explanation on break-up day. Until we hear from someone who knows what's going on, though, it's reasonable to wonder what will happen this summer.
Update: At breakup day, Gallant told reporters that his decision to scratch Kakko was purely due to hockey reasons. Kakko, for his part, said the decision wouldn't affect his future in New York.
Like Sportscasting on Facebook. Follow us on Twitter @sportscasting19 and subscribe to our YouTube channel.