Gervonta Davis Is Following Closely in Floyd Mayweather's Footsteps With 1st PPV Fight
Floyd Mayweather may have retired from boxing, but he's not done in boxing just yet. Mayweather is currently training the next generation of boxing stars, and Gervonta Davis seems like he could be the next Mayweather. Here's a look at Gervonta Davis' career and how it may look in the future. 
Gervonta Davis' boxing career so far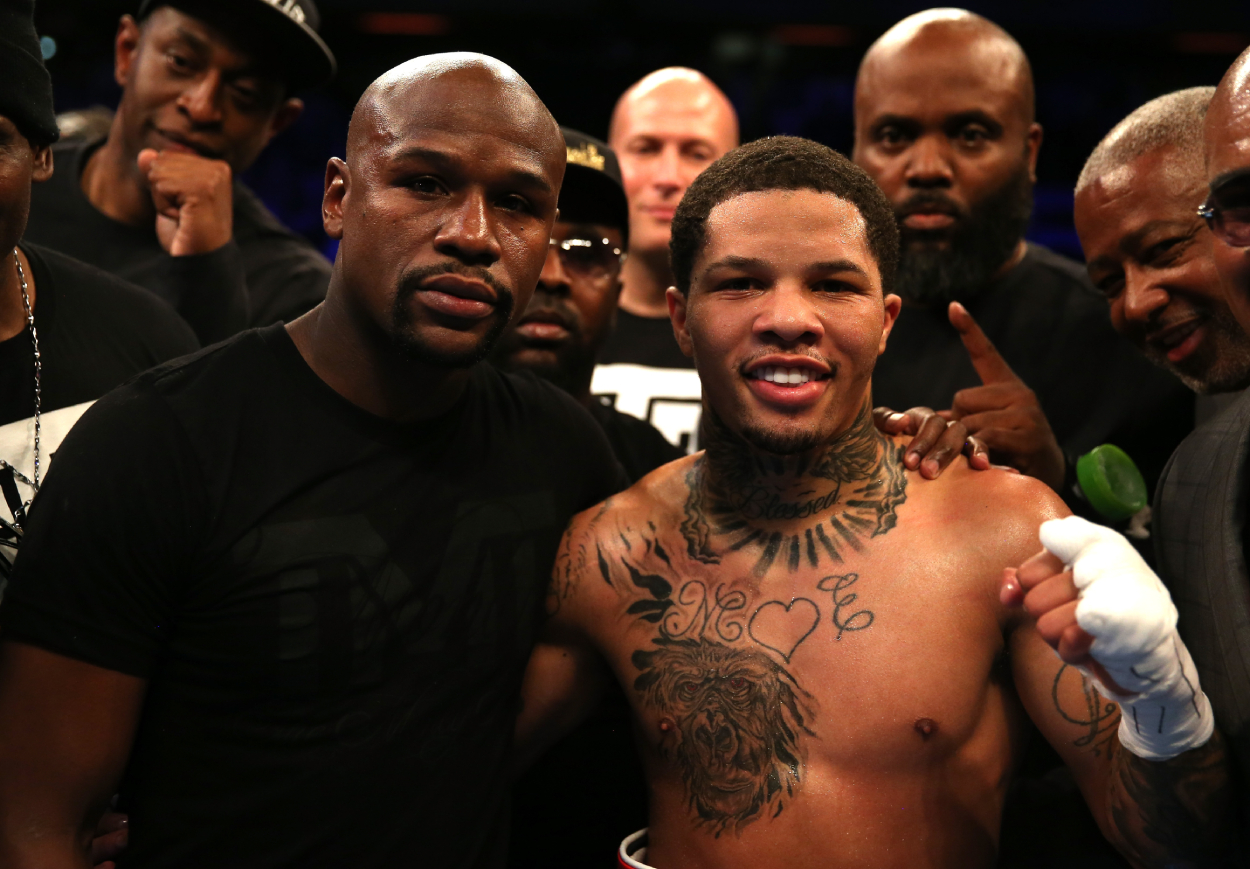 While Davis is not a perfect man, he does have a perfect boxing record. Like many people in combat sports, Davis has had run-ins with the law, but those personal issues have not stopped him from winning fights in the ring. Davis is currently 25 years old, and after making his pro boxing debut in 2013, he's amassed an undefeated record of 24-0. 
He, like Mayweather, competes in the lower weight classes, and like Mayweather, he's also been winning belts in multiple weight classes. However, since his career is still quite young, Davis still has plenty of time to get more wins and more belts. 
That being said, like most boxers, most of Davis' wins were against nobodies or boxers who are past their prime. As a result, it's difficult to talk about just how good Davis is, since he by and large hasn't fought the best of the best in boxing just yet. But again, this is pretty normal in boxing, so it's only a matter of time until he gets tested. 
A dominant performance on a Pay-Per-View fight
It's no secret that Mayweather is in Davis' corner, both in the ring and out of it. Not only is Davis represented by Mayweather's company, but Mayweather also often coaches Davis from the corner. That's exactly what happened in Davis' most recent and biggest fight so far, which was against Leo Santa Cruz. 
According to CBS Sports, this was Davis' first time that he headlined a pay-per-view card. Santa Cruz isn't a slouch either, and while he isn't undefeated, he holds one of the featherweight belts and he still had an impressive 37-1 record. But of course, Davis' skills shined through that night, and Davis knocked Santa Cruz out in the sixth round. 
It's not clear how much money that event generated, but since both men aren't huge names in boxing, it's probably not going to do Mayweather numbers. Regardless, with this big win under his belt, Davis is clearly positioning himself to be the next Mayweather. He has the skills for it, but again, time will tell how things play out for Davis. 
Will Gervonta Davis be the next Floyd Mayweather?
One of the reasons why Mayweather became as big as he did was because of smart matchmaking. Mayweather didn't fight Manny Pacquiao until both were late in their careers, and while some critics think that Mayweather avoided the fight early on, the fight ultimately created a lot of hype which in turn created a lot of pay-per-view sales. 
That's the type of thing that Davis is probably looking to replicate after he gets a few more dominant wins under his belt. At the end of the day, boxing is a business, and Mayweather clearly knows how to play that game. With Mayweather as his mentor, Davis has a pretty good chance of doing that, so long as he keeps stringing together dominant wins that is. 
As for whom he might fight next, it's really up in the air. There are many contenders in his weight class or in neighboring weight classes, and many of them could be a good fight for Davis.
But after his dominant win against Santa Cruz, CBS Sports said that Davis didn't call anyone out by name. Regardless, his mentor may have a few in mind for him already.