Get to Know the College Football Playoff Selection Committee
For the first time ever in 2014, college football's national title will be decided by a four-team playoff after the current regular season ends and all of the conference championship games are out of the way. The nearly-universally-loathed BCS system, which did a sometimes-adequate job of matching up the top two teams in the country to decide a national champ, has been replaced with the not-so-creatively-named "College Football Playoff," an organization that will attempt to pick the four best teams in the country and seed them into a bracket to settle the national title.
While the BCS relied on computers to do its dirty work, the College Football Playoff has assembled a selection committee of real, live, breathing human beings to put together its bracket (and a weekly poll that comes out each Tuesday up until "Selection Sunday" (wait, isn't that name already taken?) on December 7.
Here is a look at each person on the selection committee that could very well decide your favorite team's postseason fate, as well as a bit of their background and qualifications for the roles they've undertaken. According to the CFP, the "top priority criterion" in choosing the selectors was integrity. Committee members are listed in alphabetical order, with much of the pertinent information coming directly from CollegeFootballPlayoff.com.
Barry Alvarez
Alvarez has served as the athletic director at Wisconsin since 2004, and coached the Badgers' football team from 1990-2005. He is a member of the College Football Hall of Fame and owns three Rose Bowl victories as a head coach. He was named the national coach of the year in 1993.
Mike Gould
Lieutenant General Mike Gould served as the superintendent of the Air Force Academy from 2009-2013. He has received many medals for his service to this nation, and served as an assistant football coach at Air Force in the mid-1970s.
Pat Haden
Haden was well-known as a television commentator before taking his current job as USC's athletic director in 2010. Haden won a pair of national titles as a quarterback with the Trojans, and was a Pro Bowl quarterback for the NFL's then-Los Angeles Rams in 1977.
Tom Jernstedt
Tom Jernstedt worked for the NCAA in a myriad of roles from 1972 until 2010, and was responsible for supervising Division I football during part of that time. In addition, Jernstedt served as President of USA Basketball's Board of Directors from 2000-2005. He is a member of the National Collegiate Basketball Hall of Fame.
Jeff Long, chair
Long (pictured) has been the athletic director at the University of Arkansas since 2008, after previous stops in the same role at Pittsburgh (2003-2007) and Eastern Kentucky (1998-2001). Long has been appointed to lead this inaugural selection committee as the initial chairperson.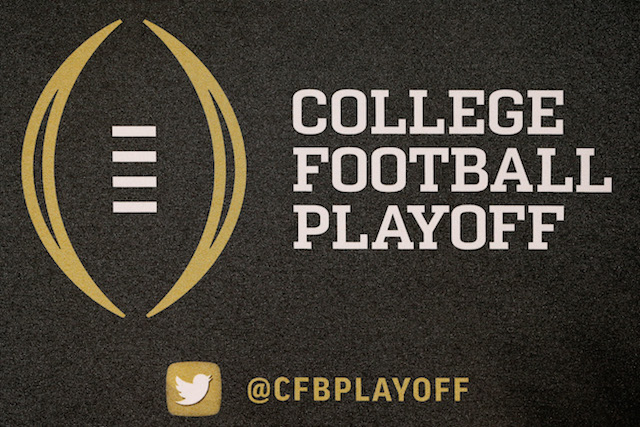 Oliver Luck
Oliver Luck is the athletic director at West Virginia, where he has led Mountaineers sports since 2010. Luck, an ex-WVU quarterback, played the position for the NFL's Houston Oilers, and is perhaps better known as the father of Colts star signal-caller Andrew Luck.
Archie Manning (inactive)

Speaking of fathers of NFL superstar quarterbacks, Peyton and Eli's dad Archie Manning, a pretty decent quarterback in his own right, is also on the selection committee. However, Manning, a former Pro Bowler and SEC MVP, has taken a leave of absence from this group in 2014 for medical reasons.
Tom Osborne
Many members of the CFP selection committee have experience in football or politics. Nebraska legend Tom Osborne has both. Osborne won an average of 10 games a year and claimed three national titles over a quarter century as the Cornhuskers' football coach, served from 2001-2007 as a U.S. Representative, and then took over as Nebraska AD from 2007-2012.
Dan Radakovich
Dan Radakovich has been an athletic director in the ACC since 2006, first with Georgia Tech and now at Clemson. He also played college football in the 70's as a tight end and punter at Indiana (PA).
Condoleezza Rice
One of the biggest names on the committee is Dr. Condoleezza Rice, who should be able to handle high-pressure decisions about college football with no issue whatsoever after serving the U.S. government as National Security Advisor (2001-2005) and Secretary of State (2005-2009).
Mike Tranghese
Tranghese spent nearly two decades as the commissioner of the Big East Conference and also has experience on the NCAA basketball selection committee (1996-2001). He chaired that group in 2001, and, on the football side, served as lead administrator of the BCS from 2003 to 2004.
Steve Wieberg
Longtime sportswriter Steve Wieberg is best known for his 30 years of experience at USA Today (1982-2012). Wieberg has helped select inductees for the basketball and college football Halls of Fame, and has a plethora of national writing awards to his credit.
Tyrone Willingham
Willingham is another former coach on the panel, and boasts head coaching experience at several big-name institutions: Stanford (1995-2001), Notre Dame (2002-2004), and Washington (2005-2008). He coached in five bowl games over his career, including the 2000 Rose Bowl.