Giancarlo Stanton and the Biggest Contracts in American Sports History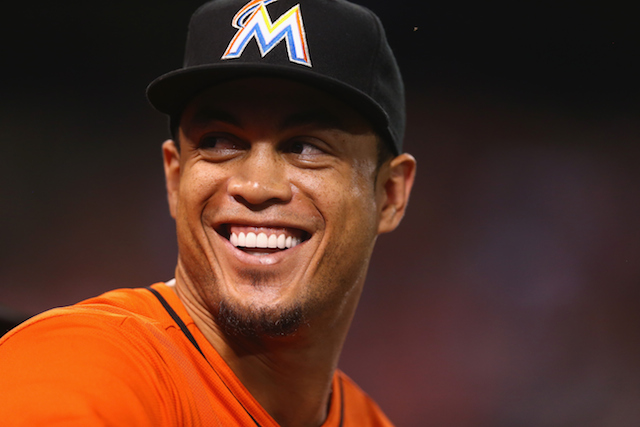 Baseball has its first $300 million man. For that matter, North American professional sports as a whole has its first $300 million man. Miami Marlins outfielder Giancarlo Stanton has reportedly agreed to a $325 million deal with the team spanning 13 seasons, which would be the largest in the history of the MLB, NBA, NFL, or NHL. Stanton, the runner-up for the National League's 2014 MVP award, hit 37 home runs with 105 RBIs and 299 total bases in the recently concluded season. For a Marlins franchise that's missed the playoffs 11 years in a row, locking up Stanton long-term represents a significant building block for future success.
So how much bigger is Stanton's reported $325 million contract than the previous record? Who else has even been in the neighborhood? (Hint: Mostly baseball players.) We used Spotrac.com to examine the biggest contract values all-time in each of the four major North American pro sports. Here's what we found.
MLB
The biggest contract in baseball history pre-Stanton belonged to Alex Rodriguez. For that matter, the biggest two contracts in baseball history pre-Stanton both belonged to Alex Rodriguez. A-Rod signed a $252 million deal with Texas in 2000 and then inked an even larger $275 million contract with the Yankees seven years later.
According to Spotrac.com, six other MLB ballplayers have landed contracts worth more than $200 million. They are, in order: Miguel Cabrera ($248 million), Albert Pujols ($240 million), Robinson Cano ($240 million), Joey Votto ($225 million), Clayton Kershaw ($215 million), and Prince Fielder ($214 million).
NBA
The largest contract in basketball history belongs to Kobe Bryant, who snagged a $136 million deal in 2004. (Small potatoes compared to the record-breaking baseball salaries, isn't it? Although, to be fair, the limit in hoops is a seven-year contract.) Runners-up in the highest-paid department, per Spotrac.com: Jermaine O'Neal, Kevin Garnett, Carmelo Anthony, and Joe Johnson. Tim Duncan and Shaquille O'Neal just missed the top five of this list, begging the question, "How in the world did Jermaine O'Neal get a bigger contract than Shaquille O'Neal?"
NFL
Michael Vick (pictured) owns the distinction of signing the biggest contract in NFL history (so far) when he put pen to paper on a $130 million extension with Atlanta. That didn't end so well for the Falcons when Vick went to jail for dogfighting in 2007. The top five deals in NFL history all belong to quarterbacks: Vick is joined by Jay Cutler, Joe Flacco, Carson Palmer, and Colin Kaepernick on that list. One important disclaimer to note: Obviously, the NFL is different from the other leagues listed here in that not all of the money in mammoth contracts is guaranteed.
NHL
Three hundred and twenty-five million dollars? No NHL player has ever pulled down a contract worth even $125 million! Alex Ovechkin came close — his current 13-year deal is worth a cool $124 million. Other nine-figure hockey stars are few and far between: According to spotrac.com, it's just Shea Weber ($110 million), Sidney Crosby ($104.4 million), and of course, Ilya Kovalchuk. Kovalchuk signed a 15-year deal with the Devils in 2010 and then decided to retire in 2013. Tough break for the Devils, who have dead money counting against their salary cap for another solid decade.