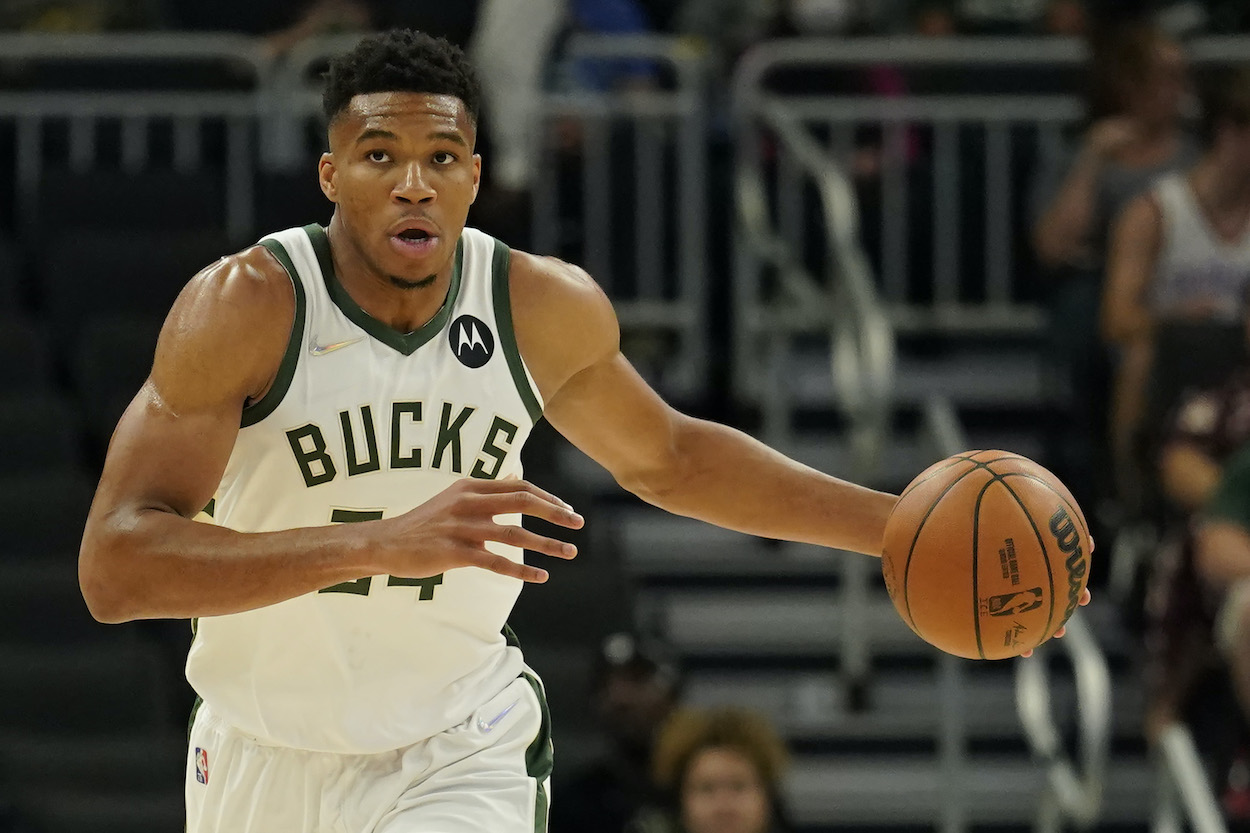 Giannis Antetokounmpo Only Has 1 Goal for His NBA Career, and It Should Terrify the Rest of the NBA
Giannis Antetokounmpo's latest comments on his future goals should terrify the rest of the NBA.
It's scary to imagine Giannis Antetokounmpo can still improve from the player he's already become. The former MVP is already one of the best players in the NBA, and he just averaged 35.2 points, 13.2 rebounds, and 5.0 assists in his first-ever NBA Finals appearance with the Milwaukee Bucks.
Antetokounmpo is a unique talent unlike anything we've ever seen in the NBA, but he isn't even close to satisfied with his career thus far. His latest comments about always wanting to improve show he knows what it takes to be great, and that should terrify the rest of the NBA.
Giannis Antetokounmpo is coming off the best season of his career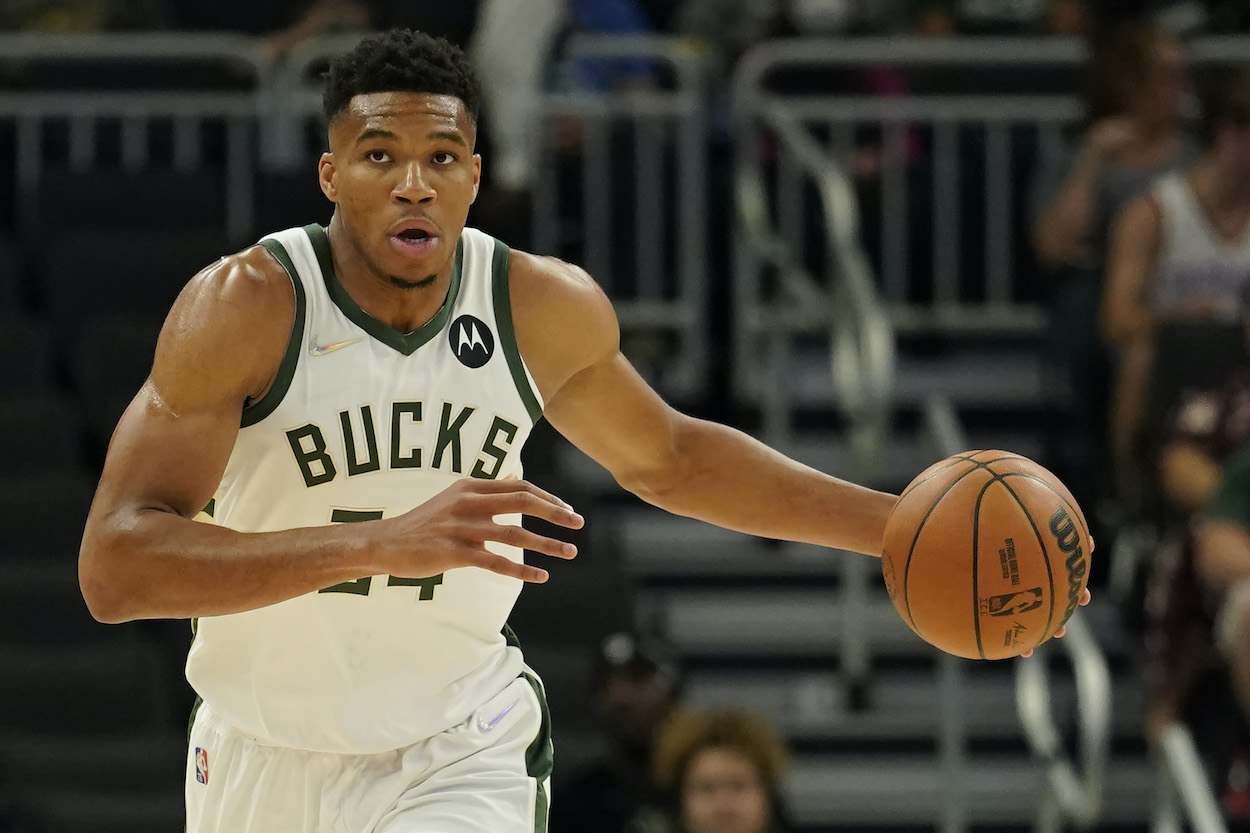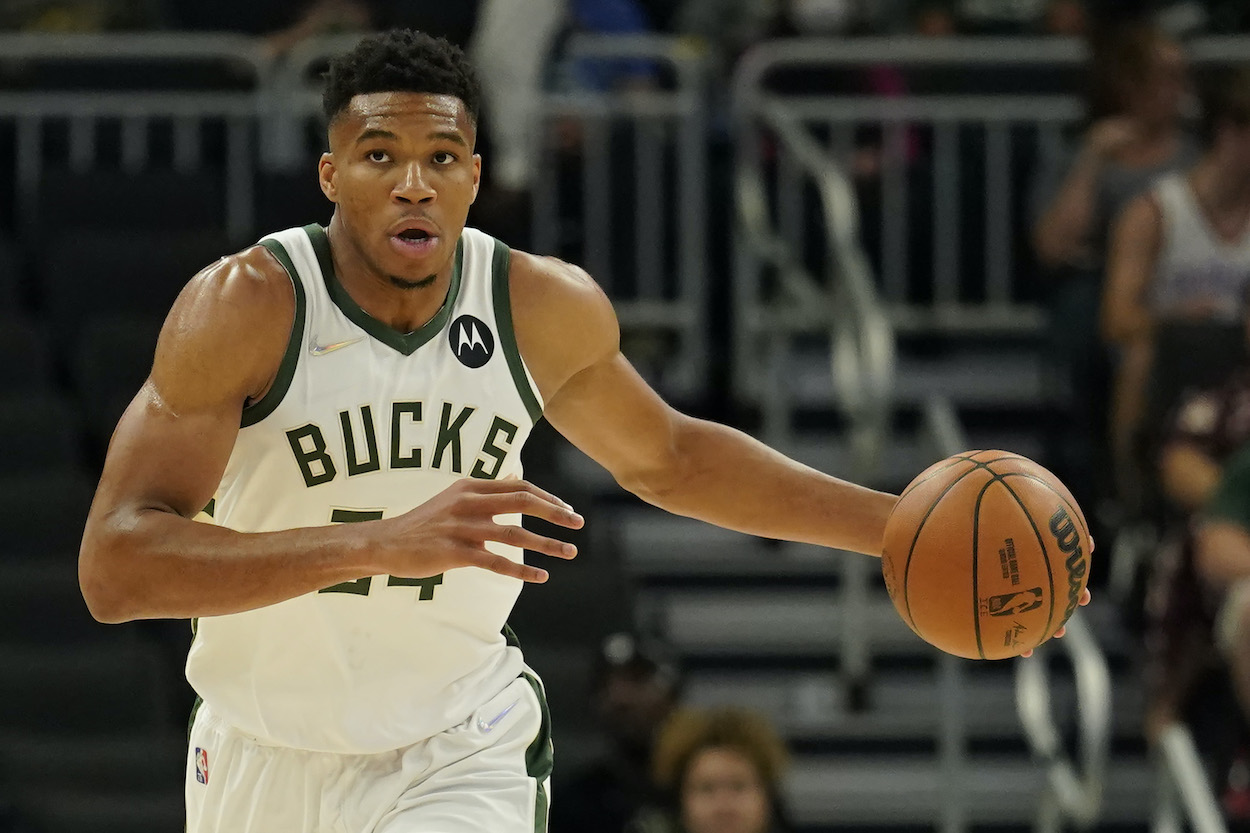 Antetokounmpo has come a long way from the skinny rookie who averaged just 6.8 points per game. Since his rookie season, the forward increased his points per game average for the next six seasons in a row. Antetokounmpo wasn't able to do the same in 2020-21, but he still put up arguably his best season as a pro.
In the regular season, Antetokounmpo averaged 28.1 points, 11.0 rebounds, and a career-high 5.9 assists per game. He only improved those numbers in the playoffs, where he scored 30.2 points per game and led the Bucks to an NBA title in his first trip to the NBA Finals.
Antetokounmpo incredibly put up 50 points, 14 rebounds, and five blocked shots in the clinching Game 6 against the Phoenix Suns to give Milwaukee its first NBA championship since 1971. It's almost impossible to improve upon that performance going forward, but that's exactly what Antetokounmpo plans to do.
Giannis Antetokounmpo's only goal should terrify the rest of the NBA
NBA teams are already terrified of facing Antetokounmpo at this point in his career. But they're only going to be more worried about the Bucks superstar after hearing his goal for the upcoming season.
"I want to keep getting better," Antetokounmpo recently told the Associated Press, per Fox News.
"But you've got to be able to do it for yourself, figure out what you want. And right now, what I want is to get better. I don't care about trophies."
Antetokounmpo already has two MVP awards, a Defensive Player of the Year award, an All-Star MVP, an NBA championship, and a Finals MVP trophy to his name, but none of that matters to him.
I don't care about MVPs. I don't care about Defensive Player of the Year. I don't care about all those things. I care about getting better, because I know if I do that, there's more things coming with that and that's what I've done my whole career and that's why I'm in this position.

Giannis Antetokounmpo
But where did Antetokonmpo learn to live with that mindset? From his parents, of course.
"No matter how they felt — happy, sad, tired — they didn't stop," he said. "That's kind of the mindset I have and that I'm going to keep having.
"I'm ready for any obstacles."
A noticeable competitive fire
Antetokounmpo knows what he wants to accomplish in the future, and others who have been around him over the past few years have also noticed how hard he works to be the best player he can be.
"We continue to say we feel like Giannis has got a lot of room for improvement, which is a lot of respect for how much he already does and how great a player and how impactful he is to winning," Bucks head coach Mike Budenholzer told the AP.
Richard Jefferson, who played against Antetokounmpo and now covers him for ESPN, said he's going to keep working until he's considered the best player in the world.
"He knows that people still say that Kevin Durant's the best player, or LeBron James is the best player in the world," Jefferson said. "And he's won two MVPs, a finals MVP, an All-Star MVP, and no one is saying he's the best player in the world … That should make any great player want to wake up and continue pushing."
We might just see the best version of Antetokounmpo that we've ever seen this year. Good luck, everyone else.
Like Sportscasting on Facebook. Follow us on Twitter @sportscasting19.