Giannis Antetokounmpo Will Always Be Haunted by the Sensation of His Knee Buckling 'Like an Elbow' During Last Year's Postseason: 'I Still Feel It, and I Think I'm Going to Feel It Until I Die'
Giannis Antetokounmpo wowed NBA fans with a handful of incredible moments during last year's run to a championship. He clinched the Milwaukee Bucks' first title since 1971 with a 50-point, 14-rebound, five-block performance in Game 6 of the Finals to beat the Phoenix Suns.
His alley-oop from Jrue Holiday in Game 5 of that series is classic. His block on Deandre Ayton in Game 4 is now one of the most iconic moments in NBA Finals history.
It gets lost in the shuffle that Antetokounmpo's leg bent backward during Game 4 of the Eastern Conference Finals. It looked like his postseason — and Milwaukee's hopes of a championship — were finished.
Instead, in some sort of superhuman feat, Giannis recovered in two weeks and was ready to play in Game 1 against the Suns. Still, he admitted that's a feeling that may not ever fade from his memory.
Giannis Antetokounmpo's postseason appeared to end in Game 4 of the Eastern Conference Finals
Milwaukee swept the Miami Heat in the first round of last year's playoffs. That gave the Bucks a date with the Brooklyn Nets in the most-anticipated series of the Eastern Conference postseason.
Brooklyn's James Harden went down with an injury in the first minute of that series. He eventually returned but was a shell of himself. Kyrie Irving got hurt in the second half of Game 4.
That left Kevin Durant on an island to try and beat Milwaukee. And he nearly did.
KD and Giannis went toe-to-toe in the final three games of that series. Durant averaged 43.0 points and 12.3 rebounds in Games 5-7. Antetkounmpo averaged 34.7 points and 14.0 rebounds.
Eventually, with the assistance of Khris Middleton, Milwaukee won Game 7 and advanced to the conference finals to face the upstart Atlanta Hawks.
The story wasn't necessarily that series — the Bucks won in six games. But Milwaukee's two-time MVP hyperextended his knee in a brutal-looking injury. The world expected his season to be over.
But The Greek Freak came back to average 35.2 points and 13.2 rebounds in the Finals, and his epic 50-point Game 6 carried the franchise to the finish line.
Giannis admitted that the sensation of his knee bending in the wrong direction will always haunt him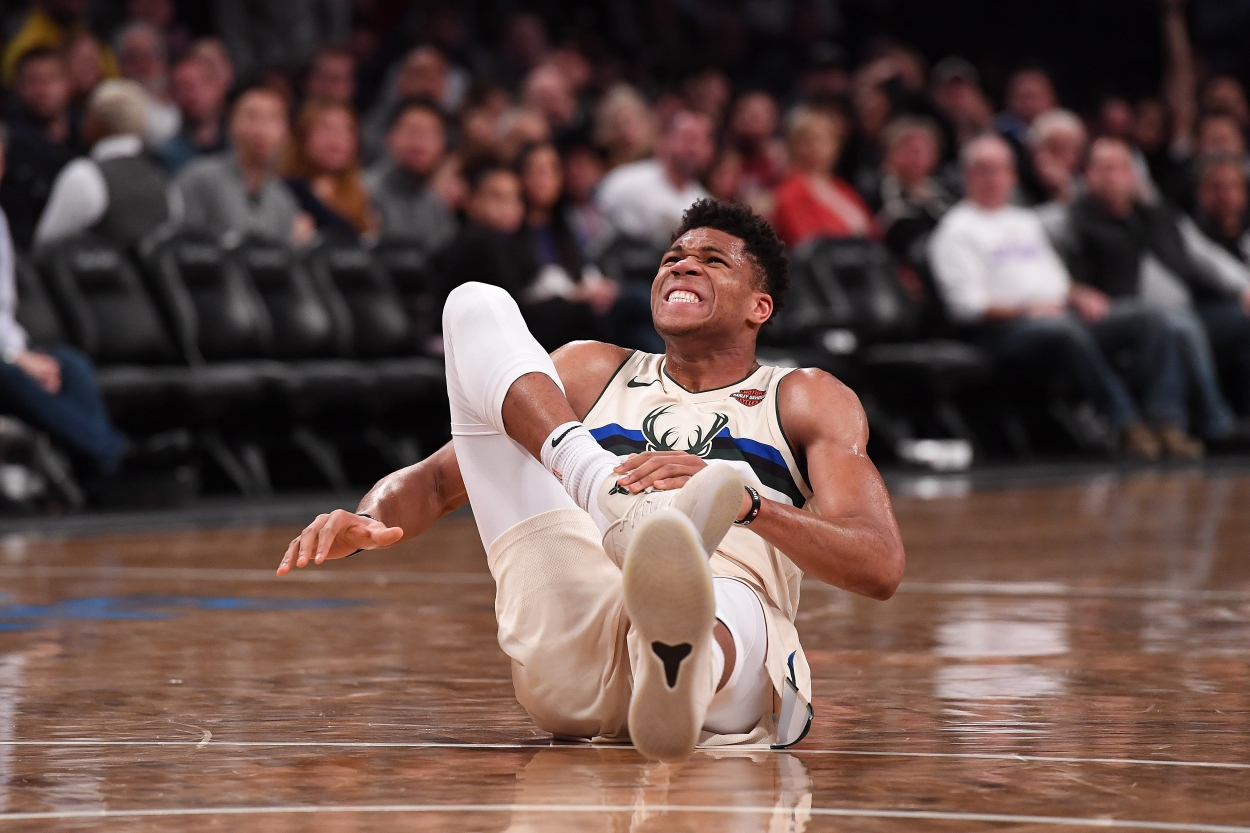 It was a gruesome injury. Antetokounmpo returned, though, and the way he dominated the Finals put his knee injury on ice, so to speak.
It wasn't far from the future Hall of Famer's mind, though. As he told GQ's Zach Baron, that's a sensation he would like to forget, but one he'll likely feel the rest of his life.
My leg was the opposite way. To this day, I feel the effect, the traumatic stress. I still feel it, and I think I'm going to feel it until I die.

Giannis Antetokounmpo on the leg injury he suffered during Game 4 of the 2021 Eastern Conference Finals
Milwaukee went down 2-0 to Phoenix in the Finals. Maybe Giannis's knee played a role.
But by Game 4, it didn't appear to be bothering him anymore.
When he hedged onto Devin Booker and then turned around and lept off one foot to block Ayton at the rim? He jumped off the same leg.
Antetokounmpo had a postseason for the ages
The 2019-20 Defensive Player of the Year had 41 points in the Bucks must-win Game 3. He averaged better than 36 and 12 over the final three games.
What The Greek Freak accomplished during last year's postseason was incredible to witness. The block on Ayton, the lob from Holiday, the overtime Game 7 against Brooklyn and Durant — all unbelievable.
But to carry a franchise that hadn't won a title in half a century after (in his words) your leg went the opposite way turns a legendary playoff run into a mythical one.
All stats courtesy of Basketball Reference.