Giannis Antetokounmpo and His Brothers Could Be the Highlight of NBA All-Star Weekend
Giannis Antetokounmpo's journey to the Milwaukee Bucks is well documented. His family grew up extremely poor in Greece, and a young Giannis — along with his brothers — had to pawn CDs and sunglasses on the street to help make ends meet.
The Greek Freak has obviously come a long way since then. He has two NBA MVPs to his name and a Defensive Player of the Year Award, a Finals MVP Award, and an NBA Championship.
His brother Thanasis was a member of last year's title-winning Bucks team as well, and another brother, Kostas, has a ring after winning the 2020 Championship alongside LeBron James and the Los Angeles Lakers.
Now the brothers get to take another step in a journey that's so inspiring it's being made into a Disney movie (seriously). And Giannis, Thanasis, and youngest brother Alex will make up one of three teams competing in the NBA Skills Challenge as part of 2022's NBA All-Star weekend.
And knowing Giannis, he'll find plenty of ways to make it an entertaining and hilarious event.
Giannis Antetokounmpo and his brothers had a long and winding road to the NBA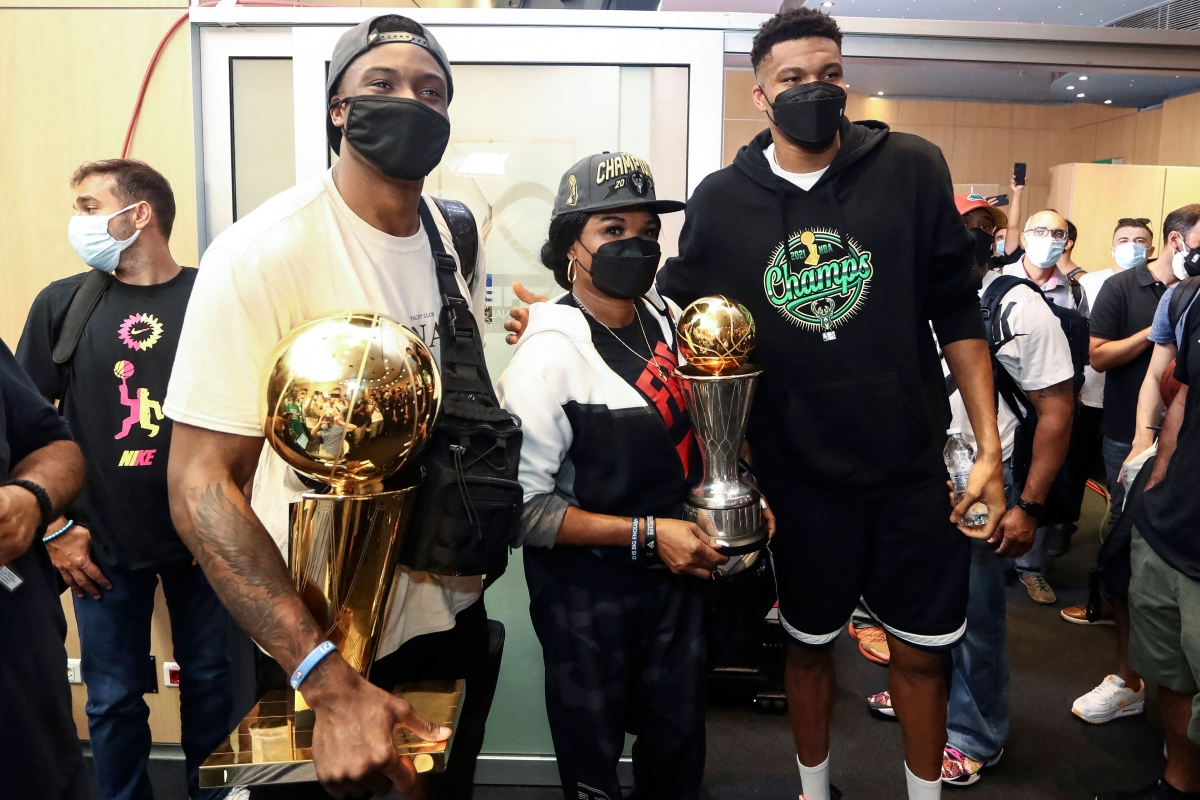 The man now known as The Greek Freak didn't begin his basketball journey as a McDonald's All-American or five-star recruit. He started it with his family, and he continues to ride through it with his family.
Giannis has four brothers. Francis is the eldest and the only brother born in Nigeria. Next comes Thanasis, then Giannis, Kostas, and Alex, who currently plays in the G-League.
Giannis, Thanasis, and Kostas were just the second trio of brothers to share an NBA floor in the same game, per The Athletic. (The first was his now-teammate Jrue Holiday and brothers Justin and Aaron). The Antetokounmpo brothers then became the first trio to each win an NBA Championship when Giannis led the Bucks and Thanasis to last year's title.
"It's amazing, man," Giannis told Eric Nehm in the same Athletic piece before the Bucks faced Kostas's Lakers in April of 2021. "It's been a long, long journey to be able to have the three of us be in the same NBA court, man. It's amazing. Our mom is right there watching. You can never ask for anything better."
Now the Antetokounbros get to join forces at All-Star weekend
Now Giannis, Thanasis, and Alex are one of three trios to compete in the NBA Skills Challenge (Saturday, Feb. 19 at 8 p.m. ET). It will be the first event of All-Star Saturday Night and a precursor to the 3-Point Contest and Slam Dunk Contest, both of which are often the highlight of Saturday's All-Star festivities.
But perhaps not this year.
The Antetokounbros will be facing three members of the Cleveland Cavaliers in Jarrett Allen, Darius Garland, and Evan Mobley, and three rookies in Scottie Barnes, Cade Cunningham, and Josh Giddey.
Allen and Mobley are both 7-footers in the Skills Challenge, which is rare and a fun story in its own right. Giddey could be the sneaky highlight for his actual on-court skills.
But neither of the other teams has the potential to be as hilarious and entertaining as Giannis and the fam.
Years worth of evidence suggests Giannis is about to become an even more beloved superstar
Bucks fans are well aware of Giannis's fun-loving personality and comedic skills (if you want to call dad jokes comedic skills). But maybe the most endearing part about all of it is that it's genuine.
Like the time he told a legitimate, straight-faced story about finding out you could dunk Oreos in milk. Or his tweet about tasting a smoothie for the first time. Or when he tweeted about how he found red Kool-Aid to be "extremely tasty."
He shows up on podiums and social media tossing out those dad jokes. For example: "Have you heard about the new movie called Constipation? No? That's because it hasn't come out yet." Or "How do you make a tissue dance? You put a little boogie in it."
At a previous All-Star weekend, he tried to teach Nikola Jokic how to breakdance. He once warmed up for the second half of a game for a solid three-plus minutes while Ja Rule played a halftime show right behind him.
He scored 50 points in the close-out Game 6 of last year's Finals and then went through the Chik-Fil-A drive-thru and ordered, "50 exactly, not 51, not 49, chicken minis, yes, 50" on Instagram Live. (He also got a large half-Sprite, half-lemonade with no ice to drink, in case you were curious).
And he's going to be playing alongside his brothers — and considering the journey they made together to get to this point, these aren't just any brothers. They're as close as brothers could be.
So mic'd up on national TV while ribbing his brothers, telling dad jokes, and putting on a show, any NBA fans who haven't seen the fun side of Giannis are in for a serious treat.
Get your popcorn ready.
Like Sportscasting on Facebook. Follow us on Twitter @sportscasting19.
RELATED: Giannis Antetokounmpo's Latest Offensive Evolution Is Hidden Inside His 50-Point Performance Against the Pacers, and It's Going to Be a Problem for the NBA