Giannis Antetokounmpo Just Broke His Silence On Where He Would Have Played College Basketball, Claiming He Would Have Bizarrely Committed to Syracuse
Giannis Antetokounmpo was selected 15th overall by the Milwaukee Bucks in the 2013 NBA Draft. At that point, he was only a teenager who had only played second-division basketball in Greece.
Not much was known then about the man who would become The Greek Freak. Had Antetokounmpo come stateside to play in college, though, basketball fans would have been able to see his uncommon skills on full display.
But what school would Giannis have played for? Surely he would have ended up at Duke, Kentucky, North Carolina, or another recognizable blueblood program.
That wouldn't have been the case, the Athens native claims. Instead, he would have made an uncommon decision and committed to Syracuse University.
Syracuse is a mid-level college basketball program
The Orange finished the 2020-21 season eighth in the Atlantic Coast Conference. Thus far in 2021-22, they're ninth with an overall record of 10-11.
Under Hall of Fame coach Jim Boeheim, the program has been relevant across the country for decades — just not relevant enough to be considered one of the top teams in the NCAA.
Boeheim's last 30-win season came in the 2012-13 campaign when it reached the Final Four.
The program's only national title was in 2003 when a freshman by the name of Carmelo Anthony carried his team to a win over Kansas in the championship game.
It's been hit-or-miss since then. Syracuse has made two Final Fours and an Elite Eight, but the Orange have also made three first-round exits and missed the tournament entirely four times.
The program isn't necessarily a recruiting hotbed, either, which is what makes Antetokounmpo's hypothetical decision to play in New York a bizarre one.
But perhaps the Orange may be a larger part of the college basketball landscape had they had a long, gangly freshman leading the charge in 2012-13.
There's a good chance Boeheim would have another national championship to his name too.
Giannis Antetokounmpo said he would have joined the Orange before beginning his NBA journey with the Bucks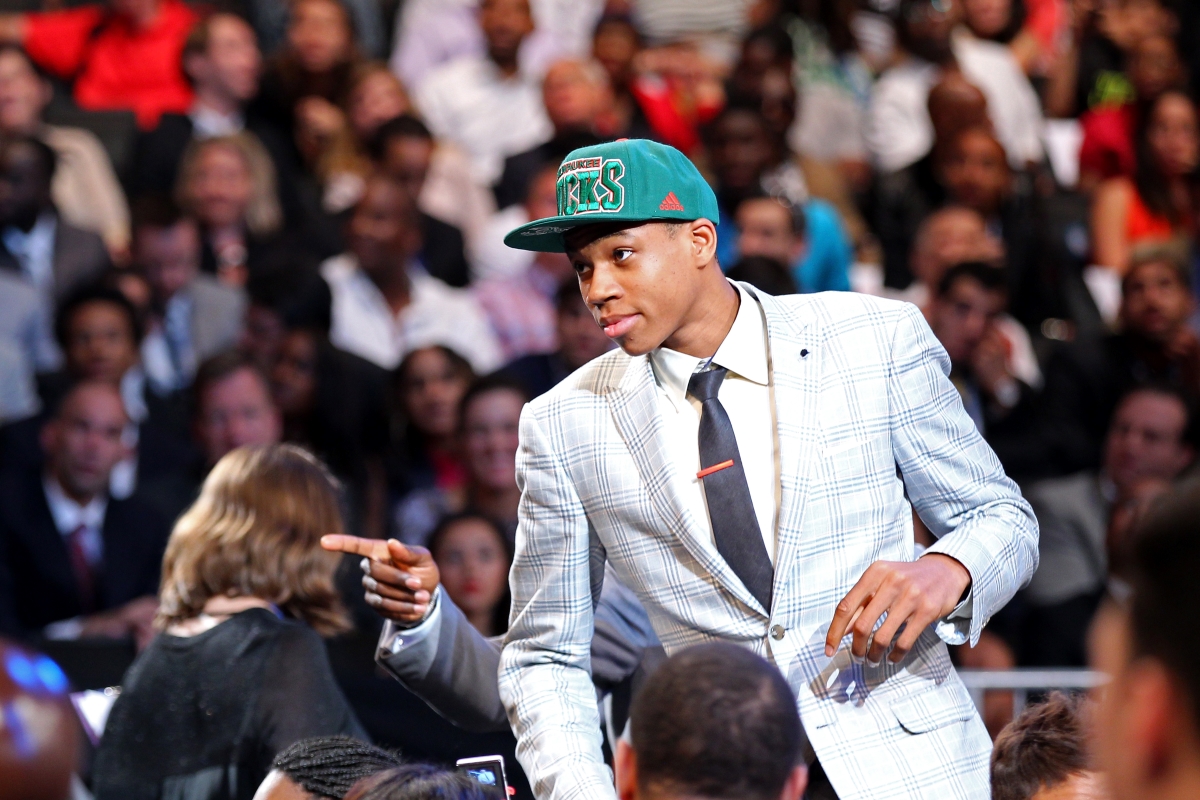 Giannis and his brother Thanasis attended a Syracuse game on Jan. 29. That night, the Orange cruised to a 94-72 win over Wake Forest.
Before the game, the two-time NBA MVP was asked about the program and quickly claimed he would have committed to Syracuse to play under Boeheim, according to Syracuse.com.
"I just like the way they play," he said. "They play zone, they get up and down the floor. They play free. They play fast. They play together. I just like the culture they have."
Unsurprisingly, Boeheim said he would have been on board as well, per Sports Illustrated.
"Yeah, he could play two positions at once. He could play 1, 2, 3, 4, 5. I'd be happy to have him at any of them," he said.
So, hypothetically, what would have happened had Giannis been a member of the 2012-13 Syracuse team?
How good could Giannis have been at Syracuse?
There's a less than 0% chance Antetokounmpo would have lasted until the 15th pick of the draft had he played for the Orange.
He would have been a member of a Syracuse team that made the Final Four. It's safe to say that squad may have won another few games and a championship had the athletic, long-armed forward been a part of Boeheim's 2-3 zone.
That season, the Orange featured future NBA Rookie of the Year (and future Antetokounmpo teammate) Michael Carter-Williams. Jerami Grant was another starter that year and is now a wanted man at this year's NBA trade deadline.
At that time, Giannis was 6-foot-9 with a 7-3 wingspan. Paired with another 6-9 forward and a 6-6 point guard, a zone that led Syracuse to the Final Four would have been nearly impenetrable.
Anthony Bennett was the No. 1 overall pick of the Cleveland Cavaliers in 2013. It wasn't a strong draft. If Giannis had vaulted to No. 1 — a distinct possibility — he would have formed a 1-2 punch with Kyrie Irving.
In that scenario, maybe Kyrie doesn't demand a trade. Maybe Cavs fans go from LeBron James to Giannis Antetokounmpo. And what if LeBron still went back home the next season?
The King led Cleveland to four straight Finals appearances. What would have happened with Giannis (and possibly Kyrie) alongside him?
Alas, those are all what-ifs. Seriously, though — what if?
All statistics courtesy of Basketball Reference.
RELATED: Giannis Antetokounmpo's Immortal Alley-Oop From Jrue Holiday In Game 5 of the 2021 NBA Finals Officially Destroyed the Phoenix Suns