Giannis Antetokounmpo Just Went Classic Giannis When Asked Whether or Not He Takes Matchups with Kevin Durant Personally: 'I Just Try to Run My Own Race'
Giannis Antetokounmpo and Kevin Durant are likely 1-2 in the NBA's MVP race nearing the season's midway point. Their respective teams, the Milwaukee Bucks and Brooklyn Nets, squared off on Jan. 7, with The Greek Freak and Co. coming away with a 121-109 win.
Giannis and KD know each other quite well already as the two went toe-to-toe in last season's Eastern Conference semifinals, with Milwaukee coming out on top then too.
But when Antetokounmpo was asked after the latest Bucks' win whether or not he gets up for his matchups with Durant, he went full Giannis on everybody.
Giannis Antetokounmpo led the Milwaukee Bucks to a win over Kevin Durant and the Brooklyn Nets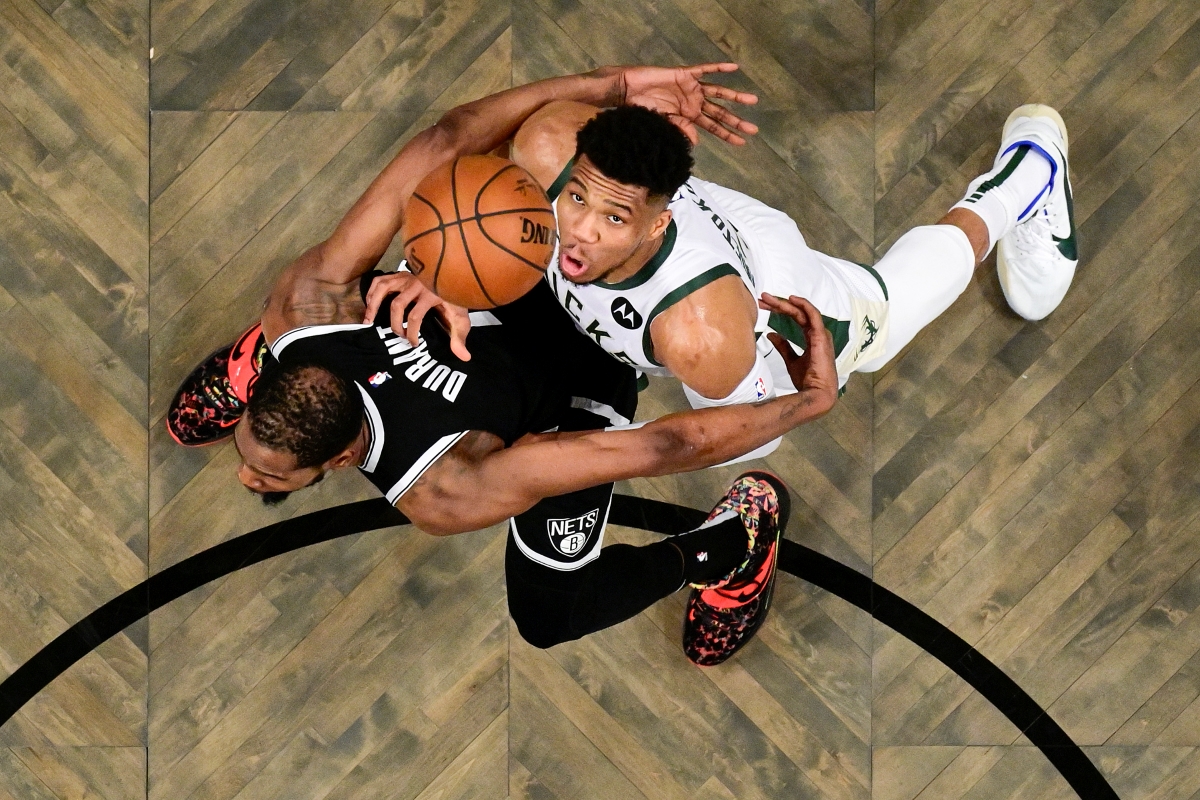 Milwaukee beat the Nets 121-109 on Dec. 7 in Brooklyn (which meant no Kyrie Irving). The Bucks, however, were playing without their point guard in Jrue Holiday, who is now in the league's health and safety protocols.
Antetokounmpo had 31 points, seven rebounds, and nine assists in 27 minutes. The Bucks had five other scorers in double figures, led by Bobby Portis's double-double with 25 points and 12 rebounds.
Durant poured in 29 points to go along with nine rebounds and seven assists. He didn't have the help Giannis did, though, even sans Holiday. James Harden scored 16 points, while Nic Claxton and Cam Thomas had 14.
No other Brooklyn player reached double figures.
Much like it was during last year's postseason, it was Antetokounmpo and his pals vs. Durant, and despite another valiant effort from KD, the Bucks picked up another win.
But Giannis still recognized Durant's performance, even in a loss, doubling down on the same thing he said about the Nets' star last year.
The Greek Freak had a classically-Giannis answer when asked about his one-on-one battles with KD
Antetokounmpo was interviewed after his team's 12-point win in a nationally-televised game on ESPN.
During Cassidy Hubbarth's interview, the two-time MVP was informed it was his seventh straight 30-point game against the Nets, the longest streak he has against a single opponent in his career.
Hubbarth acknowledged that Antetokounmpo has already called Durant the best player in the world and then asked how personally he takes his matchups with Brooklyn.
Giannis answered her question in total Giannis fashion:
I don't take it personal. I'm just trying to run my own race. Trying to make my own team great. Obviously there's a lot of excitement in the air when you play Brooklyn, but at the end of the day I try to enjoy the game.

KD's the best player in the world, he's showed it in the past, he's showing it right now, I'm just trying to get better.

Giannis Antetokounmpo on playing against Kevin Durant and the Brooklyn Nets
Humility? Check. Enjoying the moment? Check. The team getting better? Check. Is he trying to get better? Check.
All Giannis staples. It's not flashy, it's not exciting, but in some odd way, it's newsworthy all the same. We may just be numb to the kind of player Antetokounmpo is, but we're still amazed at what kind of person he is.
The two will likely see more of each other come playoff time
There's plenty of support in the "Brooklyn would have won" camp from last year's postseason. Harden was injured a minute into Game 1 of the series, and Kyrie went down in Game 4.
And still, Durant almost single-handedly carried his team past the eventual NBA champions.
Brooklyn is second in the East as of Jan. 11. Milwaukee is fourth. Barring something catastrophic (knock on wood), Giannis and KD will be seeing each other again in the playoffs.
For 48 minutes in those games, it will be a battle. Until the next 48 minutes come, it will be pure respect.
All statistics courtesy of NBA.com.