Giannis Antetokounmpo's Recent Comments Suggest Ja Morant Could Be a Future MVP
Giannis Antetokounmpo was the highlight of the 2021 NBA All-Star Game when he took home MVP honors with a 16-for-16, 35-point performance.
Ja Morant was no Stephen Curry in the 2022 game, but the Memphis Grizzlies' ascendant star showed off the skills that have made him an MVP candidate this season.
When the league could see Giannis morphing into a full-fledged superstar before its eyes, he was widely praised for his work ethic, athletic ability, and humility.
Not long after, The Greek Freak won back-to-back MVPs, Defensive Player of the Year, and Finals MVP after leading his Milwaukee Bucks to their first championship in half a century.
Antetokounmpo was asked about Ja's season and showered the third-year guard with compliments at All-Star Media Day this past weekend. Ironically, the praise Giannis dished out was exactly the praise he himself received before he became a multiple-time MVP.
The fact that these words came from Antetokounmpo's lips suggests Ja has a similar MVP-level future with no ceiling on how great he can become.
Ja Morant is now an A-list superstar leading the Memphis Grizzlies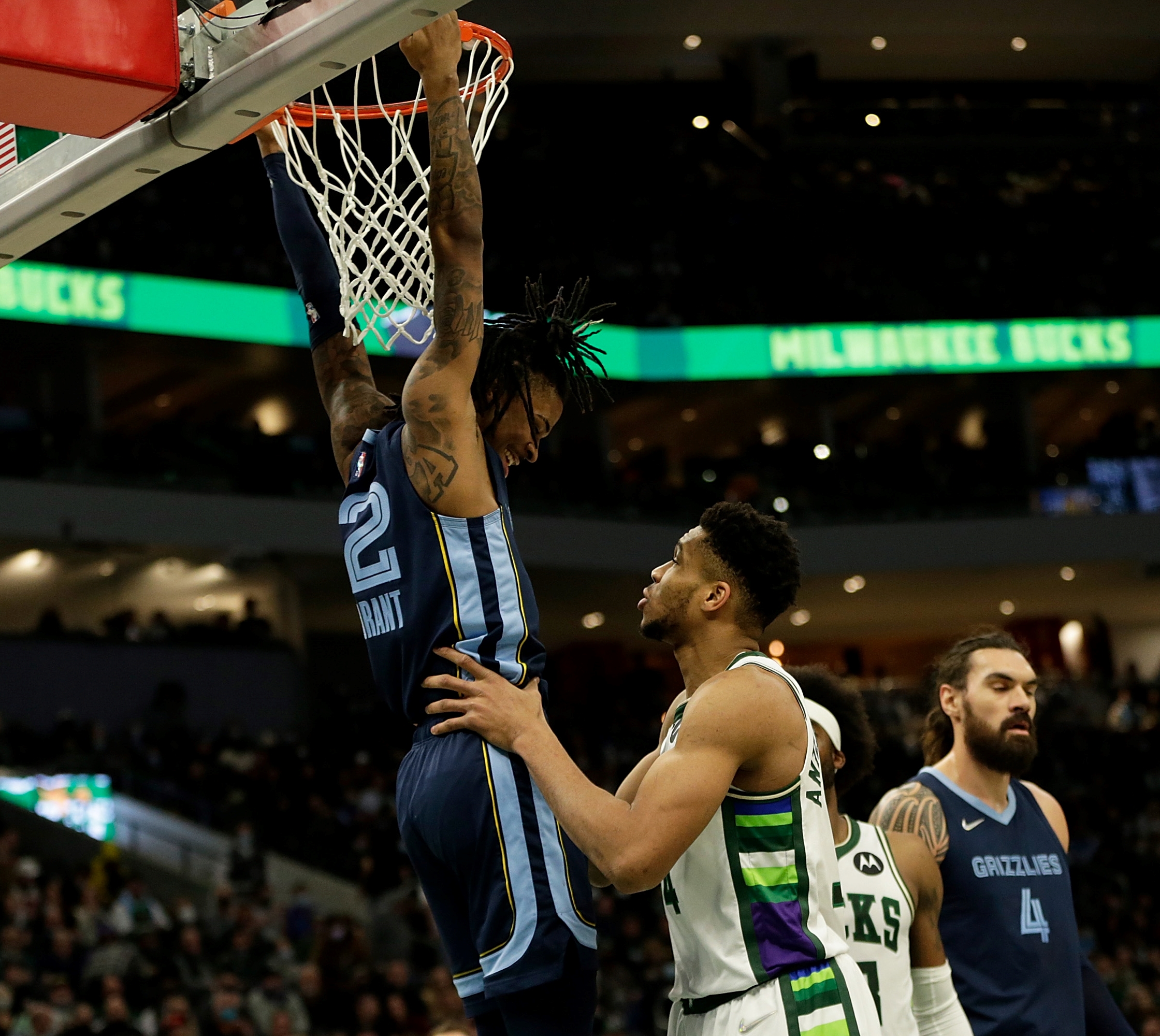 Ja was the 2019-20 Rookie of the Year with the Grizzlies. He scored nearly 18 points per game and added more than seven assists that year.
His production increased last season as the then-21-year-old averaged 19.1 points, 4.0 rebounds, and 7.4 assists. He got to the free-throw line nearly six times a game as opposed to fewer than five during his rookie campaign.
This year, Morant has vaulted himself into consideration as one of the league's best players. His scoring average has jumped to 26.8, and he's now averaging nearly six rebounds a night in addition to his 6.9 assists.
Maybe more importantly, though, Ja has become more efficient on offense despite taking more shots and becoming the focal point of opposing defenses. He's shooting 49.5% from the field on more than 20 attempts per night. His three-point percentage also sits at 33.0% on 4.5 shots a game, up from 30.3% last year.
He's eighth in the league in scoring, 17th in assists, and ranks 11th in rebounding among all guards. He was voted an All-Star Game starter and, according to DraftKings, has the fifth-best odds to win the 2021-22 NBA MVP.
Oh, and his Memphis team has the third-best record in the league.
Ja Morant has arrived.
Giannis Antetokounmpo chimed in on Ja and his praise is eerily similar to what The Greek Freak heard as an ascending superstar
Antetokounmpo was 21 in his third season. He averaged a career-high (to that point) in points, rebounds, assists, steals, blocks, field-goal percentage, shot attempts, and free-throw attempts. Sound familiar?
An excerpt from Mirin Fader's Giannis: The Improbable Rise of an MVP via The Ringer said:
"… He had no ego," (Jared) Dudley says. "He was always that guy that didn't care about getting dunked on. I respected him for that. I respected his hunger."
Fader goes on to talk about how Giannis smiled while having to repeat a defensive drill 11 times in a row because he loved the work. How his athleticism was off the charts — but it was his non-stop desire to get better that turned him into The Greek Freak and helped him bring a championship to Milwaukee.
Compare that to Giannis's praise of Morant via Ben Golliver:
"He's improved with every single year. He's having an unbelievable year this year, crazy. I know that he's a very humble kid. I know he works extremely hard. Why not? Why can't he win a championship in Memphis?"
Antetokounmpo also improved every single year — and still is. He also took a leap in his third season. He's also as humble as any superstar could be. His unquenchable desire is also well documented and respected. He brought a championship to a small market in Milwaukee.
Everything he had to say about Ja was also said about him. Take note of where Giannis is now in the basketball landscape because Morant is on his way there.
If Giannis is right, there's no ceiling on the Grizzlies point guard
The year after Antetokoumpo set all those career-highs at age 21, he made his first All-Star Team, All-NBA Team, and was voted the league's Most Improved Player.
At age 22, Morant will accomplish two of those three things. Rather than putting himself in the running for Most Improved, though, he's already putting himself on the shortlist for MVP.
Milwaukee finished 33-49 in 2015-16 and 12th in the Eastern Conference when Antetokoumpo made that jump. Meanwhile, Ja's team has the third-best record in the NBA and is poised for a legitimate playoff run.
In some ways, Morant is ahead of where Giannis was in his third season. And if Antetokounmpo is correct in his praise of Ja the way the league was about him six years ago, it's only the beginning for the Grizzlies' star.
All statistics courtesy of NBA.com.
RELATED: Giannis Antetokounmpo's Latest Offensive Evolution Is Hidden Inside His 50-Point Performance Against the Pacers, and It's Going to Be a Problem for the NBA