Giannis Antetokounmpo Utterly Disrespected By Fox Sports Radio Host
Giannis Antetokounmpo just had an NBA Finals for the ages, capped off by one of the most dominant closeout games in NBA history. The praise has been flowing in from nearly all corners in the wake of Antetokounmpo's monstrous Game 6. His 50-point signature piece clinched the first title in 50 years for the Milwaukee Bucks. But there is at least one commentator who remains unconvinced Antetokounmpo has jumped to the top of the line among NBA superstars.
The guy doesn't even have Giannis Antetokounmpo in his top five. So, what does a guy have to do for people to put some respect on his name, anyway?
Giannis Antetokounmpo was ridiculously good in Game 6
There are no two ways around this one. What Giannis Antetokounmpo did to carry the Milwaukee Bucks across the finish line in Game 6 of the NBA Finals was epic. It was legendary. Video gamers would be thrilled to put up such a performance.
The one honest criticism of Antetokounmpo's performance in the NBA Finals, and the 2021 NBA Playoffs in general, was his spotty free-throw shooting. You couldn't even hold that against him in Game 6, though, as he was 17-of-19, a career-best for a player who shot only 58.7% for the playoffs.
Whatever Antetokounmpo did at the line in Game 6 needs to be bottled for him. Once upon a time, the man was a 77% shooter (2016–17). His 68.5% during the regular season in 2020–21 represented a big comeback from a career-low 63.3% the previous season.
Antetokounmpo averaged 35.2 points in the Finals, 13.2 rebounds, 5.0 assists, 1.8 blocks, and 1.2 steals per game while averaging 39.8 minutes a night. Not bad for a guy whose season supposedly ended with a horrific-looking knee injury in Game 4 of the Eastern Conference Finals. He also shot 61.8% from the floor. The Phoenix Suns could not stop him in the paint.
Giannis Antetokounmpo averaged 30.2 points a game for the playoffs and led the postseason with 12.8 rebounds a night. He was solid for the duration. Unless you're Doug Gottlieb of Fox Sports Radio, then it just wasn't enough.
Gottlieb has been wrong before, and, wow, did he miss the mark on Giannis Antetokounmpo
On his July 21 show for Fox Sports Radio, Gottlieb balked at the laurels being thrown in the direction of Giannis Antetokounmpo, accusing everyone of being prisoners of the moment.
"We always do this. I've heard 'GREATEST SERIES-ENDING PERFORMANCE I'VE EVER SEEN!' because it's 50 points. I'll admit Giannis was outstanding (in Game 6), but the matchup favored them the entire series. Phoenix does not have the type of personnel that can match up with Giannis. The Lakers do, the Sixers do, when fully healthy, the Nets did.

"We've gone completely off the deep end. Kevin Durant was far and away the best player in that series, and I'm not sure Giannis was the second-best player in that series because he struggled."

Doug Gottlieb
OK, then. How many NBA players would sacrifice vital organs and potentially limbs to average 31.9 points and 12.9 rebounds per game on 57.4% shooting and have it termed as struggling? Oh, and he did all that while having to expend a lot of energy at the defensive end with that whole "I'm guarding KD" thing.
But Gottlieb didn't stop there. Instead, he continued to feast on his foot by ticking off a half-dozen NBA players better than Antetokounmpo. He listed Durant, Kawhi Leonard, Stephen Curry, Anthony Davis, Nikola Jokić, and Luka Dončić as superior talents to Giannis Antetokounmpo. There are just no words.
Like many in sports-scream media, Gottlieb has a track record for bad takes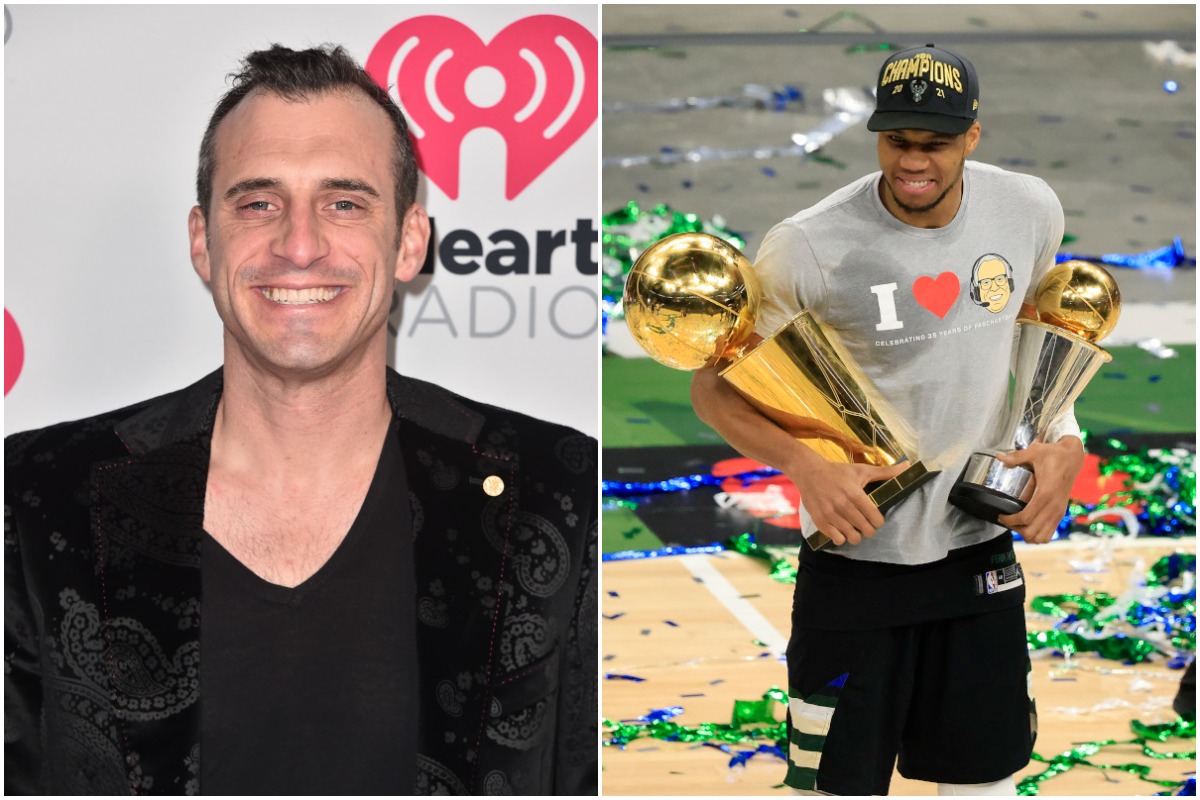 We're to the point that calling the style "sports-talk" is a misnomer. It's cool to have two guys just screaming over the top of each other, such as Jalen Rose and Kendrick Perkins did the day after Game 6. ESPN popularized the style when they had the unfortunate pairing of Skip Clueless Bayless and Screamin' Stephen A. Smith, raising the decibel level five mornings a week.
Gottlieb took a big swipe at former Indianapolis Colts quarterback Andrew Luck's retirement decision in 2019, a reaction that got a strong response from Fox Sports' Troy Aikman. It was an intra-network assault at its finest.
Of course, Gottlieb also said there's no racism when dealing with the NFL. Color had nothing at all to do with criticism of Lamar Jackson's accuracy (57.0% in college, 60.7% at the time in his NFL career). Not when compared to the "star potential" of Josh Allen (56.2% and 52.5%, respectively).
Gottlieb, to his credit, has owned up to the mistake often used to discredit him. But Giannis Antetokounmpo, the seventh-best player in the NBA? That one's just indefensible.
Statistics courtesy of Basketball Reference.