Giannis Antetokounmpo Once Viciously Dunked on Ben Simmons and Then Slammed Him Again by Calling Him a 'F****** Baby'
Giannis Antetokounmpo is usually a silly, goofy, mild-mannered dude off the court. On the court, though, the Milwaukee Bucks' superstar is recognized for his intensity, physicality, and a mean mug or seven. A common trash-talker Giannis is not, however. The two-time MVP prefers to let his play speak for itself.
Every once in a while, though, Antetokounmpo's emotion bubbles over. It's a rare occurrence, but when the 6-foot-11, 242-pound swiss army knife Hulks out, it's a sight to behold.
And no one knows that better than Philadelphia 76ers star Ben Simmons.
Giannis Antetokounmpo appears to enjoy playing against the 76ers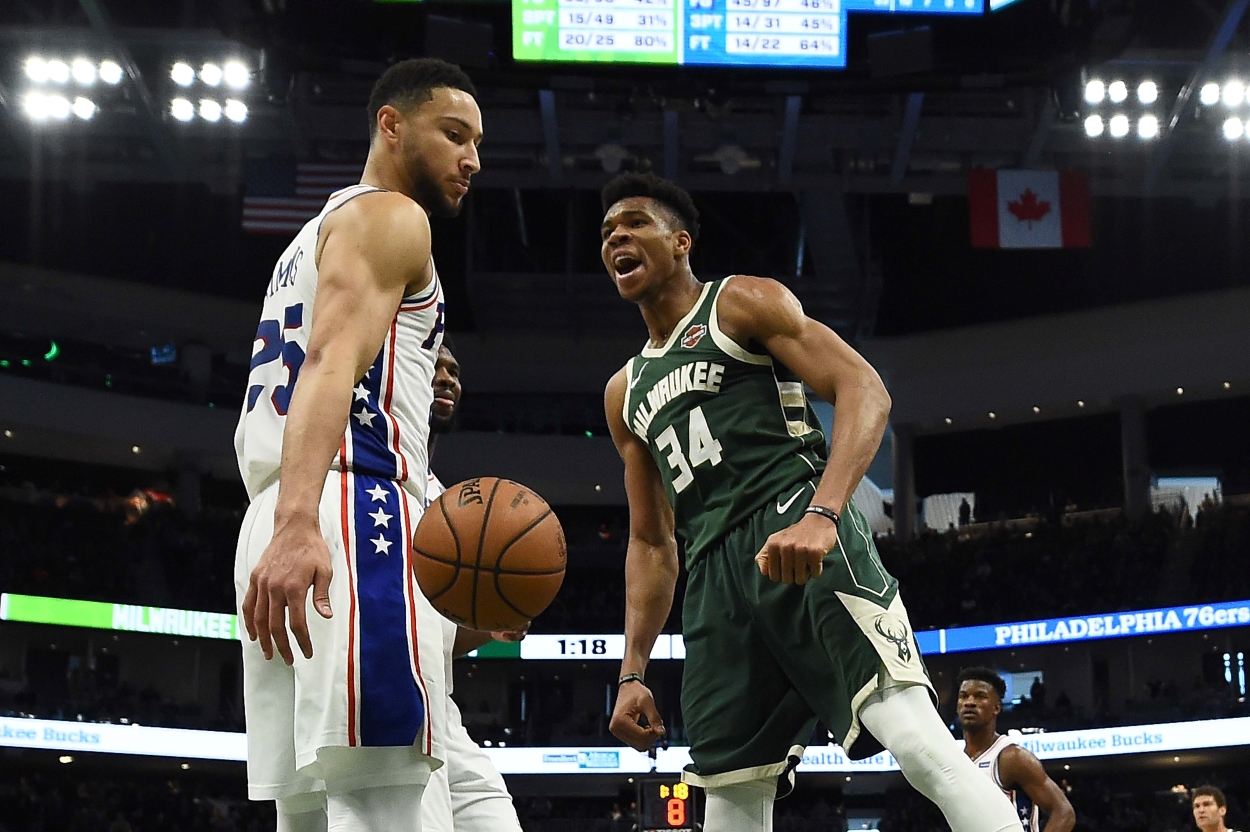 The Greek Freak seems to have some vendetta against the Sixers. A flip seems to switch when he gets Simmons or fellow superstar big man Joel Embiid in his sights.
The Athens native scored 52 points and added 16 rebounds, seven assists, two steals, and a block — with only one turnover — in a 2019 game at Fiserv Forum against the Sixers.
According to Statmuse, the 2021 Finals MVP has eight games with 30 or more points in 25 regular-season matchups with Philly. He's posted a double-double in his last 10 games against the 76ers, including a 36-point, 20-rebound performance on Feb. 6, 2020.
He had a triple-double with 32 points, 18 rebounds, and 10 assists on Oct. 24, 2018. He's had five blocks in multiple contests against Philadelphia.
For whatever reason, Giannis is like a bull seeing red when he plays the Sixers. But one legendary moment sticks out more than the rest.
The Greek Freak once dunked on Ben Simmons' head and called the Sixers guard a 'f****** baby'
The date was March 17, 2019. The place, Fiserv Forum in Milwaukee.
It just so happened to be the aforementioned 52-point, 16-rebound thrashing Giannis laid on Embiid and Simmons.
With the Bucks trailing 118-111 in the final 90 seconds, Antetokounmpo got Simmons on his back inside the charge circle — not a great place to be for anybody, even a two-time All-Defensive Team star.
Face-to-face with Simmons, Giannis went up and dunked with his left hand, got fouled, and pointed his patented flex-and-mean-mug in the direction of the Australian.
The five-time All-Star fired up his home crowd, and as he turned around and walked toward the free-throw line — still living comfortably in the moment — the cameras caught him voicing his feelings about Simmons.
"He's a baby. He's a f****** baby."
As if the moment couldn't get any better, on the 76ers' next possession, Embiid lobbed up a wild right-handed shotput as he was falling down. The ball bounced off the rim, and Simmons went up over the back of Antetokounmpo and slammed home the tip.
The 2017-18 Rookie of the Year had no choice words for Giannis, however.
Antetokounmpo and Simmons are now on two drastically different career trajectories
Simmons hung like a dark cloud over Philly's offseason. That drama continues to permeate the Sixers' 2021-22 campaign, although the team has gotten off to a quick start without their former franchise point guard.
Big Ben hasn't stepped foot on the court with his team, save for a few hilariously-memorable practice moments, since he passed up a dunk in Game 7 of last year's Eastern Conference semifinals series against the Atlanta Hawks.
Meanwhile, Antetokounmpo led his team past Atlanta in the next round and then brought Milwaukee its first NBA title since 1971 with a 50-point, 14-rebound, five-block performance in a closeout Game 6 against the Phoenix Suns.
No one knows when or where Simmons will be playing next. But everyone knows where Giannis is. He's still pumping up crowds and dunking on defenders as he tries to lead the Bucks to consecutive championships.
All statistics courtesy of Basketball Reference