Did Giannis Antetokounmpo Finally Reveal His Free Agency Thought Process?
For the time being, Milwaukee Bucks fans are blessed with something special. And they know it. The multi-talented league MVP Giannis Antetokounmpo is a superstar unlike any other. And he is eligible for unrestricted free agency in 2021.

The Greek Freak's magnetism and athleticism could turn the Bucks into a long-term dominant franchise. Or, it could end up being one of many missed opportunities to build the right team around a superstar. With a career crossroads looming, no one is more aware of this dichotomy than Giannis himself. And recently, he made his thoughts on free agency uncharacteristically clear. Or did he?

Giannis Antetokounmpo's free agency thought process, or not?
Harvard Business School professor Anita Elberse's current research involves exploring how small-market teams like the Bucks handle success. Her project led her to interview the Greek Freak back in spring 2019, but the content didn't become public until October. One Giannis quote in particular unnerved Bucks fans and well-wishers:

"So far, we have been doing great, and, if this lasts, there's no other place I want to be. But if we're underperforming in the NBA next year, deciding whether to sign becomes a lot more difficult."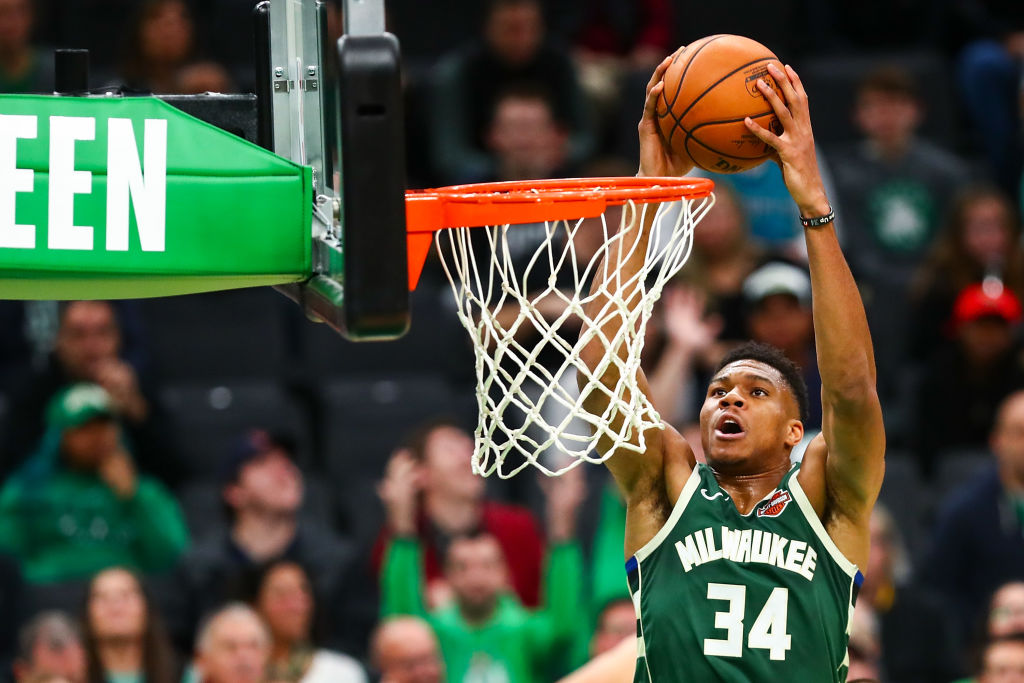 From any other player, this would be par for the course. NBA fans are used to superstars hopping from team to team. Until that quote surfaced, Giannis Antetokounmpo was different. When asked, he usually shares comments like this:

"As long as that we are all on the same page and we are all focused on that goal, why not play for the Bucks 20 years, why not play 25 years Why not, after playing, be a member of the coaching staff or a member of the front office?"

The contrast is clear. However, Antetokounmpo claims he never used those words in the first place. He goes as far as saying the quote couldn't possibly be him because he doesn't use words like "underperforming." The real point of contention is the timetable. His previous statements also note that he expects the Bucks to run their organization well to keep him around. The Harvard quote pins it down to the current season.

Whatever he actually said, it's clear that he doesn't want the Elberse interview to color his 2019 season with the Bucks.

Does Antetokpounmpo owe the Bucks a debt of loyalty?
The Bucks picked a fresh-faced 18-year old Giannis Antetokounmpo 15th in the 2013 NBA draft. He was clearly athletic and showed great potential, but few rated the pick highly at the time.

Before he was the Greek Freak, scouts didn't know what to make of him. His unconventional style made it difficult to figure out how to fit him into an existing franchise. He plays an evolving positionless style, filling in the gaps of the team around him naturally over the course of a season.
The Milwaukee front office took a chance in using their pick on him back then. The 2018-19 NBA MVP performance he gave is probably enough to pay off any "debts" incurred. But whatever choice the famously loyal Antetokounmpo makes will account for the memory of that fateful draft day.

What the Greek Freak's slow start means for the future
Leadership is Giannis Antetokounmpo's admitted weak spot. His knack for silently scanning the floor and figuring out where to fit in got him to this level. Now, he needs to put more effort into rallying the troops around him more directly.

The issue he hasn't quite confronted lately is maturity on the court.

Following an MVP season, he's off to a rough start in 2019-20. Antetokounmpo fouled out of the first two games of the year. The new team built around him plays with a nervous energy, rather than as a cohesive whole. And Giannis seems slower and sloppier than Bucks fans are used to seeing.

There is no reason to think this is the end of the road for Giannis Antetokounmpo and the Milwaukee Bucks. The shaky start and suspect interview quotes have the fanbase on edge. It'll take more games — and a close eye on how Giannis takes to his new teammates — to have a better idea of what the future holds for the Greek Freak.