Giannis Antetokounmpo Might Have Punched a Hall of Fame Ticket With His NBA Finals MVP Award
Epic. Legendary. Unforgettable. Incredible.
We are not worthy, as Wayne and Garth would put it.
Those words — and probably a hundred others — will be forever in fans' vocabularies after watching Giannis Antetokounmpo dominate the 2021 NBA Finals and hand the Milwaukee Bucks their first championship in 50 years. Antetokounmpo's demolition of the Phoenix Suns puts him solidly in the company of the league's all-time greats.
The skinny kid from Greece already came into these finals with two league MVPs and a Defensive Player of the Year Award. He also has a Most Improved Player Award from the 2016-17 season and his 2021 All-Star Game MVP in his trophy case. Now, to go along with a Larry O'Brien trophy, he can add the Bill Russell NBA Finals MVP to his list.
Eight years into his career, and at the tender age of 26, is there really any question whether Antetokounmpo is worthy of a spot in the Naismith Memorial Basketball Hall of Fame?
Giannis Antetokounmpo's NBA Finals MVP Award puts him in Hall of Fame company
According to Baksetball-Reference, the list of players that have won Finals MVP and are not in the Hall of Fame is short. In the past 30 years, only Andre Iguodala (2014-15), Tony Parker (2006-07), and Chauncey Billups (2003-04) have not been voted in as of yet.
Going back to 2010, the finals MVPs have been LeBron James, Kawhi Leonard, Kevin Durant, Dirk Nowitzki, and Iguodala. James, Leonard, Durant, and Nowitzki have all been in the argument for best player in the league the year they won their respective awards, and Antetokoumpo is no different.
Antetokounmpo's NBA Finals performance puts him on a list with the greatest player in NBA history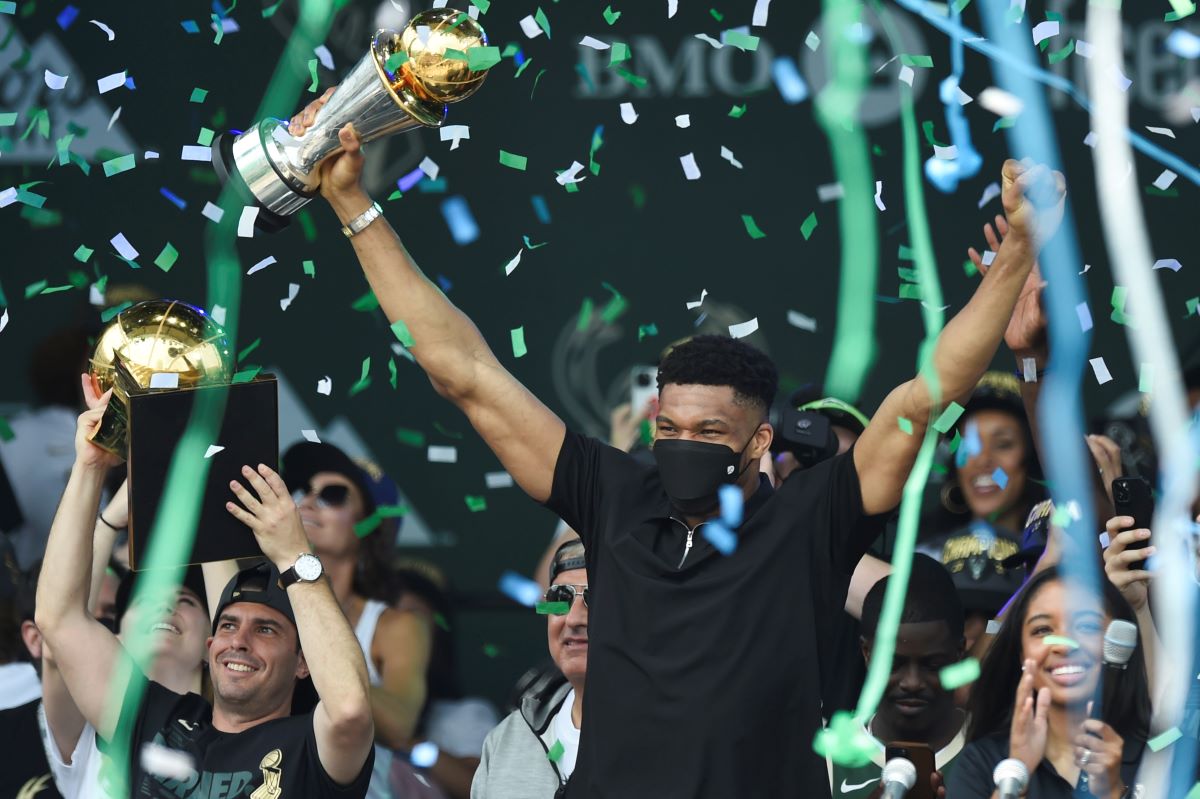 Antetokoumpo and Michael Jordan are the only two players in NBA history to have won multiple regular-season MVPs, a Defensive Player of the Year award, and a Finals MVP. Being mentioned in the same breath as LeBron, KD, Shaquille O'Neal, Magic Johnson, Larry Bird, and others who have been named MVP of the finals is one thing, but when a group consists of two people and the other is MJ? That's the definition of rarified air.
And, for good measure, the only other player to have won a single regular-season MVP, Finals MVP and a Defensive Player of the Year award is Hakeem Olajuwon, who's also in the Hall of Fame.
Antetokoumpo's list of NBA Hall of Fame-worthy accomplishments will likely only grow from here
The Greek Freak is only 26 years old and has already hit the mountaintop, both individually and with his team, but he's still improving.
His scoring and rebounding totals have climbed. He averaged 1.9 assists per game in his rookie season and 5.9 last season. His field goal percentage has improved from 41.4% his rookie year to a high of 57.8 in 2018-19.
Antetokounmpo has also literally grown over the course of his career. He came into the league as a 6-foot-9, 196-pound teenager, according to Draft Express. He was listed at 6-11, 242 pounds last season.
Usually, the "future is bright" expression is reserved for draft night. In this case, it somehow still applies to an eight-year veteran who has already guaranteed himself a spot in the Hall of Fame.
All stats courtesy of Basketball-Reference.