Giannis Antetokounmpo's Epic Game 6 in the 2021 NBA Finals 'On Damn Near One Leg' Places Him Alongside the NBA Greats
The Milwaukee Bucks drafted Giannis Antetokounmpo in 2013. He won the NBA's Most Improved Player Award in 2016-17 and was named the league MVP in both 2018-19 and '19-20.
His reputation grew even further last season as he helped bring the Bucks franchise its first championship in 50 years.
But the Legend of The Greek Freak reached its zenith during Game 6 of the 2021 NBA Finals when Giannis put together one of the most epic performances in basketball history.
Giannis Antetokounmpo had a playoff run for the ages last year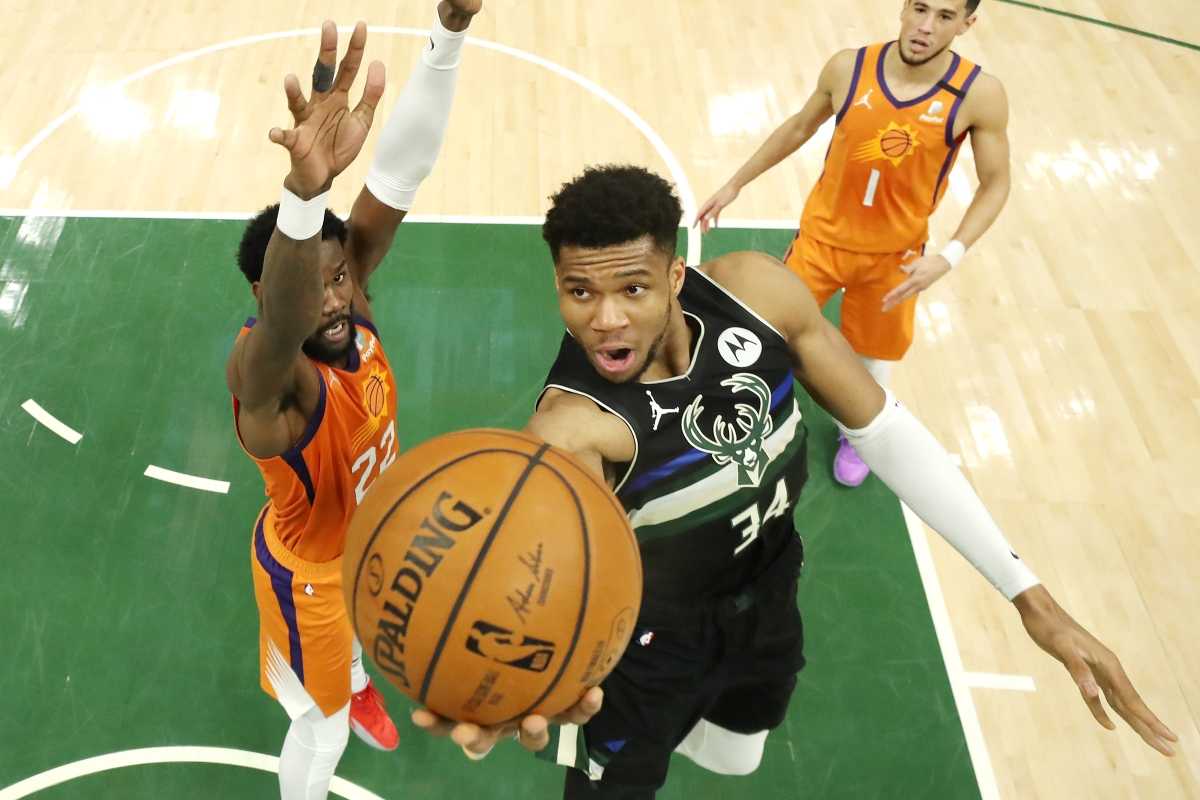 The Greek Freak was already one of the best players in the league, but he had yet to lead his team to legitimate playoff success. The Bucks were coming off an embarrassingly early first-round exit in the 2020 bubble playoffs at the hands of the Miami Heat before they began the 2021 postseason.
But Antetokounmpo helped his team get revenge on the Heat with a sweep in the first round in 2021. That set up a highly-anticipated series against Kevin Durant, James Harden, Kyrie Irving, and the Brooklyn Nets.
But Harden was injured less than 60 seconds into Game 1. He returned later in the series but was a shell of himself (which is something we got to witness a few weeks ago as well). Irving got hurt in Game 4. So it was Giannis, Khris Middleton, Jrue Holiday, and the Bucks trying to take down Durant.
It became a battle of epic proportion.
Milwaukee eventually won in seven games. Middleton came through in the clutch multiple times, but Giannis went toe-to-toe with KD, and his team came out on top. He averaged 31.9 points and 12.9 rebounds on 57.4% shooting during that series.
The eventual Finals MVP averaged more than 30 points, 12 rebounds, and five assists on 56.9% shooting in 38.1 minutes per game during the playoffs. But it's the final game of the postseason that has become Antetokounmpo's signature performance.
The Greek Freak peaked in a closeout Game 6 against the Phoenix Suns
The Bucks trialed Phoenix 2-0 in the Finals but ripped off four straight to win the Larry O'Brien Trophy. It was Giannis's Game 6 performance, though, that brought it home.
The future Hall of Famer put on one of the greatest performances in NBA Finals history. He scored 50 points, grabbed 14 rebounds, and blocked five shots in more than 42 minutes of a 105-98 win.
He was 16-of-25 from the floor and, after shooting less than 59 percent from the free-throw line during the playoffs, went 17-for-19 from the stripe.
That game came up in an ESPN piece about the most outstanding individual performances in recent NBA history. Teammate Bobby Portis explained how he was in awe of what The Greek Freak did — just a few games removed from seeing his knee bend in the opposite direction like Gumby.
I witnessed a man drop 50 on damn near one leg to win the Finals. Right now, that's No. 1 for me. I was right there. Being able to be here, see how hard he works and see him hurt his leg then come back but still dominate how he did, that was crazy.

Big play after big play after big play. It was like you can't make this up.

Bobby Portis on Giannis Antetokounmpo's performance in Game 6 of the 2021 NBA Finals
But Bobby Buckets wasn't the only one to stop and admire what Antetokounmpo accomplished. After the game, ESPN's Michael Wilbon — who's been around for a lot of NBA basketball — said that it was one of the greatest performances he'd ever seen.
"Maybe the greatest Finals performance ever," Wilbon said. "I don't know that Giannis's 50-pointer tonight wasn't the equivalent of anything I've seen in my life except Magic (Johnson).
"So when you can go back over the entire history of the league … it's one of the top five of all-time."
"Greatest ever." "Top five of all-time." "That was crazy." "You can't make this up." There have been more superlatives dropped since, but it's obvious what Giannis did in Game 6 is etched into NBA stone.
Antetokounmpo's performance now has him alongside Wilt, Kobe, and LeBron in basketball lore
Some of the other games mentioned in that ESPN story include Wilt Chamberlain's 100 points, Kobe Bryant's 81 against Toronto, LeBron James' 45-point performance as a member of the Heat against the Boston Celtics to stave off elimination, and Reggie Miller's eight points in nine seconds game in Madison Square Garden.
Some of the most memorable moments in NBA history.
Giannis won't turn 28 years old until next season. He could conceivably have another title and another performance(s) that rival Game 6.
But there's a good chance dropping 50 points and blocking five shots on the way to bringing home a championship trophy to a city and state that hadn't seen one in 50 years tops the list.
Apparently, it may top any list.
All statistics courtesy of Basketball Reference.
RELATED: Even Amid Their Struggles, the Bucks Just Proved the Eastern Conference Still Goes Through Milwaukee