Giannis Antetokounmpo Has Been Grossly Disrespected in This Year's NBA MVP Race
Giannis Antetokounmpo is already a two-time MVP, but there's a case to be made that he should win his third this season. The eye test puts him in the conversation — both traditional and advanced stats add to the argument.
Nikola Jokic could bring home the award for the second straight year. Joel Embiid is right there with both of his fellow centers. Even Ja Morant has thrown his hat into the ring with his explosive season.
But the MVP is Giannis's to win. The Greek Freak is just (somehow) being overlooked.
Giannis Antetokounmpo is already a two-time NBA MVP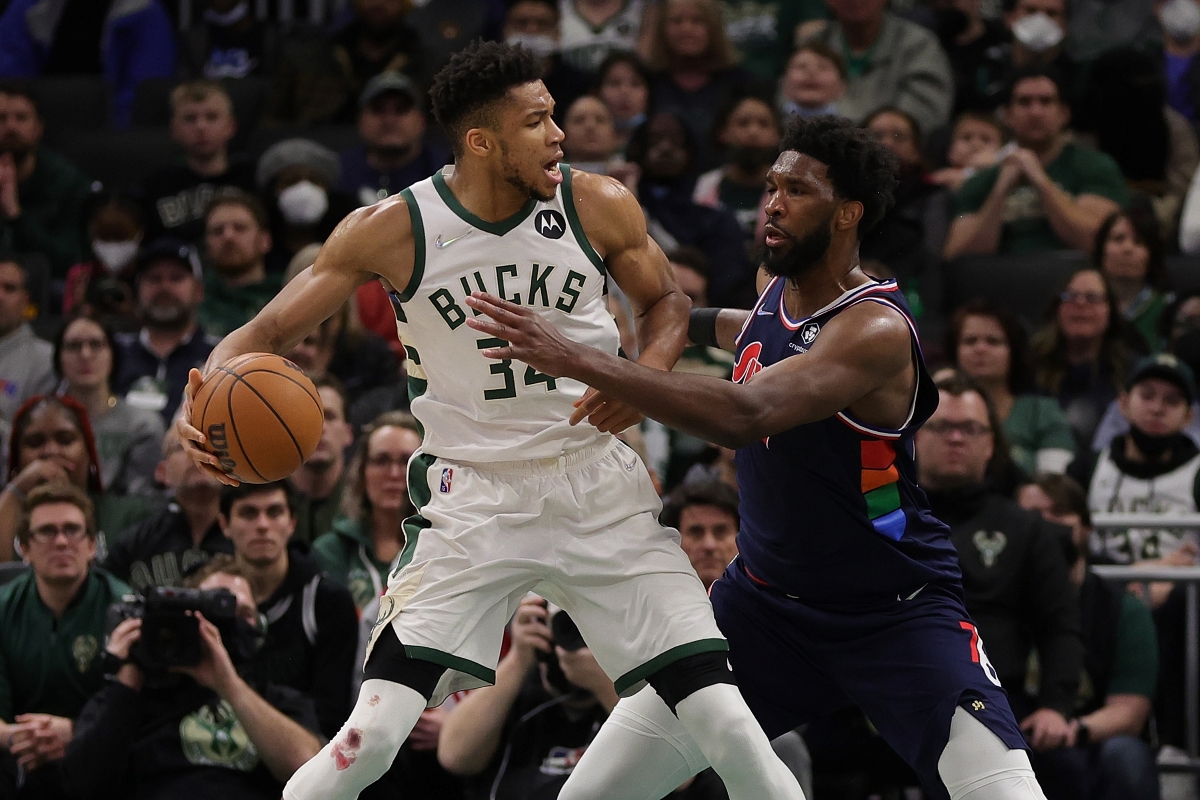 Giannis won back-to-back MVPs in 2018-19 and 2019-20. For good measure, he doubled down with the Defensive Player of the Year award in his second MVP season.
The year after, Antetokounmpo led the Milwaukee Bucks to the franchise's first title in 50 years.
The Athens native was an NBA wrecking ball before he started racking up the league's biggest honors.
In his first MVP season of 2018-19, Giannis averaged 27.7 points, 12.5 rebounds, 5.9 assists, and 2.8 stocks (steals plus blocks). He shot 57% from the floor and 72.9% from the free-throw line.
In his second, he averaged 29.5 points, 13.6 rebounds, 5.6 assists, and 2.0 stocks on 55.3% shooting and 63.3% from the line.
This year, Antetokounmpo is averaging 29.7 points, 11.5 rebounds, 5.9 assists, and 2.5 stocks on 54.8% shooting and 72.1% from the free-throw line.
Giannis's stats in 2021-22 are comparable to both of his previous MVP campaigns. But what makes them stand out this season is their comparisons to Jokic and Embiid, the award front-runners.
The Greek Freak is being overlooked this season, despite the eye-test and the stats
The Joker is having a better season than last year when he won his first MVP. Embiid is posting the best numbers of his career and dominating the center position like prime Shaquille O'Neal.
But how do they measure up with Antetokounmpo's?
Nikola Jokic: 26.0 points, 13.8 rebounds, 8.1 assists per game; 57.2/34.9/80.4 shooting splits; 32.7 PER via ESPN
Joel Embiid: 29.9 points, 11.3 rebounds, 4.3 assists per game; 48.5/36.6/82.2 shooting splits: 31.5 PER
Giannis Antetokounmpo: 29.7 points, 11.5 rebounds, 5.9 assists per game; 54.8/30.3/72.1 shooting splits; 32.7 PER
Based on traditional stats, the three are having comparable seasons, and Antetokounmpo is outpacing Embiid.
How do Jokic and Embiid measure up with Giannis on the defensive end?
Jokic: 1.4 steals, 0.8 blocks, 107.7 defensive rating, 0.116 defensive win shares
Embiid: 1.1 steals, 1.5 blocks, 107.2 defensive rating, 0.121 defensive win shares
Antetokounmpo: 1.1 steals, 1.4 blocks 107.4 defensive rating, 0.119 defensive win shares
Again, fairly comparable, especially between Embiid and Giannis. But getting away from the stats for a second, Antetokounmpo is a more versatile defender guarding any position on the floor. JoJo simply can't hang the same way with guards and wings.
Most of the MVP talk — at the national level — surrounds Jokic and Embiid. But why isn't Antetokounmpo mentioned as often, let alone placed at the front of the queue?
Giannis also leads the race in team success
There's another significant statistic that goes into MVP consideration:
Jokic and the Denver Nuggets: 41-28, sixth-place in the Western Conference
Embiid and the Philadelphia 76ers: 41-26, third-place in the Eastern Conference
Giannis and the Bucks: 43-26, second place in the Eastern Conference
(As of March 15).
Jokic is doing more with less as Denver continues to play without Jamal Murray or Michael Porter Jr. But the records don't lie.
Antetokounmpo leads both The Joker and Embiid in multiple categories, both offensively and defensively. He's putting up stats equal to or better than his other two MVP seasons.
There's no clear-cut leader in this year's race. All three players have legitimate cases, and Embiid and Jokic are certainly having great seasons.
But Giannis and his MVP argument are being seriously — and confusingly — disrespected.
All statistics unless otherwise noted courtesy of NBA.com.
RELATED: The NBA MVP Race Proves Centers Still Command the League