Giannis Antetokounmpo Is Hitting His (Unbelievably Long) Stride and Is Ready to Win His Third MVP Award in 4 Seasons
Stephen Curry has gotten the biggest piece of the NBA headline pie so far this season and has been leading the MVP race since October. But Giannis Antetokounmpo is stealthily (somehow) chasing Steph down to win his third Most Valuable Player Award in four seasons.
Kevin Durant, Nikola Jokic, and now DeMar DeRozan have gotten some love, and deservedly so. But the Greek Freak is beginning to put together an unassailable case.
Giannis Antetokounmpo is leading the Bucks' charge to the top of the East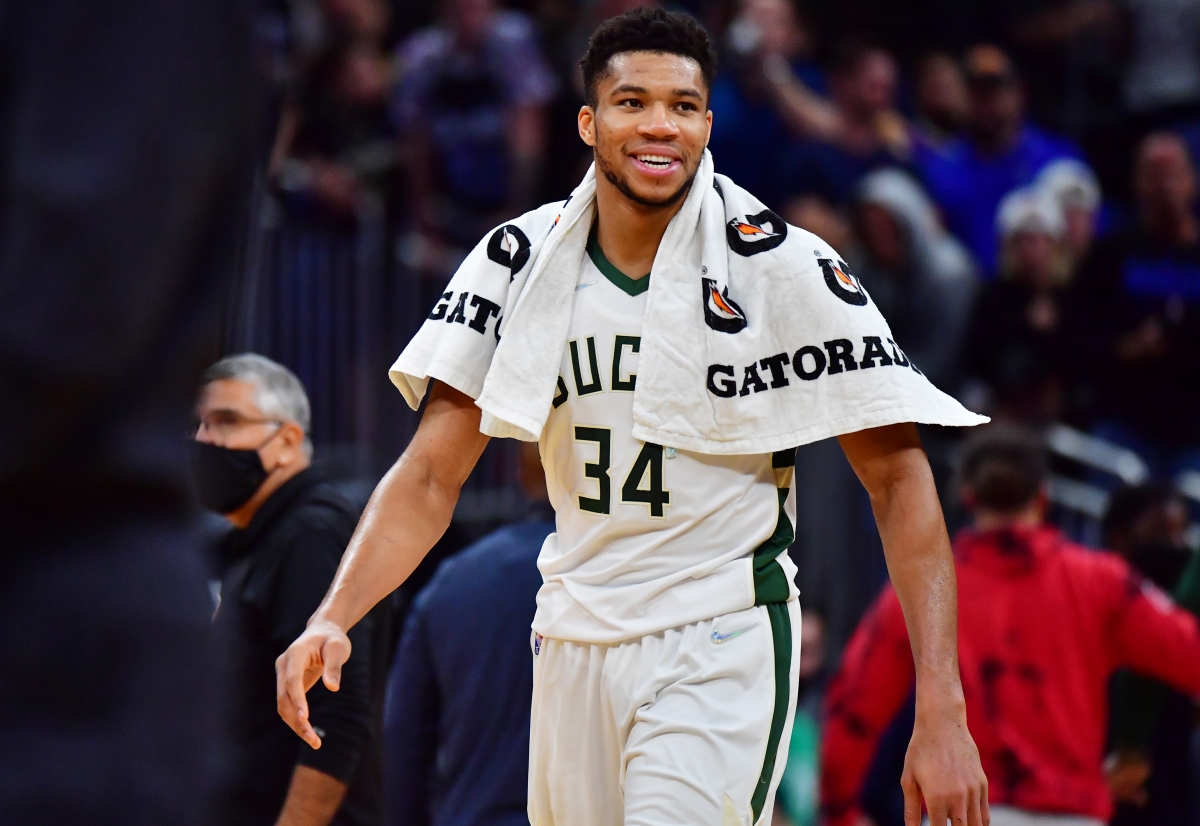 The Milwaukee Bucks have a record of 25-14 after 39 games. They began the season 3-4, making them 22-10 since the start of November.
A Jan. 3 loss to the Detroit Pistons ended a six-game winning streak, which marked the second time Milwaukee had won at least six in a row this year. According to The Athletic, the Bucks' average margin of victory during that streak was 14.8 points.
Giannis returned from health and safety protocols in his team's 117-113 Christmas Day victory over the Boston Celtics. He had 30 points, 12 rebounds, and five assists in that win.
Antetokounmpo posted averages of 33 points, 11.5 rebounds, and 6.5 assists in barely more than 30 minutes per game in the following four games.
For the season, the Athens native is fourth in the league in scoring at 27.9 points per game, seventh in rebounding (11.5), and is averaging 1.5 blocks per game for good measure.
All this despite averaging the 67th-most minutes in the NBA. He's behind players like Josh Hart, Will Barton, and Norman Powell in that category.
Milwaukee is only two games behind the conference-leading Chicago Bulls. The Bucks have gotten significant contributions from Giannis's supporting cast, but last year's Finals MVP is paving the road.
In some respects, the Greek Freak is having the best season of his career
Antetokounmpo won back-to-back MVPs in 2019 and 2020. He became only the 12th player in league history to win consecutive MVPs.
That put him on a list alongside LeBron James, Curry, Steve Nash, Tim Duncan, Michael Jordan, Magic Johnson, Moses Malone, and Kareem Abdul-Jabbar. In other words, NBA royalty.
And according to StatMuse, prior to Milwaukee's loss to the Pistons, the five-time All-Star's stats were as good or better season in certain areas than they were when he won the award in 2020:
(And he still has more than half a season to go).
2021-22: 29.5 points per game, the same as his output in 2020.
2021-22: 55.9% shooting from the floor; 2020 — 55.3%.
2021-22: 5.9 assists per game; 2020 — 5.6.
Curry, Jokic, KD, and a few others clearly deserve to be in the conversation. But if Antetokounmpo has a better season than he did when he won his second MVP in a row, why couldn't he win another?
As Milwaukee continues to win, Giannis's case continues to build
The Bucks are playing as well as anyone in the league right now. The fact that they're going a little under the radar suits them just fine.
Last year, Antetokounmpo won his first NBA Championship — and Milwaukee's first in five decades — and Finals MVP for good measure.
If he continues to roll the way he is currently, not only is a third MVP in the cards for Giannis, another two trophies in July aren't out of the question.
All statistics courtesy of NBA.com.