Giannis Antetokounmpo Is on the Verge of Two Massive Milestones
Giannis Antetokounmpo isn't even 26 years old yet, but he is already proving to be one of the best players in the history of the Milwaukee Bucks, and maybe even one of the best in the history of the NBA. Antetokounmpo has certainly put his name up there with some of the greatest after winning a league MVP award and making himself the favorite for a second consecutive award in 2019-20. In fact, he is already on the verge of reaching two massive milestones at a very young age.
Giannis Antetokounmpo proved his potential in his first few seasons with the Bucks
RELATED: Giannis Antetokounmpo Almost Missed a Bucks Game During His Rookie Year Because of His Extreme Generosity
Not many people knew who Antetokounmpo was coming into the 2013 NBA draft. However, the Milwaukee Bucks ultimately selected him with the 15th overall pick.
He had somewhat of a slow start in his career as he just averaged 6.8 points per game and 4.4 rebounds in his first season. However, he took a big step in his second season as he averaged 12.7 points per game and 6.7 rebounds. The Bucks weren't too bad either as they went from 15-67 in 2013-14 to 41-41 and in the playoffs.
Antetokounmpo then continued to improve in 2015-16, and he really began showing what kind of force he can be in the NBA. He averaged 16.9 points per game, 7.7 rebounds, 1.4 blocks, and 4.3 assists. However, in the 2016-17 season, Antetokounmpo began his All-Star reign, averaging 22.9 points per game to go with 8.8 rebounds, 1.9 blocks, and 5.4 assists. He also ultimately earned the Most Improved Player award, and the Bucks reached the playoffs for the third time in five seasons.
Like every other season in his career, Antetokounmpo then improved again in the 2017-18 season as he averaged 26.9 points per game, 10 rebounds, 1.4 blocks, and 4.8 assists. He earned his second consecutive All-Star selection that season, and the Bucks went to the playoffs for the second consecutive season before losing in the First Round again.
Giannis Antetokounmpo is now one of the NBA's best players
RELATED: Giannis Antetokounmpo Sees Historic Challenges for 2020 NBA Title
In the past two seasons, Antetokounmpo has ultimately become one of, if not the, best players in the NBA. In 2018-19, Antetokounmpo earned his third consecutive All-Star selection. He averaged 27.7 points per game, 12.5 rebounds, 1.5 blocks, and 5.9 assists, and his play ultimately earned him the league's MVP award. The Bucks also had an impressive 60-22 record. Antetokounmpo then took the Bucks to the Eastern Conference Finals that year too before losing to the Toronto Raptors in six games.
This season, Antetokounmpo has still (somehow) improved from last season. He is averaging 29.7 points per game, 13.7 rebounds, one block, and 5.8 assists. Antetokounmpo is the favorite for the league's MVP award again, and he has led the Bucks to the No. 1 seed in the Eastern Conference.
Antetokounmpo has certainly proven that he is one of the greatest players to ever play the game. Despite his slow start in his career, and despite him only being 25 years old, Antetokounmpo is already on the verge of reaching two massive milestones.
He is on the verge of breaking two Milwaukee Bucks records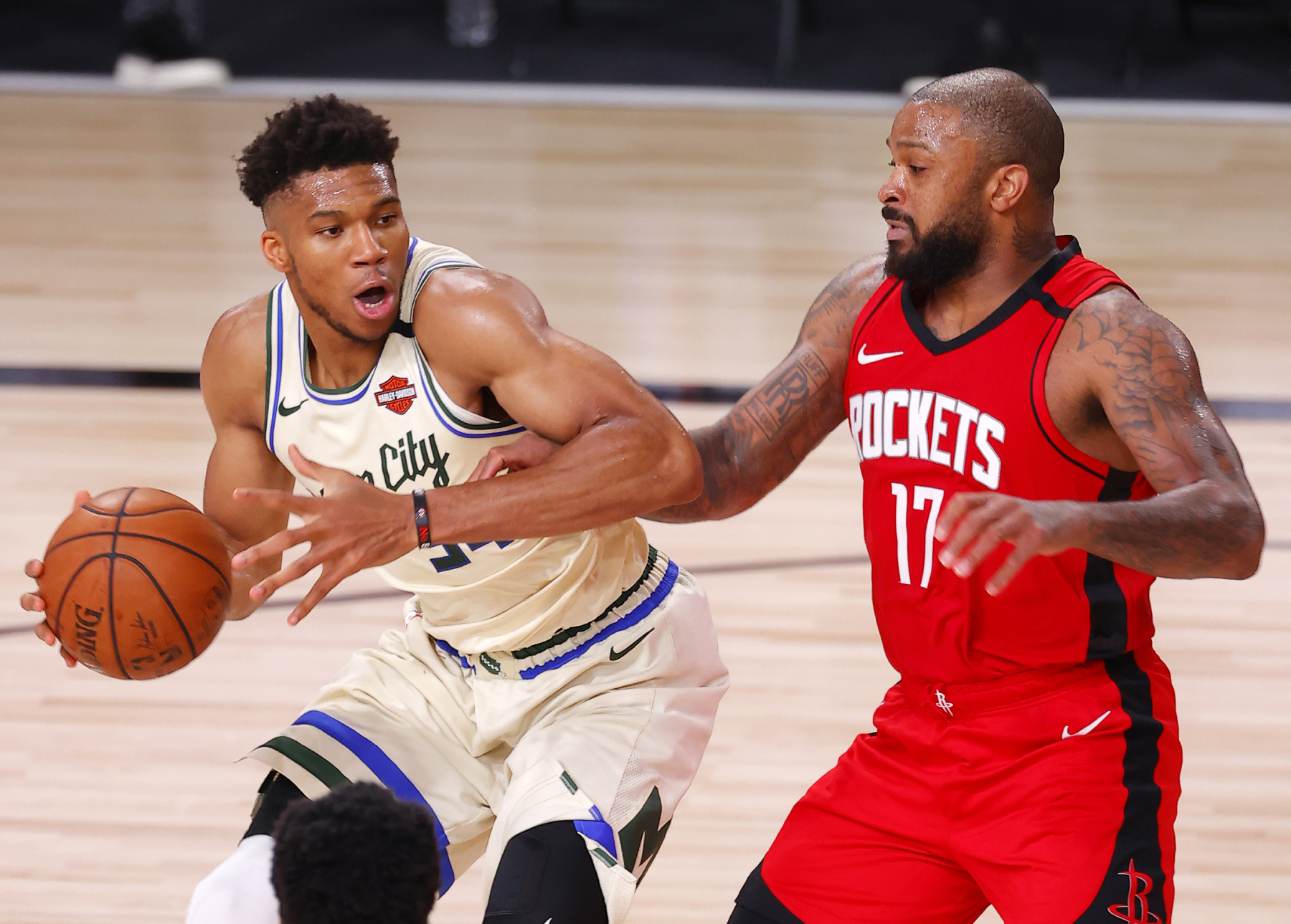 RELATED: Scottie Pippen Doubts Giannis Antetokounmpo Can Lead Bucks to NBA Title
Antetokounmpo has certainly been on a tear the past few years. This has led to him scoring 10,556 career points as of Aug. 7, 2020. That number is seventh on the Bucks' all-time scoring list behind Marques Johnson, Bob Dandridge, Michael Redd, Sidney Moncrief, Glenn Robinson, and the great Kareem Adbul-Jabbar at No. 1.
Despite being at No. 7, he can realistically become the Bucks' top scorer of all-time within the next two seasons. Antetokounmpo has scored around 2,000 total points each of the last four seasons. He is a little over 3,500 points away from reaching Abdul-Jabbar for the No. 1 spot as Abdul-Jabbar scored 14,211 points during his time with the Bucks. Antetokounmpo can definitely get that done in two seasons or less.
Additionally, Antetokounmpo has 687 total career blocks as of Aug. 7, 2020. That puts him third on the Bucks' all-time list behind Harvey Catchings and Alton Lister at No. 1. Lister had 804 in his career with the Bucks.
Not counting this season due to the shortened season, Antetokounmpo ranged between 106 and 151 total blocks each season from 2015-16 and 2018-19. He is just 117 blocks behind Lister for No. 1, so he could potentially break that record next season.
The only thing potentially keeping Antetokounmpo from becoming the Bucks' all-time leading scorer and all-time blocks leader within the next two seasons is if he leaves in free agency following the 2020-21 season. If he does get to break these records, though, it will be an extremely impressive feat, given that he probably won't even be 28 years old yet.
Stats courtesy of Basketball Reference