Giannis Antetokounmpo Is Shaquille O'Neal Evolved: 'The Domination That He Plays With, the Determination, and Just the Sheer Force'
Giannis Antetokounmpo arrived in the NBA as a gangly 19-year-old. His English wasn't excellent, he had never lived on his own, and he didn't even know where Milwaukee was on a map. Fast forward eight seasons, and the player now known as The Greek Freak is an NBA champion, a two-time MVP, and one of the most recognized basketball players on the planet. No one had any clue what Antetokounmpo would become when he was drafted by the Milwaukee Bucks.
But as his career has evolved, one comparison, in particular, rings true more than any other: Giannis Antetokounmpo is the evolution of Shaquille O'Neal.
Shaq was one of the most physically dominant forces in NBA history
Even as a rookie in the 1992-93 season, Shaquille O'Neal was 7-foot-1 and 300 pounds. He was an athletic specimen who could dominate with power, speed, or agility. He would have been a blur running the floor had he not been so absurdly huge.
Eventually, Shaq put on 30 pounds (at least) and became unguardable in the post with his size and strength rather than his speed and agility. In the long run it didn't matter as O'Neal would have dominated the league either way, but his ability to simply overpower other players down low with brute force became his signature style.
The Hall of Famer had career averages of 23.7 points, 10.9 rebounds, and 2.3 blocks on 58.2% shooting. That stat line doesn't do his supremacy justice, though. At his peak, Shaq consistently hovered around the 30 point-per-game mark and averaged more than 13 rebounds in a season on three separate occasions.
His field goal percentage never dipped below 55.7%, even in his late years as he bounced around the league and played for five different teams in four seasons.
Antetokounmpo is the natural evolution of O'Neal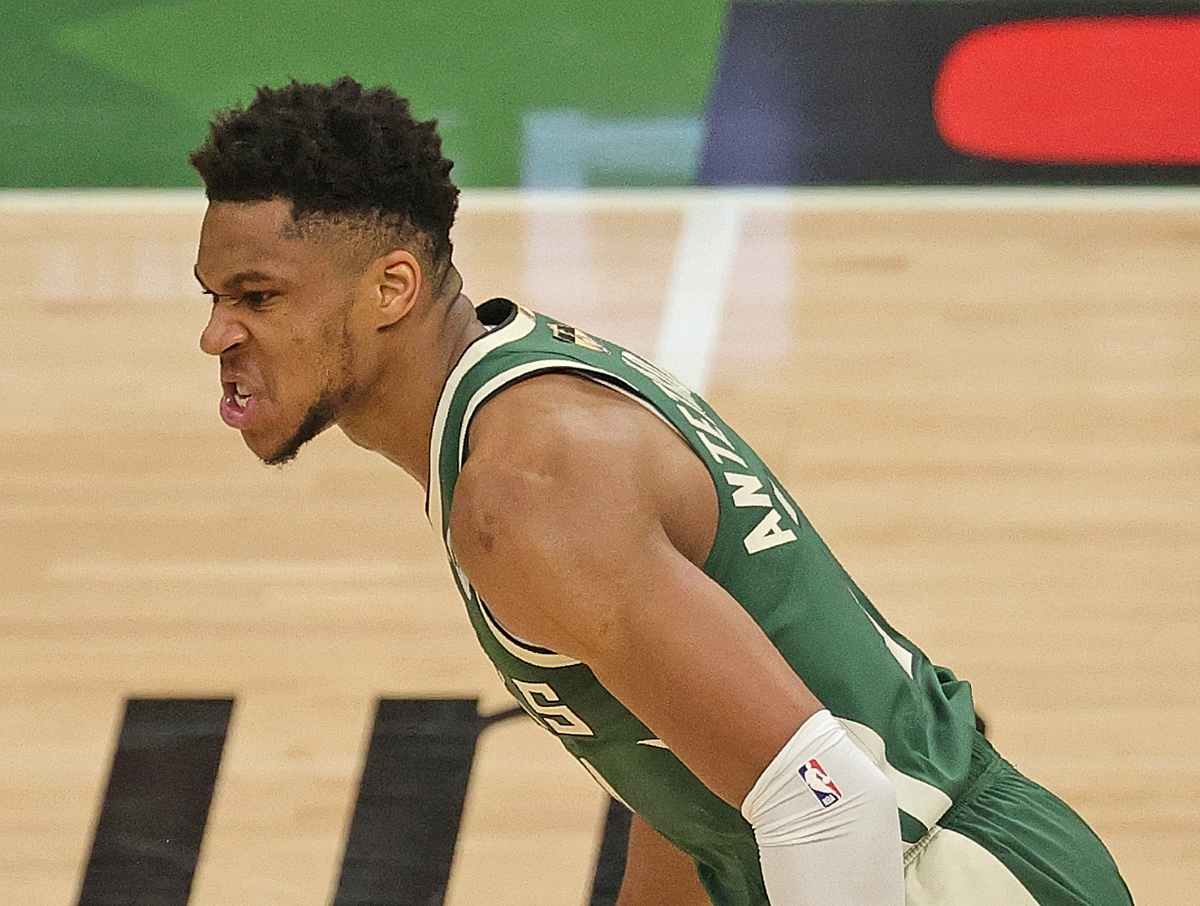 If Shaq played in the NBA in 2021, he would have remained closer to the size he played at his rookie season. Plodding, post-oriented big men are not en vogue in today's league. He surely would have been as effective as he was then, just in a different way.
Like, for example, the way Giannis Antetokounmpo rules the current NBA.
Last season's Finals MVP has the same brutal, overpowering strength O'Neal possessed in the early 2000s. Both players are historically dominant in the paint. In fact, Giannis's stats in the restricted area have been among the best in the NBA the last few seasons, just as Shaq's were.
A brief comparison of their stat lines is a bit eery:
O'Neal, age 26 season: 26.3 points, 10.7 rebounds, 1.7 blocks, 57.6% shooting
Antetokounmpo age 26 season: 28.1 points, 11.0 rebounds, 1.2 blocks, 56.9% shooting
As former NBA player Kenyon Martin said on the Neat & Unfiltered podcast (h/t) BasketballNews.com:
"This is the 2021 version of Shaquille O'Neal. The domination that he plays with, the determination, and just the sheer force."

Kenyon Martin on Giannis Antetokounmpo
Antetokounmpo is already proving himself to be an all-time great
Giannis won his first championship at age 26. O'Neal won his first of three straight with the Los Angeles Lakers at age 27. Antetokounmpo is on his way to surpassing Shaq on the list of greatest players in NBA history.
Even The Big Aristotle admitted the five-time All-NBA star is the new "Superman" on the Stephen A. Smith Show on ESPN:
"I've never given my name up before, but I'm giving it to him. He's the new Superman.

"I didn't hit no 3-pointer either, but he's dominating and that's what I like. He's dominating in the paint. You taking it to the hole. You throwing it down. You ain't shooting no flip shots. …

"Stay your big ass on the inside and dominate like you been doing. So I denounce myself as Superman and I'm giving to the 'Greek Freak.'

Shaq on giving Giannis his "Superman" nickname
To put it plainly, greatness recognizes greatness.
All statistics courtesy of Basketball-Reference.
RELATED: Giannis Antetokounmpo Publicly Blasted the New York Knicks in 2015 and Then Backed It up the Next Night: 'They Lose 15 (Straight) Now, Tomorrow Is Going to Be 16'