Giannis Antetokounmpo Joins Michael Jordan as Only Other Player With These Accolades
Milwaukee Bucks superstar Giannis Antetokounmpo led the franchise to its first NBA championship in 50 years and joined Michael Jordan in an elite category in the process.
Antetokounmpo was spectacular in the title-clinching Game 6. He poured in 50 points and pulled down 14 rebounds. The Greek Freak also set the tone defensively, as he racked up five blocks and disrupted just about everything at the rim.
The two-time league MVP was named Finals MVP for his efforts, officially putting him in one of the NBA's exclusive categories.
Giannis Antetokounmpo was the clear NBA Finals MVP
Antetokounmpo was nothing shy of dominant during the Finals.
The 26-year-old entered the series with questions about his physical condition after he suffered a hyperextended knee during the Eastern Conference finals. No matter, Antetokounmpo would respond with perhaps the best six-game stretch of his life.
Antetokounmpo finished the series with averages of 35.2 points, 13.2 rebounds, 5.0 assists, 1.8 blocks, and 1.2 steals. He shot close to 62% from the floor and scored at least 40 or more points in three of the six games. He also got better as the series progressed.
The poor free-throw shooting had been a frequent topic of discussion surrounding Antetokounmpo throughout the course of the playoffs. He made a statement to that end on Tuesday night, going 17-of-19 from the charity stripe. It was indicative of his steadfast determination and hunger.
No player defined the Finals quite like Antetokounmpo. He made spectacular plays on both ends and put up historic numbers, resulting in a unanimous MVP selection.
Antetokounmpo joined Michael Jordan as only players with multiple MVPs, a DPOY, and Finals MVP
Antetokounmpo is not even 27 years old, yet he already finds himself alone in a category with the player many consider to be the greatest in NBA history.
Before Tuesday night, Michael Jordan was the only player to win multiple NBA MVPs, a Defensive Player of the Year Award, and Finals MVP during the course of his career. Jordan won five league MVPs and was 6-for-6 in Finals MVPs. He captured DPOY honors during the 1987-88 season.
However, Antetokounmpo is now the second member of that esteemed club.
The Bucks star won back-to-back league MVPs in 2019 and 2020 while also earning DPOY honors in 2020. His NBA Finals MVP completes the trifecta.
Former Houston Rockets legend Hakeem Olajuwon is another player who won a league MVP, DPOY, and Finals MVP during the course of his career. However, Olajuwon only won one NBA MVP Award.
Antetokounmpo made plenty of history in Game 6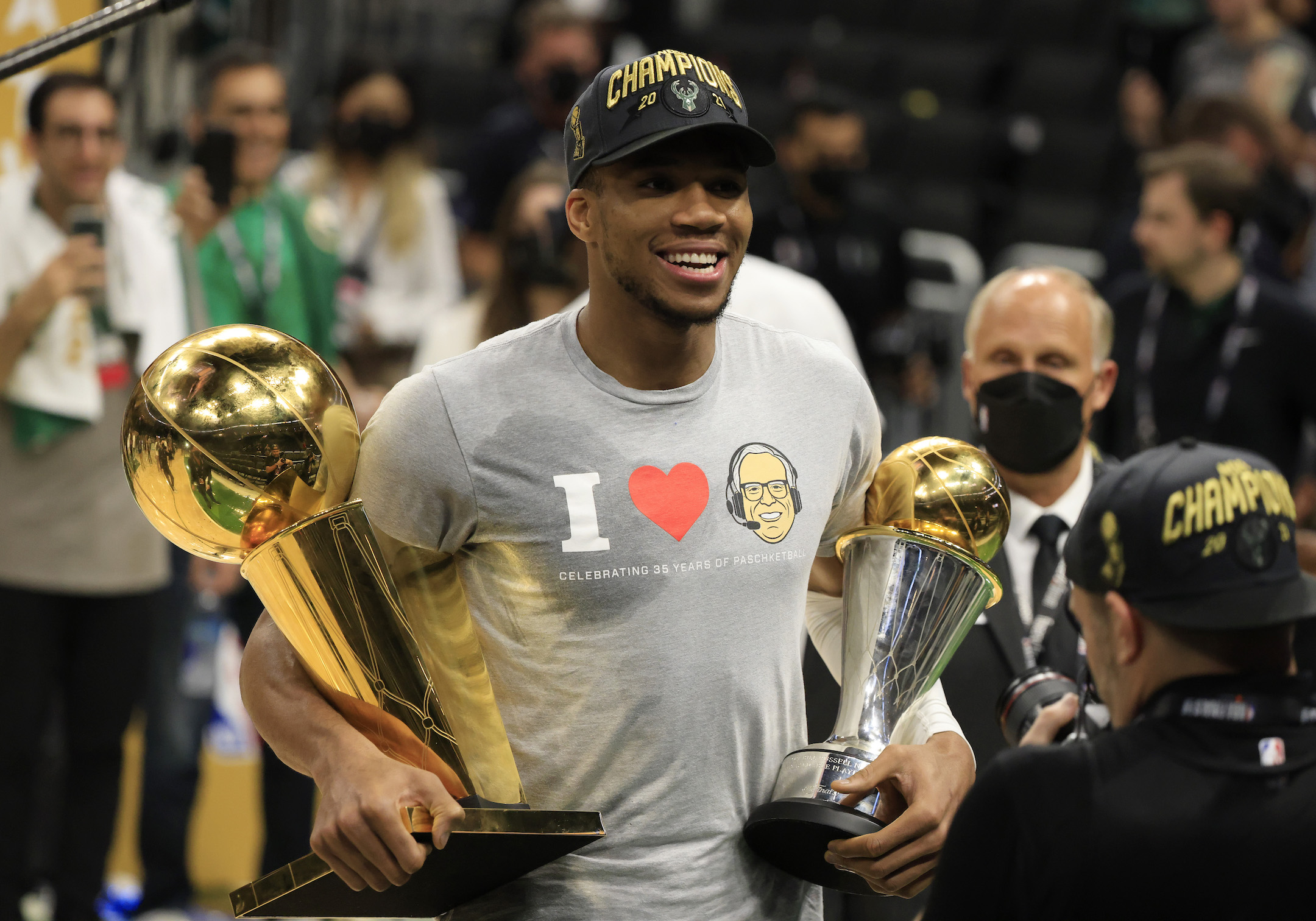 Let's take a look at all the clubs Antetkounmpo joined with his spectacular showing in Game 6.
Antetokounmpo became just the seventh player to score 50 or more points in an NBA Finals game. He tied Hall of Famer Bob Petit for the most points in a Finals-clinching win. He also joined Shaquille O'Neal as the second player with three 40-point, 10-rebound games in a Finals series.
The list of achievements goes on, but the most notable accomplishment is rather simple: Antetokounmpo has his first NBA championship.
It should be fascinating to see how Milwaukee's franchise player continues to improve. As previously stated, he is only 26 years old and will likely be hungry to win more titles.
Giannis Antetokounmpo is in the same category as Michael Jordan and some of the other greats in NBA history, but the Bucks star still has lots of basketball ahead of him.
Stats courtesy of Basketball Reference.
RELATED: There Were Gunshots in Milwaukee Hours After Bucks Won First NBA Title in 50 Years