Giannis Antetokounmpo Just Detailed the Origins of His Unbelievable Work Ethic: 'I've Never Said This: I Don't Want to F*** up'
Milwaukee Bucks superstar Giannis Antetokounmpo comes from humble beginnings. Those beginnings — selling CDs on the streets of Athens, Greece to make money to help feed his family, for instance — are well chronicled now that he's become one of the most recognizable athletes in the world.
But Giannis never forgets where he came from and what he's had to do to go from playing on a second-division team in Greece to becoming an NBA champion in Milwaukee. The hard work he's put in since being drafted in 2013 has allowed him the opportunity to give his family all the things he never had growing up.
As it turns out, that's precisely what still drives Antetokounmpo now. Even as a two-time NBA MVP with hundreds of millions of dollars, Giannis still carries around the same fear he had when he arrived in a small Wisconsin city eight years ago.
Giannis Antetokounmpo has come a long way from where he started
Giannis didn't pick up a basketball until he was 13 years old. He grew up in poverty in Greece along with his parents and brothers Thanasis, Kostas, and Alex. His parents were Nigerian immigrants and were never recognized as Greek citizens, so finding work was an issue.
So Giannis and Thanasis (also an NBA champion and member of the Milwaukee Bucks) sold trinkets on the streets to help make ends meet.
Numerous stories have been told about how the family grew up. Giannis and Thanasis shared the same pair of shoes, for example, and had to hand them off to each other between games so they could both play.
On the outside, everything changed when the skinny, 6-foot-9 teenager was selected with the 15th overall pick in the NBA draft. No one in the family would have to sell sunglasses on the streets to eat anymore.
But that put an unenviable amount of pressure on an 18-year-old Giannis. He was coming to a country he had never been in (he didn't know where Wisconsin was on a map) to play against professionals vastly superior to those he had faced in Greece.
He was alone and, understandably, scared. But as he explained, all he could do was put his head down and go to work.
The Greek Freak's work ethic stems from the fear of letting down his family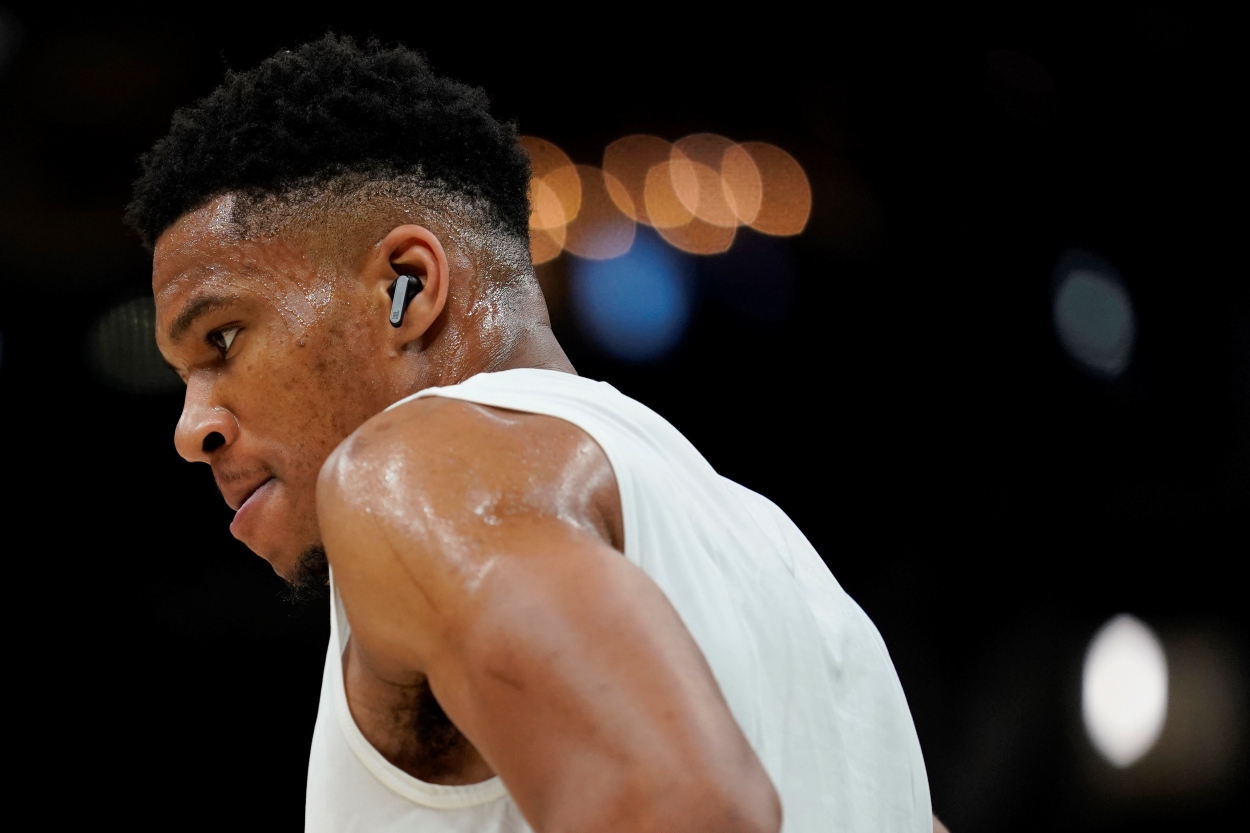 Now he's Giannis — NBA champion, Finals MVP, future Hall of Famer. But that fear is still there, and it's still what drives him.
Giannis was featured on the cover of the latest issue of GQ and detailed how that dread of failure propelled him into becoming the player he is today:
I started doing it when I was 18. When you're that young and you're doing it, people don't understand the amount of pressure because at the end of the day, you don't only have to perform and be the best, you have the big brand that you got to f****** carry on your shoulder. You have your own country … Greece, in my case. You have all these people that you got to take care of. Sometimes… I've never said this: I don't want to f*** up.

But you know what I knew? I have no f****** choice. I have no option. I can't f****** stop. If I stop everything, my family, I can't help them. I cannot be in a position to help them. So I kept going.

Giannis Antetokounmpo on the fear that motivated him to become The Greek Freak
It's an intense thought to contemplate. Now everyone knows Giannis as a goofy, down-to-earth superstar with funny tweets and tongue-in-cheek Instagram posts. It's hard to fathom what it was like for him when he first came to the US and began his NBA journey.
Family always has been and always will be Giannis's No. 1 priority
Antetokounmpo's family was eventually able to join him in Milwaukee. But in 2017, his father, Charles, died at age 54. At the time, Giannis took solace in the only place he knew — the gym, of course.
He told another story in the same GQ piece about how, when the Bucks became champions at the culmination of Game 6 of the 2021 Finals, he found his way out of the sea of teammates and reporters to talk to his dad.
"What I am today, nobody saw it," he added. "You know why nobody saw it? Because I didn't see it. Ask my mom. No. 'I thought you would be an NBA player and have a better life. Not what you are today.'"
But it all happened because he wanted that better life — not for himself, but for his family.
That's why Giannis became The Greek Freak.
Like Sportscasting on Facebook. Follow us on Twitter @sportscasting19.