Giannis Antetokounmpo Just Revealed His Insatiable Hunger for Championships Isn't the Only Trait He Shares With Michael Jordan
The Milwaukee Bucks once had to lock Giannis Antetokounmpo out of the gym — literally, like with a padlock and chain — because he wouldn't stop coming. He led the Bucks to the 2021 NBA Championship and was named Finals MVP. He cares about winning and only winning. These are all traits the Greek Freak happens to have in common with one Michael Jordan.
Of course, there are noticeable differences, namely MJ's six titles compared to Giannis's one. Antetokounmpo also has a bit of a size advantage that Jordan never got to work with.
But after The Alphabet laid in a game-winner against the Charlotte Hornets on Dec. 1, he detailed yet another thing he has in common with The Goat.
Giannis Antetokounmpo brought the Bucks a 'W' over Charlotte with a game-winning layup
With Milwaukee up 125-122 against the Charlotte Hornets and 8.5 seconds left in regulation, LaMelo Ball drifted to his left and hit a falling-away three to tie the game with 5.9 remaining.
It was Ball's eighth 3-pointer of the night, a career-high. (The second-year pro and last season's Rookie of the Year had 36 points, nine assists, and five rebounds in 41 minutes, for what it's worth.)
After a Bucks' timeout, coach Mike Budenholzer drew up a play that worked to perfection. Khris Middleton inbounded to Jrue Holiday, who turned and handed the ball to Giannis, who had a running headstart.
The Hornets were immediately in disarray as Antetokounmpo driving downhill toward the basket usually spells significant for opposing defenses.
Sure enough, the 6-foot-11 swiss-army-knife drove straight at Jaden McDaniels, dropped a euro step, and extended his right arm to flip the ball over the left side of the rim.
It kissed off the backboard and fell in. Game.
Giannis was asked postgame about how he approaches game-winners. His answer was telling and sounded quite a bit like one of Jordan's famous quotes.
The Greek Freak described his thoughts on last-second shots, which are eerily similar to Michael Jordan's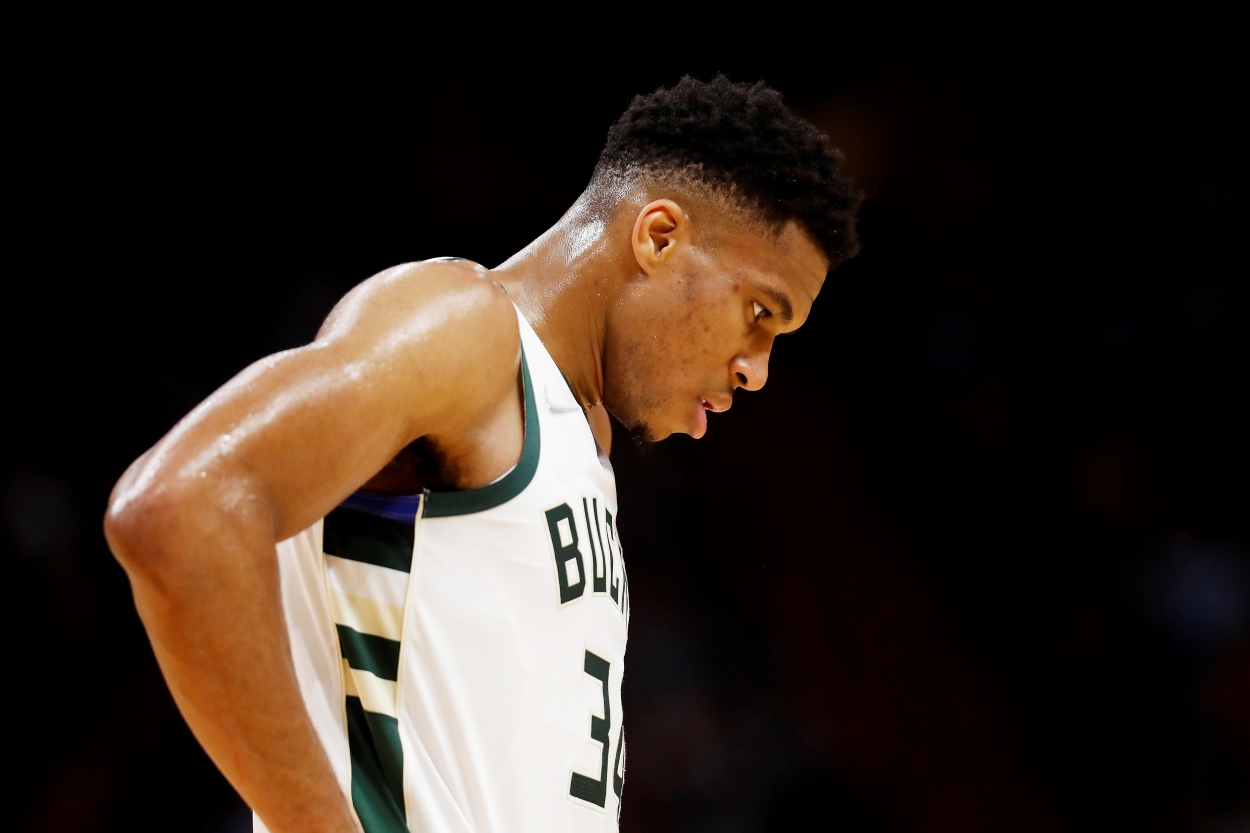 Antetokounmpo is becoming well known for his well-thought-out, contemplative answers to questions. He dropped another one of those during Wednesday night's postgame presser via Milwaukee Bucks Twitter:
You got to take them. You got to be in those situations, you gotta learn from them. Miss or make, you learn.

If you play for a long time you're going to be in this situation at least 100, 200, 300 times. Sometimes you're gonna miss, sometimes you're gonna make some shots.

Giannis Antetokounmpo on game-winning shots
"You remember the last one I missed?" he asked reporters. There was dead silence.
"Yeah, but you remember the last one I made."
Compare that to Jordan's, via Forbes:
I've missed more than 9,000 shots in my career. I've lost almost 300 games. Twenty-six times I've been trusted to take the game-winning shot and missed. I've failed over and over and over again in my life. And that is why I succeed.

Michael Jordan on game-winning shots
Two of the greatest players of all time. And two of the wisest.
That fearlessness led Jordan, and is leading Giannis, to greatness
The GOAT's stories of his drive and will to win were so long and legendary that they led to a 10-part documentary about his time with the Chicago Bulls.
The Giannis locked-out-of-the-gym story is only one of The Greek Freak's epics. He came from a Nigerian immigrant family in Greece and a second-division league to a two-time MVP, Defensive Player of the Year, and NBA title.
Antetokoummpo's story is so impressive he's getting a Disney movie.
But one similarity, perhaps more than any other, led both of these players to that level — a complete and utter lack of fear of failure.
Like Sportscasting on Facebook. Follow us on Twitter @sportscasting19.