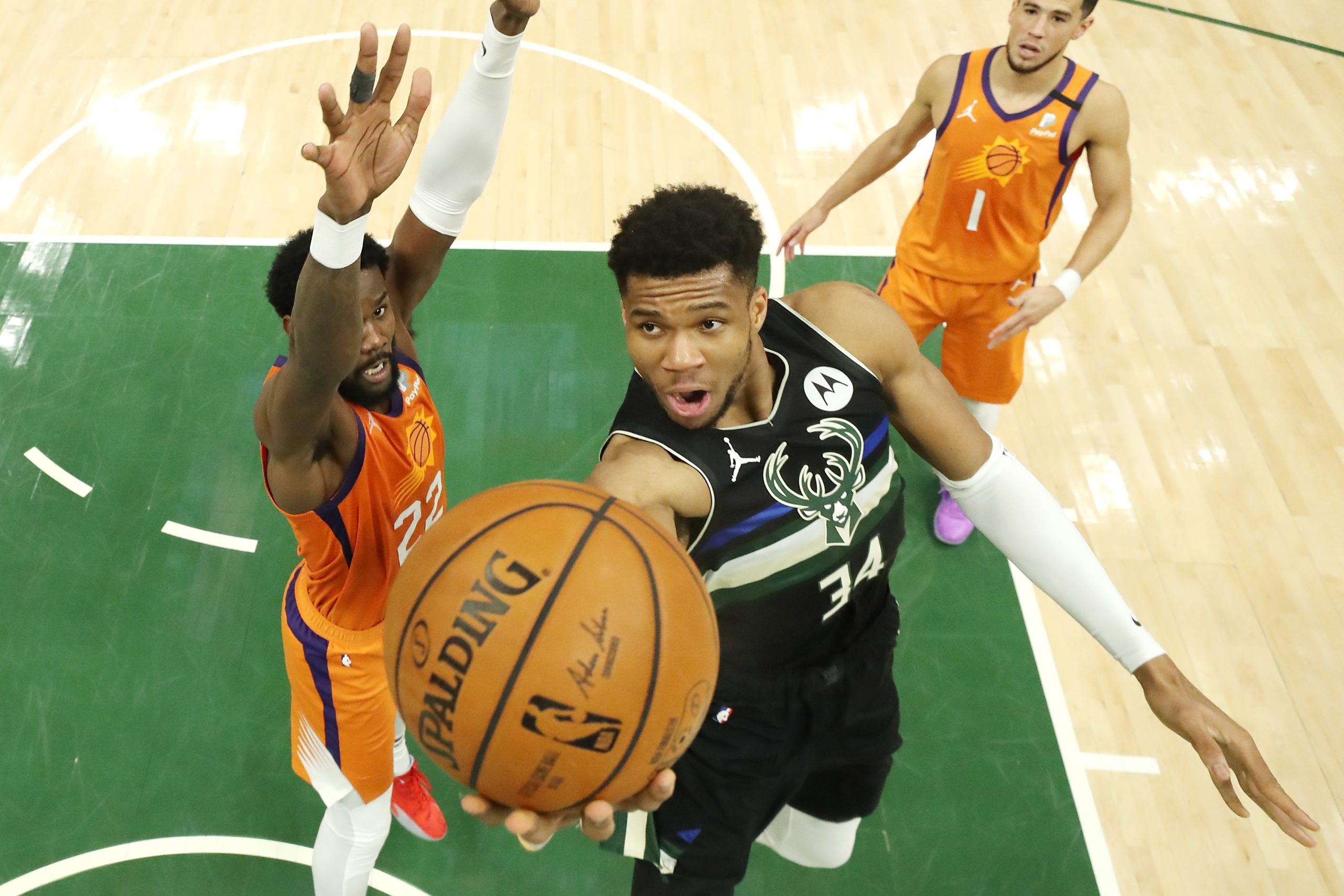 Giannis Antetokounmpo Learned a Key Tip From a 7-Time NBA All-Star Without Speaking to Him: 'Your Butt Is Your Vision'
Giannis Antetokounmpo learned a strategic tip from a seven-time NBA All-Star without even speaking with him.
It's a strange five-word piece of advice, but Giannis Antetokounmpo uses it all the time. The Milwaukee Bucks star and two-time MVP recently said he learned it from a 17-year veteran and seven-time NBA All-Star. During a recent interview where he was breaking down plays from his epic Game 6 performance, Antetokounmpo explained what "your butt is your vision" means.
Giannis Antetokounmpo and the Milwaukee Bucks look to build off last year's success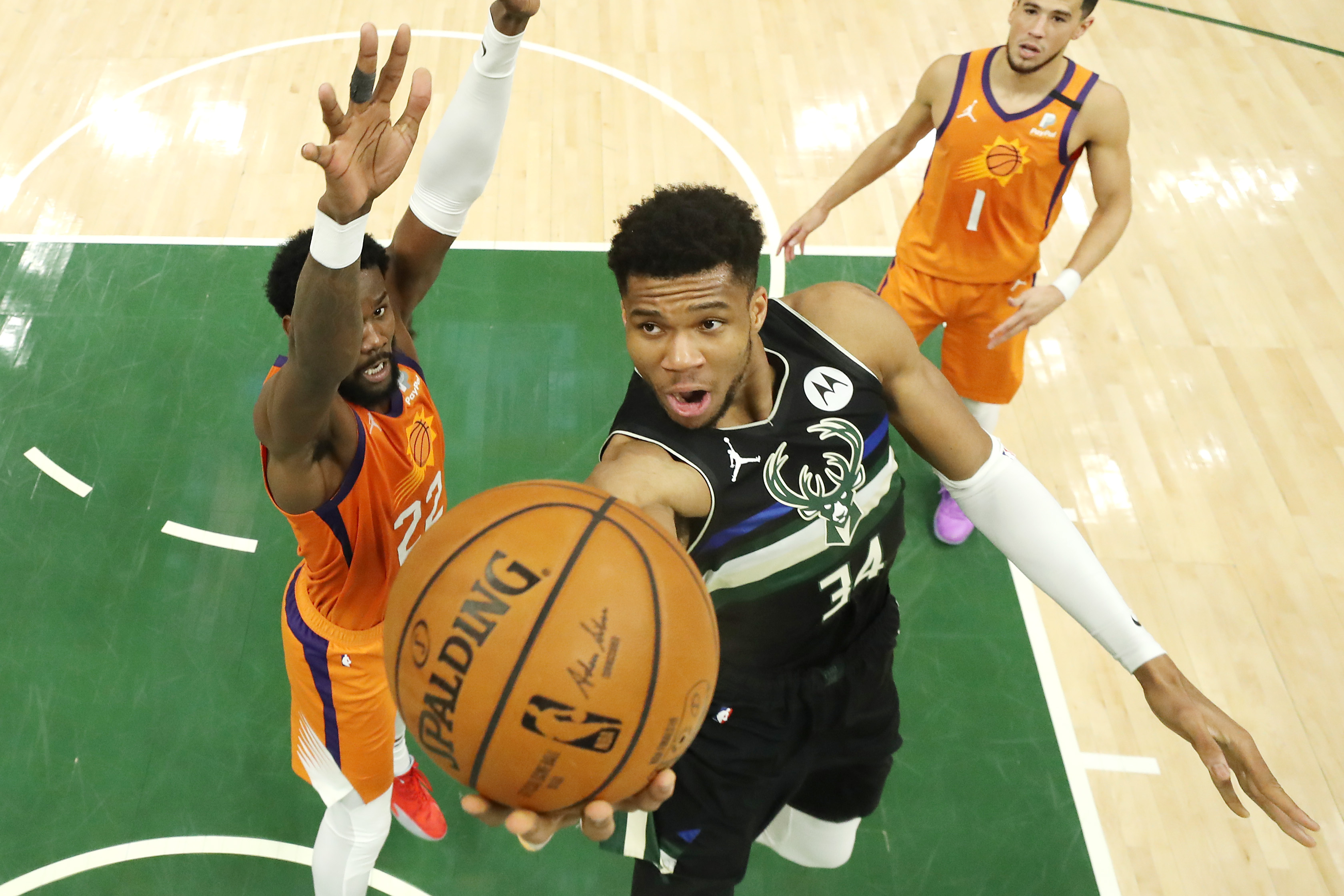 The Bucks ended last year with four straight victories. They overcame a two-game deficit by winning four straight against the Phoenix Suns to capture their first NBA title in 40 years.
Antetokounmpo put together an epic Game 6 performance to help seal the deal for the Bucks. He finished with 50 points, 14 rebounds, and five blocks in the 105-98 win. After being mocked throughout the postseason for his time-consuming and often poorly executed free throws, he went 17-for-19 from the foul line.
Milwaukee looks to ride that momentum into the 2021-22 season, which begins Tuesday night against the Brooklyn Nets. The Bucks went 1-4 in the preseason but used those five games mainly to get back in basketball shape. Antetokounmpo said he felt like he was finally getting back into playing shape after preseason game No. 4.
"I just felt better, felt better from the first game, got a long ways to go, gotta keep enjoying the game, keep working on my craft, but yeah, it felt better than the first game, I'm not gonna lie," Antetokounmpo said after a 124-120 loss to the Utah Jazz, according to The Green Bay Press Gazette. "Hopefully, as we move forward, we can get better as a team, and I can maybe individually get to my spot better and be sharper, be more comfortable out there."
Giannis Antetokounmpo credits Joe Johnson with giving him interesting advice without saying anything
As Antetokounmpo was talking about a play where he was posting up Suns center Deandre Ayton, he explained how he was able to get a feel for where Ayton was even though he was positioned behind the Bucks' star.
He said he learned some of his post-up moves by watching seven-time NBA All-Star Joe Johnson. Johnson, who played for seven different teams over a 17-year period, used his body to get position when posting up smaller guards. Antetokounmpo took notice.
"I could feel him with my butt," Antetokounmpo said in a YouTube video posted by the Milwaukee Bucks. "What I mean by that is, one of the great players, Joe Johnson, used to do that a lot in his post-ups. He used to use his butt a lot. For me, what I've learned from that is that your butt is your vision.
"You can not look behind you, right? Because if you look behind you, you're not seeing the play. Good defenders and good offensive players, they used their butt as their vision because you kind of know where that defender is. That's what I meant by that."
Antetokounmpo admitted he was 'scared' during Game 6
He certainly didn't play like it, but Antetokounmpo admitted he was scared during Game 6 of the NBA Finals. He said the first seven minutes of the game was sloppy and both teams played "bad basketball."
Nerves got to him, but he also realized he wasn't alone.
"I remember going to a timeout and thinking to myself, 'What I'm feeling right now, everybody is feeling,'" he said. "'My teammates, the coaches, their guys. Everybody feels this right now.'
"I was scared. Everybody was scared. It's OK to be scared, but you've got to be able to handle it."
Antetokounmpo clearly showed he was able to overcome his fear with one of the most impressive performances in NBA Finals history.