Giannis Antetokounmpo and Khris Middleton Just Did Something Oscar Robertson and Kareem Abdul-Jabbar Never Could
Milwaukee Bucks legends Kareem Abdul-Jabbar and Oscar Robertson were on hand to watch current Bucks stars Giannis Antetokounmpo and Khris Middleton make history in Game 4 of the NBA Finals.
"Cap" and the "Big O" were the two leaders of the 1971 Milwaukee Bucks squad, the last team in the franchise's history to win the NBA title. Both were in attendance Wednesday night as Antetokounmpo and Middleton helped Milwaukee even the series against the Phoenix Suns.
The Bucks legends were witnesses to a 40-point performance from Middleton, one that helped Milwaukee's current superstar duo enter the history books.
Kareem Abdul-Jabbar and Oscar Robertson are two of the greatest players in Milwaukee Bucks history
The partnership of Abdul-Jabbar and Robertson was one of the most fruitful in franchise history.
The two were teammates for just four seasons, but they had tremendous success. Robertson had been an all-world talent as a member of the then-Cincinnati Royals, but he was willing to take a bit of a backseat to the rapidly-emerging Abdul-Jabbar after joining the Bucks before the 1970-71 season.
Abdul-Jabbar, who at that point was still going by the name Lew Alcindor, was a star as soon as he came into the NBA after a stellar collegiate career at UCLA. He was an All-Star and NBA Rookie of the Year in his debut campaign and led the league in scoring during the 1970-71 season, earning MVP honors in the process.
The iconic duo would not win another title, though they won 60 or more games in three consecutive seasons and returned to the Finals in 1974. Robertson retired after that season, while Abdul-Jabbar would eventually join the Los Angeles Lakers and become the NBA's all-time leading scorer.
Giannis Antetokounmpo and Khris Middleton entered rarified air in Game 4
An even 40 years after Abdul-Jabbar and Robertson led the Bucks to their first title, Antetokounmpo and Middleton have Milwaukee on the cusp of another Larry O'Brien Trophy. They are also etching their names in the history books.
The Bucks stars became just the third pair of teammates in the last 50 years to each notch a 40-point game in a single NBA Finals after Middleton scored 40 on Wednesday night. Antetokounmpo had 40-plus in both Game 2 and Game 3.
Middleton and Antetokounmpo joined LeBron James and Kyrie Irving (2016) as well as Abdul-Jabbar and Magic Johnson (1980) in achieving the feat en route. More importantly, they helped the Bucks even series at two games apiece.
Milwaukee's standard-bearers might be Finals newcomers, but they are also already becoming one of the better Finals duos in recent NBA history.
Will Antetokounmpo and Middleton end Milwaukee's title drought?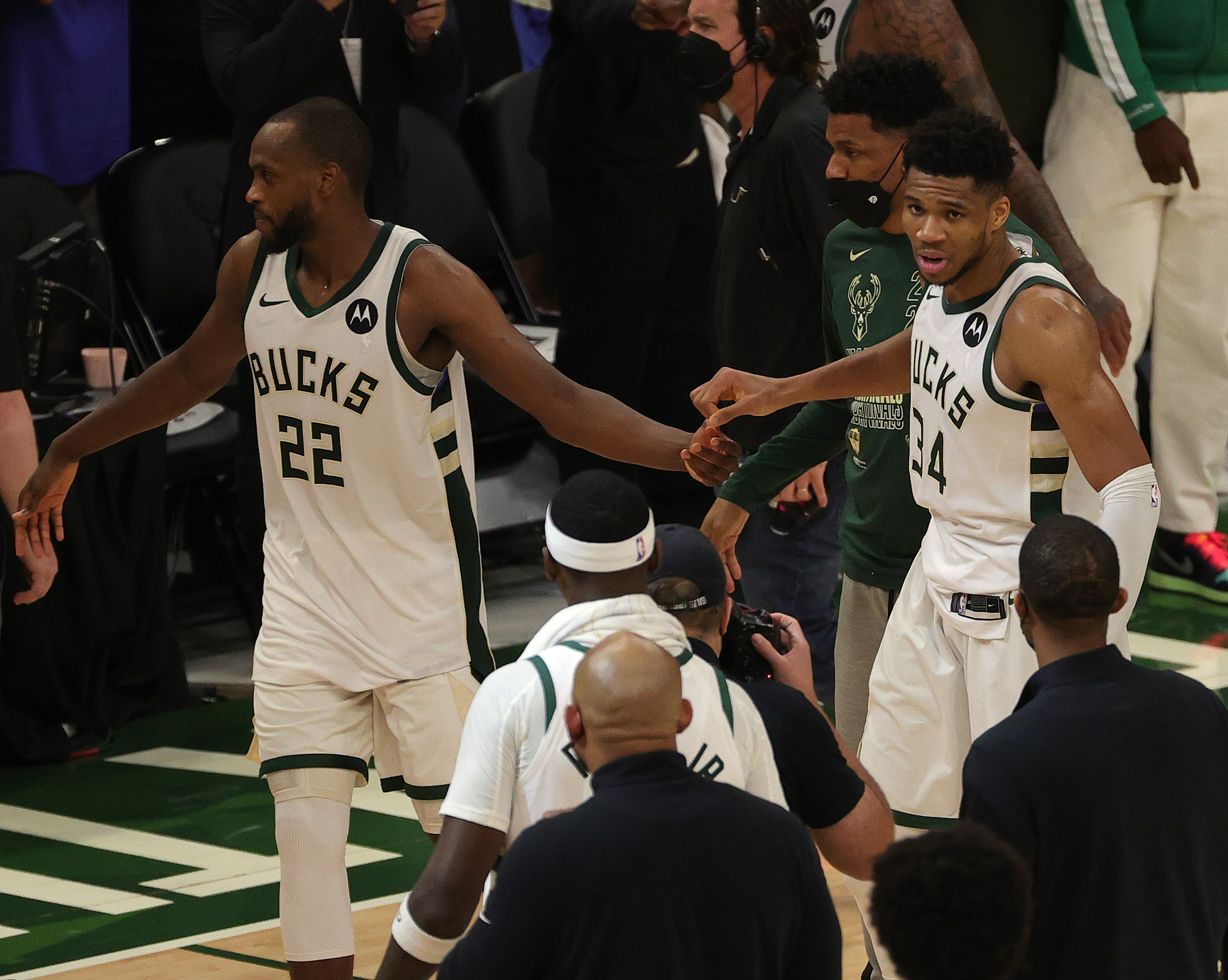 The Bucks looked dead in the water after falling into a 2-0 hole in Phoenix. Now, they have life, with Antetokounmpo setting the tone on both ends and Middleton taking over games down the stretch.
Both players took center stage on Wednesday. Middleton scored 14 points in the fourth quarter, almost single-handedly dragging the Bucks back into the game. The "Greek Freak" explained Milwaukee knows who to turn to in the crucial moments.
"That's what he does down the stretch," Antetokounmpo said per ESPN's Kevin Arnovitz. "We want him to have the ball. We want him to be the decision-maker. We know he's going to take big shots, and tonight, he was incredible."
Middleton's offensive heroics might not have meant as much were it not for an immaculate defensive play by Giannis. The Bucks led by two with just under a minute left when Suns guard Devin Booker drove the lane and fed Deandre Ayton for what looked like an easy lob. However, Antetokounmpo made a remarkable recovery to block Ayton's dunk effort and preserve Milwaukee's lead.
"Excuse my language, but it was one of those 'Oh s**t' moments," Middleton said via Sam Amick and Eric Nehm of The Athletic. "We gave up a layup (on the prior possession) and next thing you know he's blocking it. It was a great effort. Didn't give up on the play when it seemed like they had (an) open layup or dunk. That's what we need in the Finals. Everybody (gives) that extra effort and he came through for us big on that play."
The Bucks will need more heroics if they hope to capture their first title since the days of Abdul-Jabbar and Robertson. Phoenix has been unusually careless with the ball and committed 17 turnovers in Game 4.
RELATED: Giannis Antetokounmpo Joined a Number of Highly Exclusive Clubs With His Dominating Performance in Game 3 of the NBA Finals
Chris Paul and Co. will surely make adjustments as the Suns head back home. Still, Antetokounmpo and Middleton appear to be on a mission of their own.
Stats courtesy of Basketball Reference.