Giannis Antetokounmpo Maybe Just Revealed the Team He Wants To Move To
It seems like Giannis Antetokounmpo has made his situation with the Milwaukee Bucks pretty clear: win, or he leaves. Antetokounmpo has one more year left on his contract, so the moves that the Bucks make this offseason are pretty crucial. However, it appears that Antetokounmpo already has his eye on a potential landing spot if he were to end up leaving Milwaukee. That landing spot would be with the reigning Eastern Conference champions, the Miami Heat.
Giannis Antetokounmpo's future with the Milwaukee Bucks is up in the air
RELATED: Giannis Antetokounmpo Gives the Milwaukee Bucks a Strong Ultimatum
Antetokounmpo wants to win championships, but he and the Milwaukee Bucks have underperformed in the playoffs in each of the last two seasons.
During the 2018-19 season, Antetokounmpo earned the league MVP award with 27.7 points per game, 12.5 rebounds, and 5.9 assists. He also led the Bucks to a 60-22 record and the No. 1 seed in the Eastern Conference. Milwaukee then went all the way to the Eastern Conference Finals, too, but after taking a 2-0 series lead over the Toronto Raptors, the Raptors won the series in six games.
Antetokounmpo then followed up his MVP season with an even more dominant MVP season in 2019-20, as he ultimately averaged 29.5 points per game, 13.6 rebounds, and 5.6 assists. He also helped the Bucks claim the No. 1 seed in the Eastern Conference again with a 56-17 record. However, Milwaukee got upset by the Miami Heat in five games in the Eastern Conference Semifinals.
Antetokounmpo now only has one year left on his contract, as he will be an unrestricted free agent next offseason. He has said that he doesn't see why he wouldn't be able to stay in Milwaukee, as long as they do what it takes to win championships. He might already have a backup plan, though.
Giannis Antetokounmpo might be interested in going to the Miami Heat
RELATED: Giannis Antetokounmpo Just Finally Gave an Answer About His Future With the Bucks
Antetokounmpo has developed a friendship with tennis player Nick Kyrgios.
"He's just one of the boys, really. I've never met him before but I feel like I get along with him pretty well," Kyrgios said to The Sydney Morning Herald, an Australian media outlet.
However, it appears that Antetokounmpo might have recently hinted to Kyrgios that he has an interest in joining the Miami Heat.
"I just asked him a bunch of questions," Kyrgios said to The Herald, recalling his FaceTime conversation with Antetokounmpo. "I asked him straight away if he was going to go and join Miami and then he had a massive smile on his face. Maybe that could be brewing."
No, Antetokounmpo didn't flat out say that he is going to Miami, but this just adds to speculation that has been going on for months now that he could go to the Heat. Shams Charania of The Athletic also reported in October that the Heat are reportedly preparing to go "all in" on trying to get Antetokounmpo.
So, if he were to go to Miami, how would he fit with the Heat?
Giannis Antetokounmpo could make the Miami Heat NBA title favorites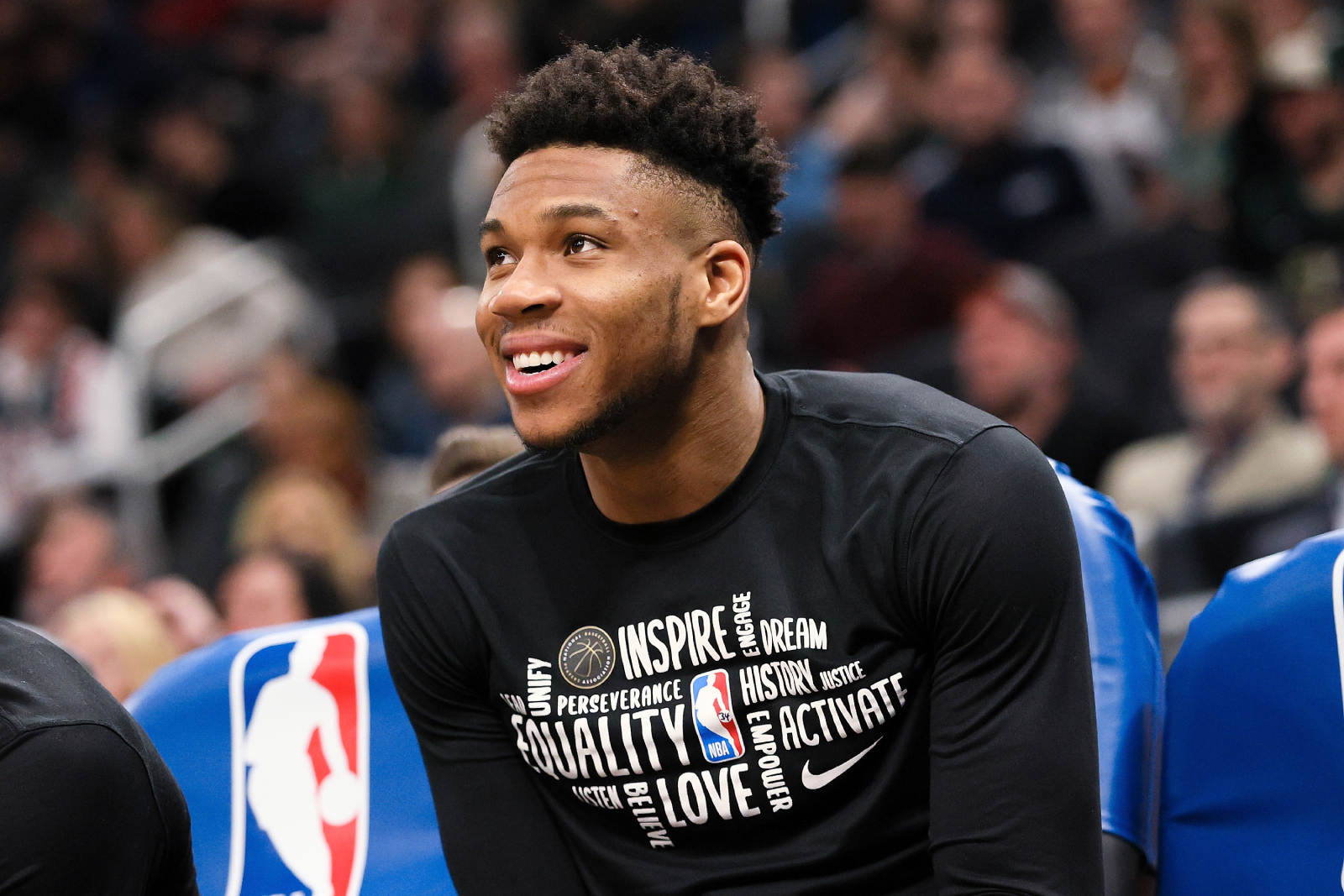 RELATED: Giannis Antetokounmpo May Have 'Secret Agreement' With the Bucks
The Miami Heat went from not making the playoffs in 2018-19 to reaching the NBA Finals in 2019-20. They then even took LeBron James and the LA Lakers to six games in the Finals.
Adding Antetokounmpo would potentially make them the favorites to win it all. The Heat, of course, already have Jimmy Butler as their go-to man, but he averaged a career-high six assists in 2019-20, and he just wants to win. Adding Antetokounmpo would be similar to when Miami paired LeBron James with Dwyane Wade. Butler can teach Antetokounmpo how to win as Wade did with James, but Antetokounmpo would become the No. 1 scoring option, like James did in Miami.
Miami also has Bam Adebayo in the frontcourt and some great shooters in Duncan Robinson and Tyler Herro. It is unclear if all of those guys would be back for the Heat in 2020-21 when Antetokounmpo would most likely be playing there, but Antetokounmpo, Butler, and some great shooters would potentially be enough to make the Heat favorites in the Eastern Conference, at least.
We have quite some time until we find out more about Antetokounmpo's future with the Bucks. It is interesting to find out, though, that Antetokounmpo had a pretty positive reaction when getting asked about joining the Heat.
Stats courtesy of Basketball Reference