Giannis Antetokounmpo Embracing a Michael Jordan-Like Mindset That Should Make the Bucks Favorites to Repeat as NBA Champions
Giannis Antetokounmpo and Michael Jordan share commonalities in that it took each of them several years to become winners. Jordan needed seven years to build something with the Chicago Bulls and get past the Bad Boy Detroit Pistons before winning his first NBA title. Antetokounmpo required an eighth year, but having tasted championship success, he's embracing a Jordan-esque mindset that should have Milwaukee Bucks fans feeling confident about their chances of repeating.
Michael Jordan needed his first championship to prove something to himself and NBA fans
Michael Jordan came to the Bulls at a time when Magic Johnson and Larry Bird transcended the NBA not just as individual talents, but also as consummate winners.
Johnson and Bird combined for eight championships during the 1980s, with Magic capturing five titles and Larry Legend earning three rings. Meanwhile, MJ dazzled with his aerial acrobatics and tremendous two-way play. But he felt he could never be in the same category as Johnson or Bird until he won that elusive championship.
Michael Jordan and the Bulls, after a long and agonizing road, would get that championship. Chicago climbed the mountain during the 1990-91 season, marking the first step on a journey that resulted in the Bulls becoming one of the greatest dynasties in NBA history.
Giannis Antetokounmpo and the Bucks might not replicate Jordan and the Bulls in their dominance over the league. The NBA is deeper and more talented than ever before.
Still, Antetokounmpo suggested at Milwaukee's media day that a considerable weight has been lifted from his shoulders, which could positively impact the Bucks' hopes of repeating.
Giannis Antetokounmpo feels liberated after winning his first ring
Like Michael Jordan, Giannis Antetokounmpo achieved a great deal of individual success before getting his first ring.
Giannis won back-to-back MVPs and a Defensive Player of the Year Award. But his remarkable gifts almost went underappreciated because the Bucks consistently underwhelmed in the playoffs. The question of whether the Greek Freak could win in Milwaukee consumed headlines in the months and weeks leading up to him signing a supermax extension.
However, all those questions — both about Giannis and the Bucks — were erased this past summer. Antetokounmpo got the proverbial monkey off his back.
The Bucks star said he did not feel "good enough" prior to winning a championship. But, after hoisting the Larry O'Brien Trophy, Giannis noted (h/t Kane Pitman of ESPN), "That's over with." He also said he's hungry to be even better than last year.
Antetokounmpo no longer has to carry the burden of being one of the best players not to win a title. He can focus solely on winning and playing free without fear of repercussions.
That's good news for the Bucks, a team that might have added incentive to show year-over-year improvement in the hopes of winning a second consecutive championship.
Giannis and the Bucks can draw motivation from naysayers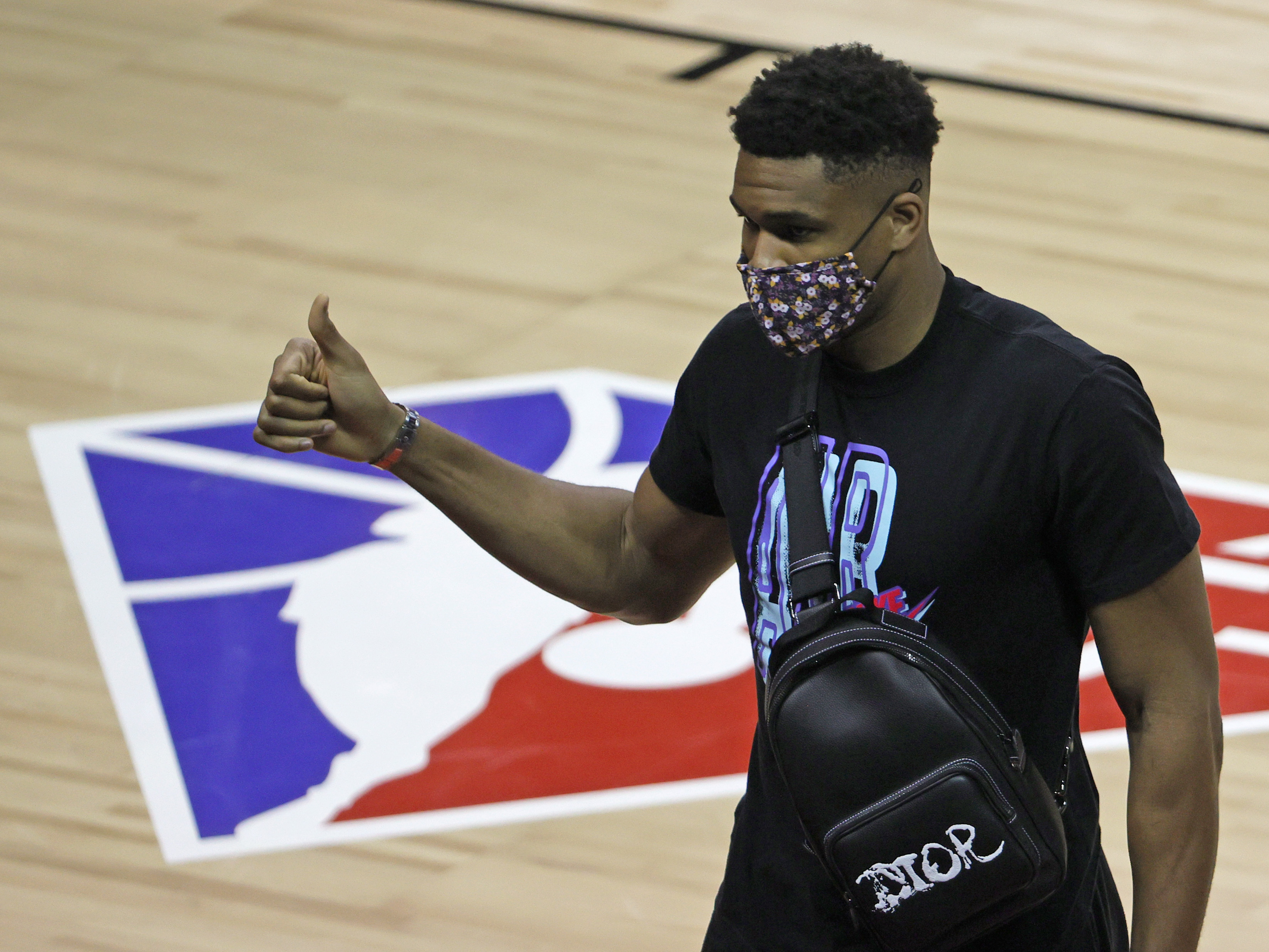 Although Antetokounmpo led the Bucks to their first title in 50 years, some undoubtedly question whether they truly deserved to win a title.
The 2021 playoffs presented all sorts of strangeness for NBA fans. It also, unfortunately, had plenty of injuries to star players. Anthony Davis' absence made a massive difference in the Los Angeles Lakers' first-round loss to the Phoenix Suns. The LA Clippers could only go so far without Kawhi Leonard. Giannis and the Bucks benefited from the Brooklyn Nets missing Kyrie Irving and playing an injured James Harden during the conference semifinals.
In other words, some fans and league insiders likely feel the Bucks lucked out. If all things were held equal, maybe Milwaukee doesn't win the championship. That skepticism and the underlying sense of doubt should be enough to fuel Milwaukee. The naysayers should also motivate Giannis Antetokounmpo, who is carrying himself with an MJ-like mentality as he shoots for the history books.
Michael Jordan and the Bulls followed their first title with a 67-win season and another ring during the 1991-92 season. Will Giannis and the Bucks show similar growth after finally winning a championship?
RELATED: How Jrue Holiday Convinced Giannis Antetokounmpo He Was the Missing Piece to the Championship Puzzle