Why Giannis Antetokounmpo Doesn't Have Any NBA Friends
At just an inch shy of seven feet with an absurd wingspan, NBA star Giannis Antetokounmpo has earned the nickname of the Greek Freak. In addition to his physical traits, his talent on the court is gaining the attention of fellow NBA players, sportscasters, and fans. He's one of the best young players in the NBA, but Antetokounmpo doesn't seem to have many friends in the sport. Kobe Bryant is a fan on Twitter and Antetokounmpo hopes the two of them can work out together, but he doesn't hang out with current players.

That workout session would certainly be a sight to behold, but we haven't seen them exercising or palling around together off the court. In fact, we haven't seen Giannis Antetokounmpo hanging out with any fellow NBA stars in the offseason, and it makes us wonder why. His outstanding play and physical traits are obvious, but there's more than meets the eye when it comes to why Giannis Antetokounmpo doesn't have many NBA friends.

He doesn't want to be too buddy-buddy with his foes
During an interview with Giannis Antetokounmpo and The Athletic, the young star came right out and openly stated how much he hated the "buddy-buddy" relationships many NBA players have. Despite his earlier statement about potentially exercising with Kobe, Antetokounmpo said he doesn't want to be seen working out with any of his opponents:

"I can't work out with you in the summer and then play you in a few months," Antetokounmpo said. "It feels weird. It doesn't feel right with me. It's cool for other players, but I don't want to.

"I feel like with LeBron and KD (Kevin Durant), KD did that to LeBron. Take a lot of his thoughts and use it against him. And that's what I don't want guys doing to me."

Antetokounmpo made similar comments during an ESPN interview. According to him, he's following in footsteps of some of the best to ever play in the NBA:
"I think it's just being competitive. If I know that I'm going to play against them and I'm going to see them in the playoffs or I'm going to see them in many more years to come, I try to stay away and not build that relationship because I know that when I get on the court I'm going to go 100 percent. And maybe if you build a relationship with somebody or I'm close with somebody, he probably expects me to go 50 percent or take it easy on him. But that's…I don't want things holding me back when I go out there and play."
It's hard to tell whether or not Giannis was insulting these players or simply vocalizing and describing how he's staying on top of his game.

He has an edge to him
During an eventual loss to New York in December 2018, Antetokounmpo fell down while blocking a shot from Knicks forward Mario Hezonja, Then Hezonja stepped over Antetokounmpo as he attempted to stand, which Antetokounmpo took this as a blatant sign of disrespect. When a reporter asked him about the incident following the game, Antetokounmpo replied he would "punch him in the nuts" if it ever happened again.

Giannis later apologized for this off-color comment in part by saying, "I know I'm a role model for kids. What I said there, I meant it, but I [need to] choose better words."

While there's an 'I'm sorry' buried in there somewhere, there's also still an underlying, veiled threat inside that statement when he reiterates he meant exactly what he said after the game.

Giannis Antetokounmpo has a bright future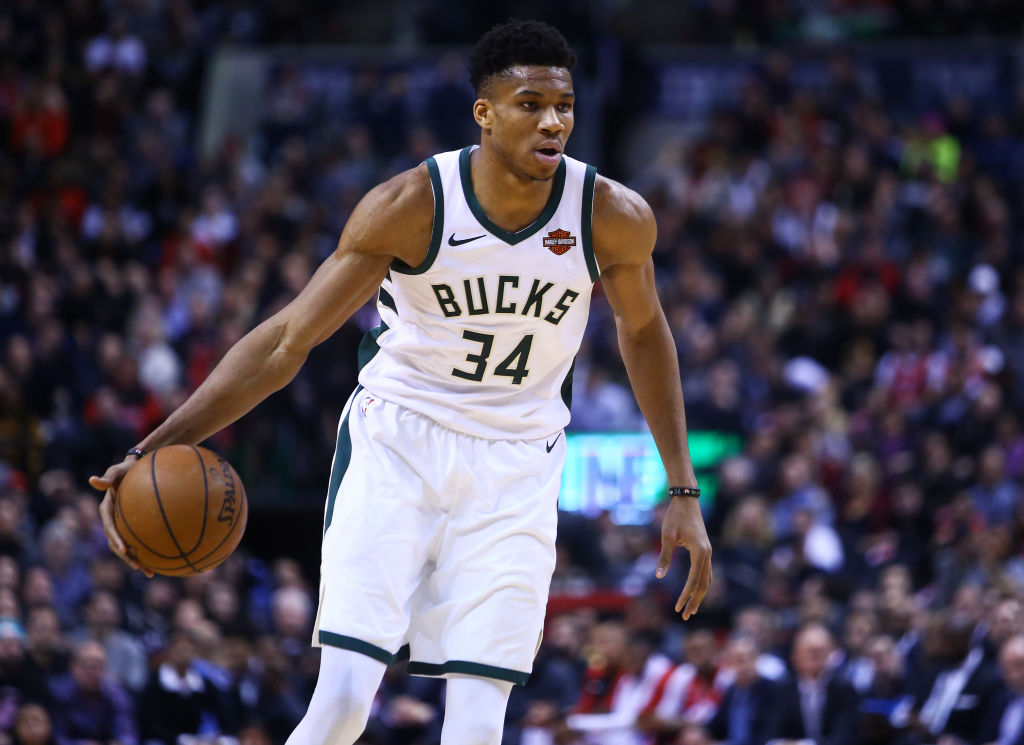 At just 24 years old and averaging 26.8 points, 13 rebounds, six assists, 1.5 steals, and 1.3 blocks per game, Antetokounmpo is currently looking at a very bright future in the NBA. He's likely to be one of the league's brightest stars when LeBron James and Stephen Curry retire.

However, it's probably not a good idea to tell fellow teammates and opponents you don't want to be seen with them. It's also not in his best interests to threaten he'll potentially deliver a low blow to a competitor. While skilled in many positions on the court, perhaps he should concentrate on playing ball and thinking before speaking.

While the comments directed at Hezonja might raise some eyebrows, today's fans are still happy to embrace Giannis Antetokounmpo as a rising star in the NBA. Since the Bucks haven't seen a slot in the playoff series since 2001, Milwaukee has high hopes for him helping lead his team to a championship in the near future.