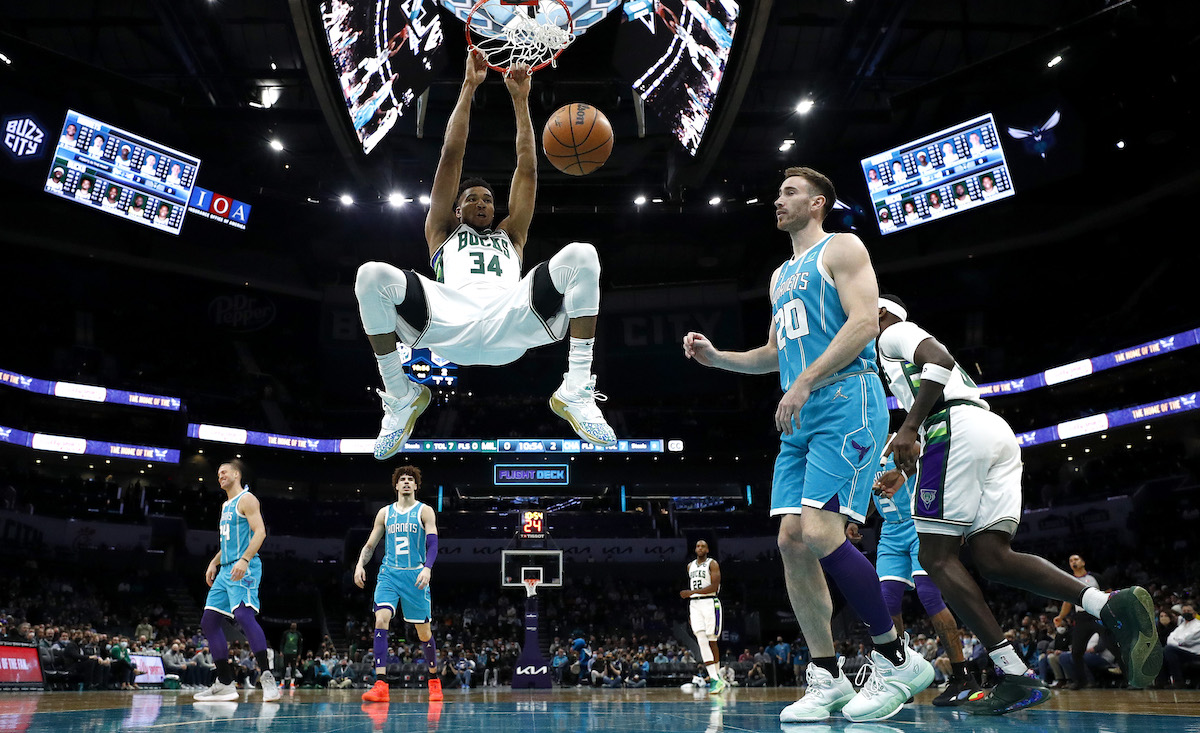 Giannis Antetokounmpo is NBA's Undisputed Champion of Unassisted Dunks
Giannis Antetokounmpo is a dominant force for the Milwaukee Bucks. So dominant, in fact, that he only has one semi-reasonable comparison as an unassisted dunker: Shaquille O'Neal.
With two MVPs and a 2020-21 NBA title for the Milwaukee Bucks under his belt, Giannis Antetokounmpo has already cemented himself as one of the premier talents in the history of the Association. He was one of 11 active players named to the league's 75th Anniversary Team, and he still has plenty of time to add to his ever-growing legacy. After all, he's 27 years old and operating at the peak of his powers.
But who's the closest comparison for the aptly nicknamed Greek Freak?
If someone immediately springs to mind, you may be in the minority because Antetokounmpo's unique game defies comparison.
He's an all-around defensive force at his best operating as a de facto free safety within head coach Mike Budenholzer's schemes. He's a strong ball-handler who can run the show despite listing at 6-foot-11, 242 pounds. Though he has a burgeoning perimeter game, he's at his best attacking the basket, where he can use his impossibly long strides and go-go-gadget arms to finish through, above, or around virtually any adversary.
That combination of talents is unlike anything basketball has previously produced, and the package, in totality, makes Antetokounmpo a mainstay in the "best player alive" conversation.
The reigning Finals MVP routinely submits well-rounded lines that leave little doubt about his all-around ability, but one skill, in particular, is anomalous enough that Shaquille O'Neal is the only modern-day comparison. Even the Big Aristotle himself may come up short once subjectivity enters the equation.
Giannis Antetokounmpo, Shaquille O'Neal, and the best unassisted dunkers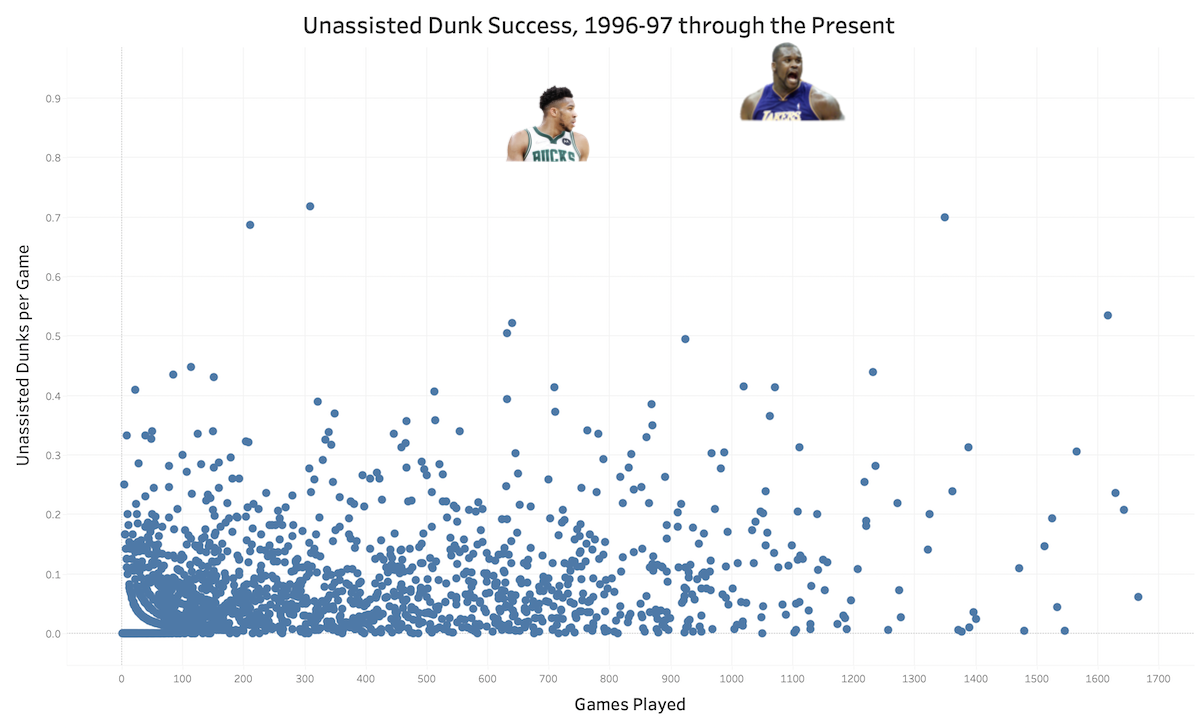 Dating back to 1996-97 and the advent of shot-tracking data, 1,789 different NBA players have thrown down at least one dunk in a regular-season or playoff game. Of those, 1,577 have done so in unassisted fashion, which can come in transition, after breaking down a defender in a half-court set, or on a put-back opportunity.
But producing unassisted dunks on a consistent basis is where things get tricky for just about everyone.
Of those 1,577, only 159 have at least 100 unassisted dunks. An even smaller percentage have managed to average more than 0.5 such plays per game regardless of how many appearances they've made. Zion Williamson, Greg Oden, and Daniel Gafford have come close in small sample sizes (and it's purely a coincidence those first two names are listed alongside one another), but just eight men have actually joined the exclusive fraternity:
| | | | |
| --- | --- | --- | --- |
| Player | Games Played | Unassisted Dunks | Unassisted Dunks per Game |
| Shaquille O'Neal | 1,092 | 1,017 | 0.931 |
| Giannis Antetokounmpo | 702 | 599 | 0.853 |
| Ben Simmons | 309 | 222 | 0.718 |
| Dwight Howard | 1,349 | 944 | 0.700 |
| Mitchell Robinson | 211 | 145 | 0.687 |
| LeBron James | 1,617 | 865 | 0.535 |
| Anthony Davis | 640 | 334 | 0.522 |
| Rudy Gobert | 632 | 319 | 0.505 |
Really, though, Antetokounmpo and O'Neal are in a tier of their own.
Dwight Howard might be closest to joining them because he's maintained his 0.700 mark far longer than Ben Simmons has kept up his 0.718, but neither is truly within striking distance.
Within that top tier, O'Neal comes out on top from an objective standpoint. He's posted more unassisted dunks per game over the course of a much longer career, and that's without counting the first four years of his backboard-breaking tenure with the Orlando Magic, during which he was even more physically imposing and earned one of his two scoring crowns.
But subjectively, Antetokounmpo still takes the cake.
Antetokounmpo racks up unassisted dunks like no other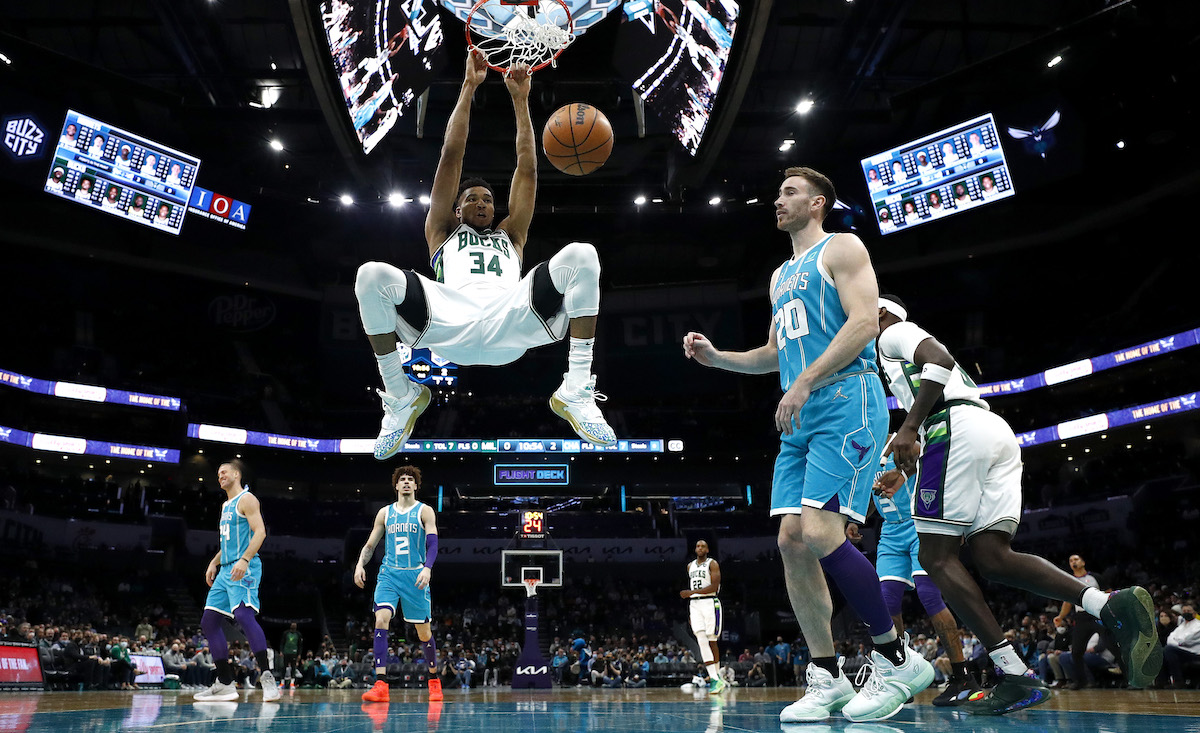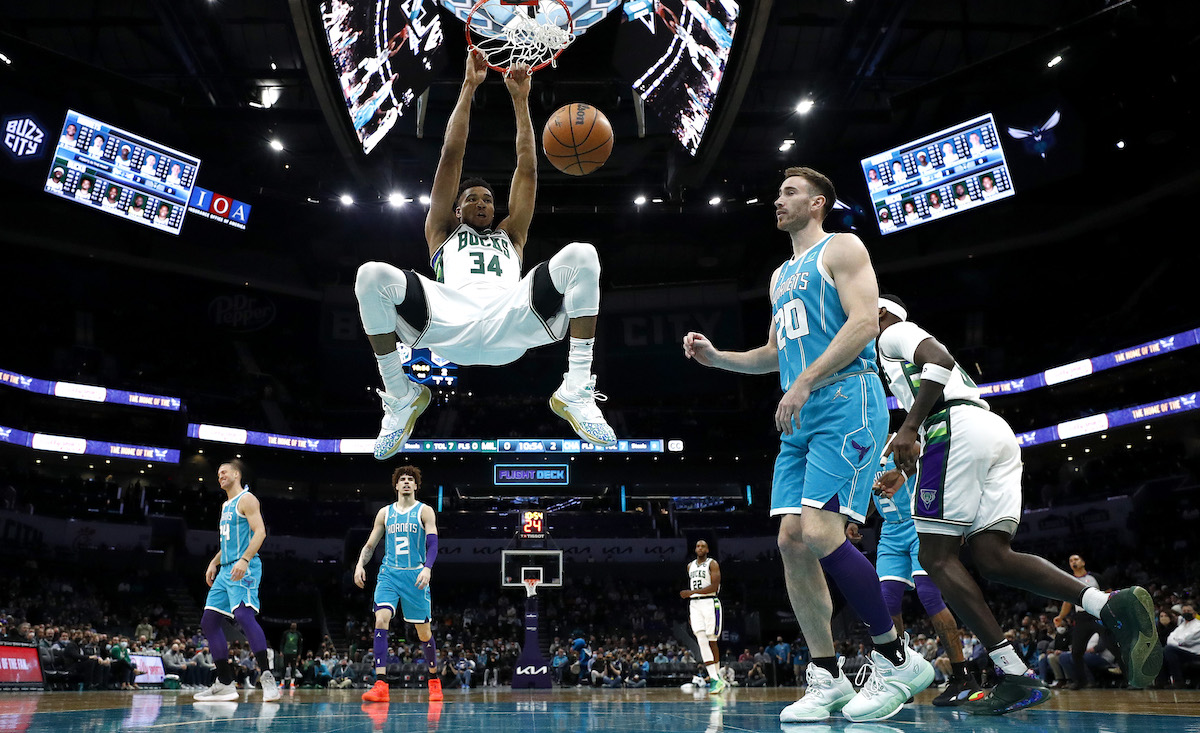 Within that group of eight, two subsections emerge: interior behemoths and ball-handling freight trains.
Shaquille O'Neal, even if he ran the fast break on occasion in Orlando and played with a level of finesse that didn't seem to marry up with his oversized frame, falls into the former. So, too, do Dwight Howard, Mitchell Robinson, Anthony Davis, and Rudy Gobert, who rack up many of their unassisted dunks on put-back slams.
On the other end of the spectrum are Giannis Antetokounmpo, Ben Simmons, and LeBron James, who routinely handle the rock out by the three-point arc and use their combination of dribbling skill and physical superiority to jam on opponents.
This, for example, isn't a play you see from someone in the former grouping. Not a routine basis, at least:
Nor is this:
Though the level of effort is up for debate, Howard constantly seemed like he was trying to develop more of a post-up game, even conducting offseason workouts with Hakeem Olajuwon during his prime. But even that was viewed as an expansion of his arsenal. He was never setting up from the perimeter and taking it to the hoop off the bounce.
The same is true of Rudy Gobert, who thrives as a deadly enough rim-runner and put-back threat that he's become an underrated offensive presence for the Utah Jazz. Anthony Davis isn't a perfect fit in this group, but he takes more face-up jumpers than anything else when operating as a ball-handler.
O'Neal sometimes put the ball on the floor, especially earlier in his career, but his unassisted dunk du jour involved stuffing the rock through the rim in traffic after he'd collected one of his teammate's bricks.
That's not the case for the other group as Simmons, James, and Antetokounmpo all excel in transition or when taking people off the bounce. But they're even more significant outliers among the ball-handling freight trains than O'Neal and Co. are among the interior behemoths.
This is subjectively determined, but take a gander at the full top 10 for those perimeter-dwelling options:
| | | | |
| --- | --- | --- | --- |
| Player | Games Played | Unassisted Dunks | Unassisted Dunks per Game |
| Giannis Antetokounmpo | 702 | 1,005 | 0.853 |
| Ben Simmons | 309 | 222 | 0.718 |
| LeBron James | 1,617 | 865 | 0.535 |
| Dwyane Wade | 1,231 | 541 | 0.439 |
| Kevin Durant | 1,071 | 443 | 0.414 |
| Kawhi Leonard | 711 | 265 | 0.373 |
| Rudy Gay | 1,063 | 389 | 0.366 |
| Chris Webber | 763 | 260 | 0.341 |
| Anthony Edwards | 125 | 42 | 0.336 |
| Scottie Barnes | 49 | 16 | 0.327 |
For perspective, Barnes, admittedly early in his promising career with the Toronto Raptors, sits at No. 39 in unassisted dunks per game regardless of classification. In fact, just 17 of the 53 players at or above 0.3 fall into the perimeter-dwelling group, and most of the notable figures — Kobe Bryant (0.305), Tracy McGrady (0.305), Zach LaVine (0.312), Andre Iguodala (0.313), Russell Westbrook (0.313) — are closer to the cutoff than not.
Antetokounmpo, as seems to be the case whenever he's the primary topic of conversation, is an outlier among outliers.
Maybe he's the best player in the NBA right now. Maybe he's not. It depends on who you ask.
"Skilled" is the operative word here because O'Neal still has him beat from a pure production standpoint, and this isn't to take away from the Hall of Famer because it takes a different kind of talent to leverage size and power on put-back slams. But without dispute, Antetokounmpo is the most skilled unassisted dunker in recent NBA history.
His ubiquitous nickname exists for a reason, after all.
All stats, unless otherwise indicated, courtesy of Basketball Reference.