Giannis Antetokounmpo Just Gained a New NBA Admirer as Minnesota Timberwolves Guard Anthony Edwards Admits the Greek Freak Is Unguardable: 'S*** We Put Four People on Him and He'll Still Score the Ball'
Giannis Antetokounmpo has won two MVPs, a Defensive Player of the Year Award, a Finals MVP Award, and an NBA championship. This season is his ninth in the league with the Milwaukee Bucks, and at this point, it's no secret how dominant the Greek Freak can be on a nightly basis.
But Minnesota Timberwolves guard Anthony Edwards, last year's runner-up for Rookie of the Year, came with a new take on an already-established NBA law: Antetokounmpo is essentially unguardable.
Edwards' unintentional comedy game is right on par with his actual on-court game (he said he had no idea who Alex Rodriguez was when A-Rod joined an ownership group that was purchasing his team), so of course, his Giannis take came with some hilarity.
Antetokounmpo is picking up right where he left off last season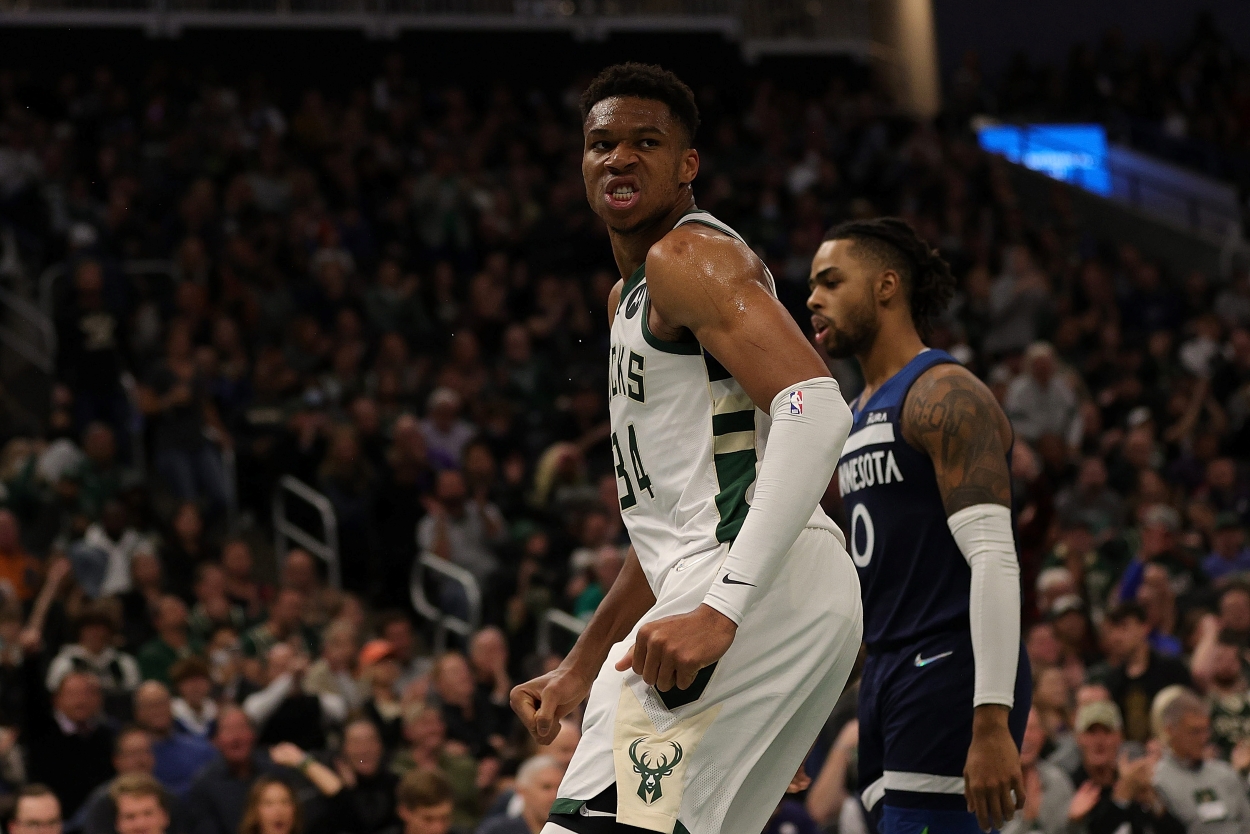 The five-time all-star averaged 35.2 points, 13.2 rebounds, 5.0 assists, 1.2 steals, and 1.8 blocks in last year's NBA Finals, leading his team to its first title since 1971. Even the eye test showed Giannis took his game to a new level when he carried Milwaukee past Kevin Durant and the Brooklyn Nets in the Eastern Conference semifinals.
From there, he dominated Trae Young, Chris Paul, and Devin Booker on his way to his first championship.
Antetokounmpo has begun this season the same way he ended the last. Through five games, the Athens native is posting a stat line of 27.6 points, 11.6 rebounds, 4.5 assists, 1.0 steals, and 2.0 blocks in just 31 minutes per game.
Terrifyingly, he's also shooting a career-high 35.3% from 3-point range on 3.4 attempts per game and 73.5% from the free-throw line.
Anthony Edwards got a glimpse at the full Giannis Antetokoumpo Experience
The T-Wolves, who've started the year 3-1, went into Milwaukee and beat the defending champs 113-108 on Oct. 27. Edwards had 25 points and seven rebounds in the win but still came away shellshocked after having to try and stop Giannis.
The 6-foot-11 swiss army knife had a game-high 40 points that night, added a game-high 16 rebounds, and a game-high seven assists for good measure.
In his postgame press conference, Ant-Man tried to explain what it was like to guard Antetokounmpo via SI.com:
"Motherf***** is like 7-2, 280 pounds. S***, we put four people on him and he'll still score the ball."

Anthony Edwards on guarding Giannis Antetokounmpo
For the record, the 26-year-old is listed at 6-11, 242-pounds. But you'll forgive Edwards — who's a solid 6-4, 225 himself — if it feels like Antetokounmpo is even larger.
Giannis is attempting to lead the Bucks to a second straight title
Antetokounmpo won his first MVP Trophy in 2018-19 and won another the following season to put next to his Defensive Player of the Year Award. He's continued on an upward trajectory since.
But now that he's got a taste of a championship, he said he's ready to win more.
"If you're a competitor, your mind creates something different, a different challenge," he explained via ESPN. "You might say, 'OK I did it one time, I need to do it a second time.' And when you do it a second time, you want to do it a third time."
The way The Alphabet has kicked off 2021-22, he's on a good pace to do it a second time, and he's dazzled yet another peer in the process.
All statistics courtesy of Basketball Reference.
RELATED: Giannis Antetokounmpo Is Shaquille O'Neal Evolved: 'The Domination That He Plays With, the Determination, and Just the Sheer Force'