Giannis Antetokounmpo Didn't Even Own Warm Clothes When He Experienced Milwaukee's 'Life-Threatening' Polar Vortex
They don't exactly have polar vortexes in Athens, Greece, where NBA superstar Giannis Antetokounmpo grew up basking in a climate that rarely dips below 50 degrees Fahrenheit. Faced with his first Milwaukee winter in 2013, Antetokounmpo was so accustomed to a humble upbringing he borrowed warm clothes from teammates to get through the season.
Now with an NBA championship and a $228 million contract under his belt, Antetokounmpo's unique rookie campaign has become just part of a growing legend that has made him one of the biggest sports stars on the planet.
Not in Athens anymore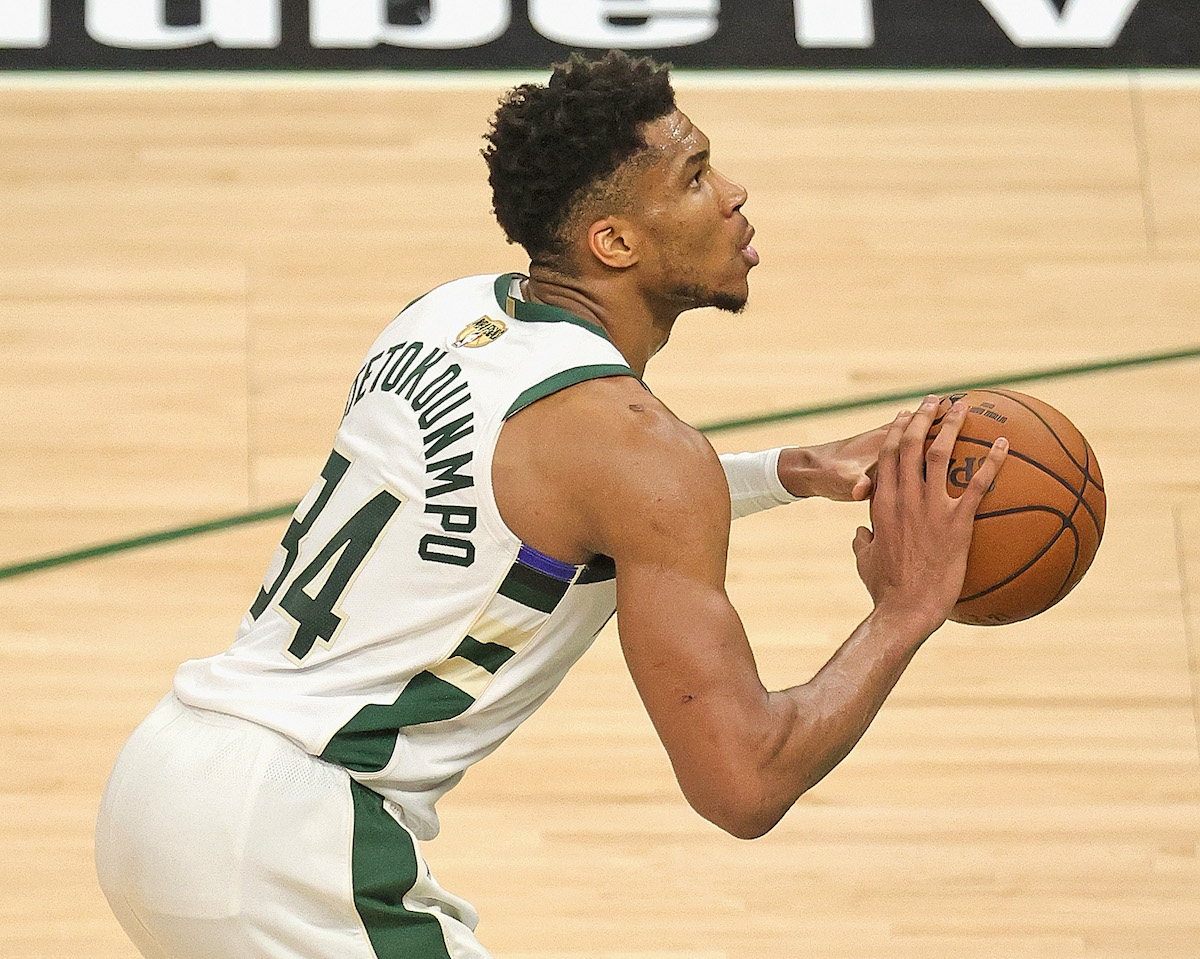 Even with electrifying physical talents, Giannis Antetokounmpo's mental toughness and life perspective might be his greatest assets. Despite sleeping three or four to a bed and selling watches on the street to afford food, Antetokounmpo told CBS's 60 Minutes he had a "happy upbringing" that also gave him the toughness to thrive. 
Antetokounmpo inherited an entirely different set of challenges when he arrived for his rookie season in 2013. Drafted 15th overall by the struggling Milwaukee Bucks, the underweight power forward dubbed the "Greek freak" was a long way from an NBA champion. That year, the Bucks won only 15 games and finished dead last in the league. 
But the tribulations on the court often paled compared to the ones Antetokounmpo faced off the court. Not only was he unprepared for an average Milwaukee cold season, but also NASA said the 2013-14 winter had one of the worst polar vortexes ever, especially in the Great Lakes region of the U.S. and Canada.
In Milwaukee, it was so bad the Milwaukee Journal Sentinel called it the coldest in the region's recorded history. Hitting an intense 60 degrees below zero, the frigid air prompted experts to warn of immediate frostbite for anyone with exposed skin.
As temperatures were low even by Milwaukee standards, Antetokounmpo tried to get by with sandals instead of boots and didn't think he needed more than a light jacket. Still mentally on the streets of Athens despite his multimillion-dollar rookie contract, he borrowed jeans from teammates Ersan Ilyasova, O.J. Mayo, and Caron Butler instead of buying his own.
A New York Times profile ultimately summed up the crescendo of Antetokounmpo's eye-opening first winter in Milwaukee. In the wildest story, the NBA star used his exceptional wingspan to clear the windshield by hand while a Bucks assistant drove through a blinding snowstorm. Although assistant video coordinator Ross Geiger knew they could never do that again, the surreal moment highlights Antetokounmpo's fearless attitude from the moment he stepped into the NBA spotlight.
The champion's motivation within Giannis Antetokounmpo
Such stories underscore the nearly impossible situation Antetokounmpo found himself in early in his NBA career. An NBA on TNT bio highlights how he landed in Milwaukee as an unlikely franchise savior — one who was entirely off the NBA's radar only months before the draft. Joining a team used to off-court scandals and plenty of losses, Antetokounmpo pushed through that first winter and attacked the most significant drawbacks in his game.
Adding 30 pounds of muscle and tirelessly working on his post skills, the six-foot-11-inch power forward took a giant leap in his second year, helping to propel the Bucks to a 41-41 record and his first NBA playoff appearance. 
But his motivation to achieve greatness went well beyond the court. Taking over as the patriarch for a tight-knit family eager to immigrate to the U.S., Antetokounmpo stockpiled sneakers for his brothers and refused to spend money on himself early in his career. Even after eventually signing a $228 million deal to stay in Milwaukee, he only thought to spend on his young son, Liam.
Although Antetokounmpo's now-famous resilience and selfless nature are central parts of his stardom, Bucks staffers were treated to an early sneak peek of Antetokounmpo's specialness. Despite an initial language barrier — Antetokounmpo speaks Greek, but his parents spoke their native Igbo at home — the Milwaukee superstar had an unexpected talent for singing Christmas carols in English. In the New York Times piece, Geiger recalls when Antetokounmpo spontaneously began singing a well-known carol early in his career.
But even this warm and fuzzy moment came from hardship, according to a Time magazine feature further exploring Antetokounmpo's childhood. After selling a bit of everything on the streets of Athens during the day, Antetokounmpo often moonlit by singing Christmas carols in English for tourists. His singing would often ensure he had enough money to help his family put food on the table.
The reigning NBA Finals MVP no longer sings carols to tourists for money, but he can still sing to help pass the winter in Milwaukee.
RELATED: Giannis Antetokounmpo and the Milwaukee Bucks Just Need to Visit Their Local Sportsbook for Some Extra Motivation to Repeat as NBA Champions